The most awaited trailer of the year has been released and it looks amazing.
Rediff.com/Patcy N brings you glimpses of the Sanju trailer launch.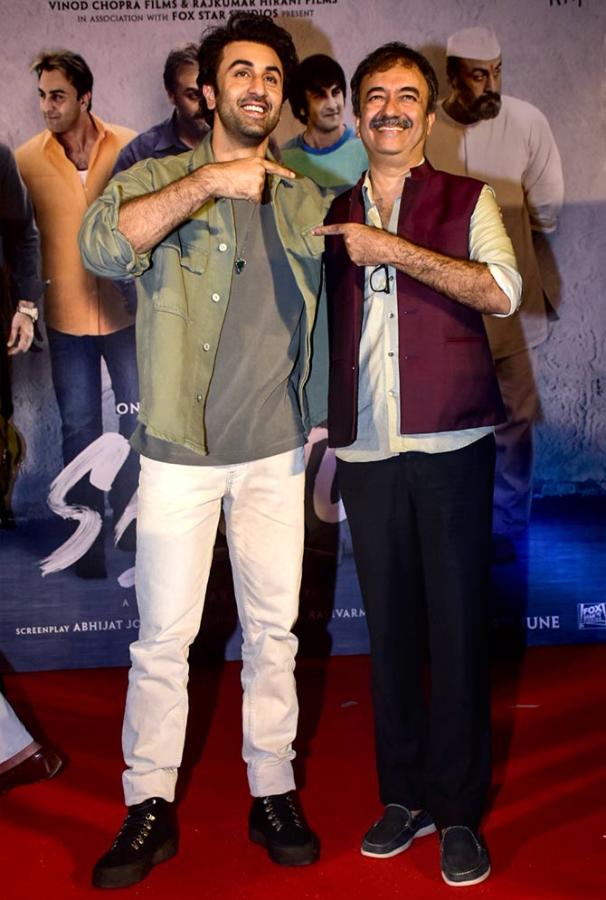 Ranbir Kapoor, Sonam Kapoor, Dia Mirza, Vicky Kaushal, Paresh Rawal, Manisha Koirala... most of Sanju's star-studded cast arrived for the launch of its much-awaited trailer.
Ranbir, who admits to adoring Sanjay Dutt, sounds like a true-blue fanboy.
"When I was a kid, I had Sanju Sir's poster on my cupboard wall and now I am trying to play his role. I just want Sanju Sir to like me (in the film). I respect him a lot and I look up to him. I hope he feels I have represented him correctly."
He adds that it's "very hard to summarise the whole experience because I have worked on the film for two years. In the trailer, we are trying to represent the best version of the film."
The film looks at the ups and down in Sanjay Dutt's life and the difficult times he has faced.
Did Ranbir worry about how he would express all this?
"I was really excited to play this part so it didn't bother me that much. But I kept imagining what he must be going through. I was just acting; it was not happening to me... what happened in the jail and the blood and all that..."
When asked what he learnt from Sanjay Dutt's life, Ranbir says, "He is such an inspiration to me. I think we all can learn from Sanju Sir's mistakes."
Ranbir, who doesn't have 308 girlfriends like Dutt did, would not want to see his life as a biopic.
"I am not as courageous to give my life up so openly. And I don't have as many girlfriends as he did; mine will be less than 10."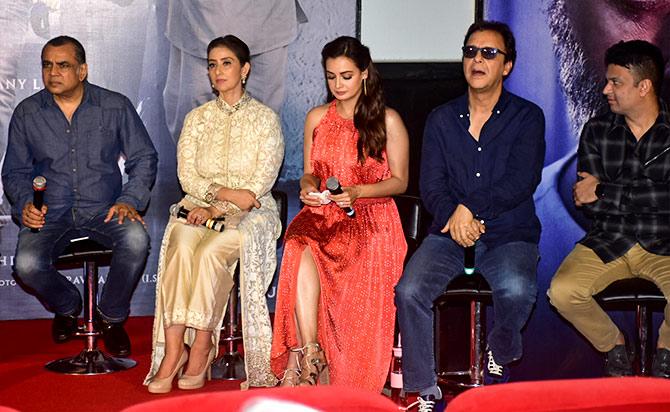 In the countdown to the trailer, four posters of the characters in the film were released, in addition to the 12 posters of Ranbir Kapoor as Sanjay Dutt that had been released earlier.
Of these, the poster that has received the most attention is Paresh Rawal as Sunil Dutt. It harks back to the time when Sanjay was going through his drug addiction phase.
"He went so deep into drugs that he completely lost himself. He lost his perspective in life. This happened just before the premiere of Rocky. He told his father, 'If you don't save me now, I am gone. I won't be able to survive'," says Ranbir.
"That's when Sunilsaab realised he had to support his son and took him to America. It was the most important moment in Sanju Sir's life," Ranbir adds.
Rishi Kapoor, Ranbir's father, has been raving about his son's performance since he saw the trailer.
"My father is also an actor. I admire him. Raju Sir recorded my father's reaction and had sent it to me as I was shooting," Ranbir says.
"Papa never tells me to my face whether he likes or dislikes my work. But it is a very important compliment for me, not because he is my father, but because he rarely compliments anyone. He always keeps on saying it could have been better, work harder."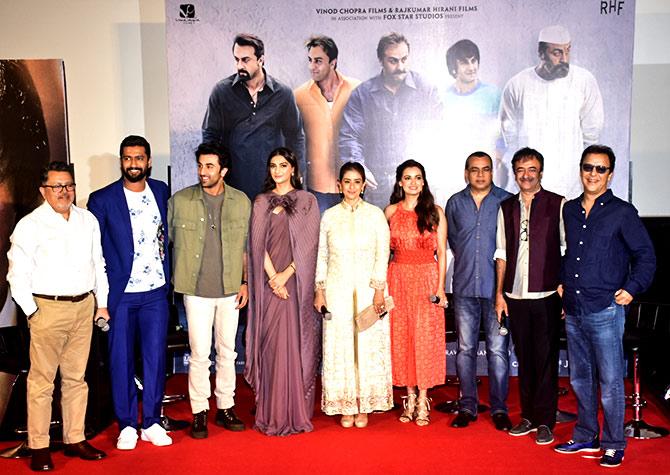 Recalling his first meeting with Sanjay Dutt, Sanju's Producer Vidhu Vinod Chopra says when Sanjay first went to jail, he did not know him.
"The industry blacklisted him. So I went to meet him at his house (after his release from jail) and I announced a film with him. When Sanju got back from jail, he called me for the film. I told him there is no film as I had just announced it to take a stand. Then he came to meet me and, later, we worked together on Mission Kashmir, Ekalavya and Munna Bhai."
"The story of Sanju is different from the Sanjay Dutt I know."
Dia Mirza, who plays Maanayata Dutt, has worked with Sanjay Dutt in the past. "I have worked with Sanju Sir in many films. He is extremely warm and affectionate, kind and generous," Dia says.
"When I read the script of the film, I realised how layered and detailed the narrative was. I heard things I have never heard before. I feel closer and more connected to Sanju Sir now," she adds.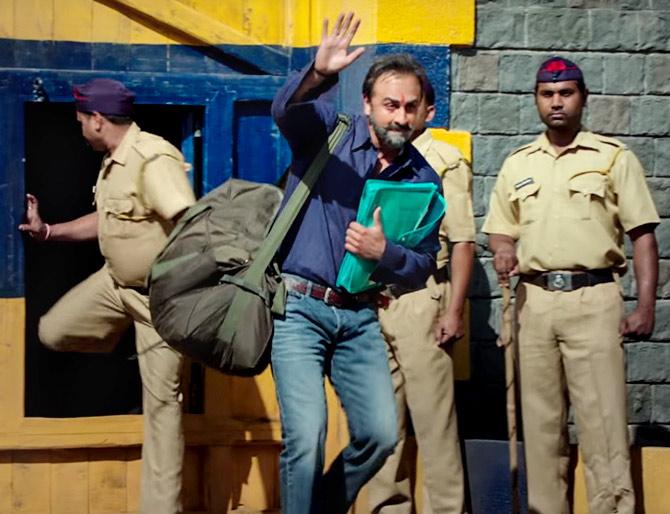 Manisha Koirala, who plays Nargis Dutt, reveals yet another connection to Sanju.
After her much acclaimed movie Bombay released, Sunil Dutt wrote a letter, complimenting her on her portrayal of a Muslim woman in love with a Hindu man (which aspect was similar to Duttsaab's real life love story). "'You remind me of Nargis,' he said."
Manisha, who has worked with Sanjay Dutt in more than five films, says, "The Baba (Sanjay Dutt's nickname) that I know is all heart; he is very happy and a prankster. I am looking forward to seeing this film."
BJP MP Paresh Rawal will play the late Congress MP Sunil Dutt. "Akshaye Khanna told me there was a script coming my way and said, 'I have not seen such spiritual writing before.' The script was solid. I respect Duttsaab a lot and I am happy to play his character. I have not met Mother Teresa, but I have met Duttsaab," Rawal said.
Asked if he had to battle ideological differences -- since Sunil Dutt belonged to the Congress party and Rawal is the BJP MP from Ahmedabad -- the actor answered, "I don't think like that. He was a very nice human being and my only thought was whether I would be able to portray his good qualities on the screen."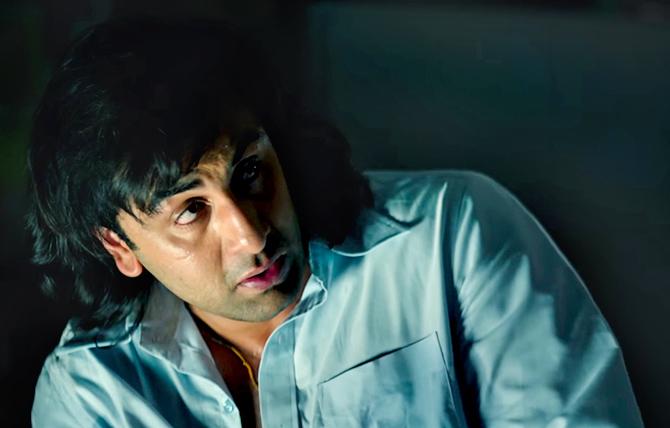 Sanju's Director Rajkumar Hirani and Sanjay Dutt had worked with each other in Munnabhai MBBS and Lage Raho Munnabhai.
"I always thought I knew Sanju and when he came out on parole, I went to meet him. I was never close enough to him to know his personal life or party with him. When he was out on parole, he was venting and telling me his jail stories," Hirani remembers.
"He called me over the next two days as well. I think he wanted to talk to someone about what was happening (in his life). On the third day, I called Abhijat (Joshi) from Ahmedabad and, for the next 25 days, we would meet him every evening from 5 pm and record him till 3 am."
"After listening to him, we realised we have not lived our life; we felt like dwarves in front of him."
"My film is about the father-son friendship; those chapters which you must have not heard about at all. We have said it honestly. Wherever he is wrong, we have said he is wrong; where he is right, we have said he is right."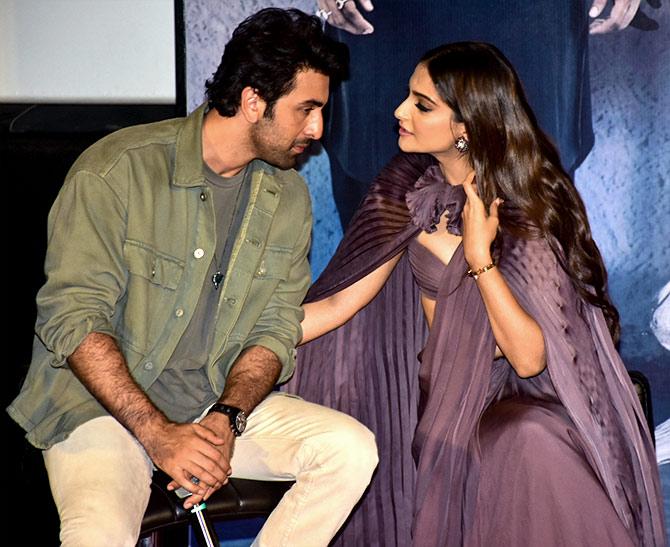 Sonam's (Kapoor) reason being for in the film was very simple; she wanted to work with Rajkumar Hirani.
She also wanted to say yes to any film that Vidhu Vinod Chopra offered her as he gave her father Anil Kapoor two of his biggest films, Parinda and 1942, A Love Story.
Besides, she offers her trademark grin, "I am very happy to work with Ranbir after 10 years."
Ranbir compliments Sonam, saying she has evolved into a better actor.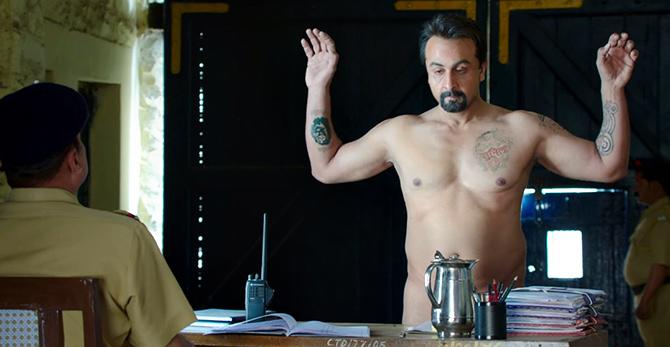 Recalling their debut film, he says, "'You saw me nude in my very first film, Saawariya, so having to go nude in this film is nothing, essentially, I am a shy person but, when I am in front of the camera, I don't mind doing anything."
Explaining Vicky Kaushal, who plays Sanju's friend, Hirani says, "His character traits and personality are taken from Sanju's close friend Paresh who is from the US."
"My father, who was a stuntman before he became an action director, played Sanju Sir's body double; we still have a photograph in the house," Kaushal adds. "My getting a chance to play an important character in his life in this film is like a blessing."
Anushka Sharma could not be present at the launch since she was shooting for another film. Her bright, blue-eyed character, says Hirani, is an amalgamation of Hirani and Abhijaat Joshi.
Sonam, on the other hand, represents the many girlfriends Sanju had in his life in his younger days.