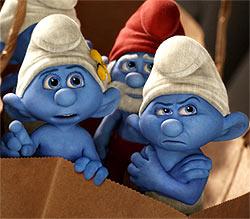 Animated Hollywood movie The Smurfs 2, set to release to release on August 2 in India, has a desi connection.

Chennai-based singer Adhi, of Hip-Hop Tamizha fame, sings the song Na na na in the film. He is joined by the top nine Indian Idol junior contestants.

Adhi rose to fame with his song Club le Mabbu le that was a big hit online.

The film's international soundtrack, soon to be made available online by Sony, features Britney Spears' hit Ooh la la, Right Said Fred's I'm too smurfy and LMFAO's I'm vexy and I know it.

The sequel to the hit 2011 film is scheduled to hit theatres in English

and Hindi.

Pop star Katy Perry has voiced the lead character of Smurfette, who in the sequel, gets kidnapped by evil wizard Gargamel.

Smurfette knows the secret spell of turning Naughties, Smurf-like creatures created by the wizard, into real Smurfs.

It is now up to Papa, Clumsy, Grouchy, and Vanity to rescue Smurfette and bring her to their blue world.

The Smurfs 2 has been directed by Raja Gosnell and produced by Jordan Kerner.