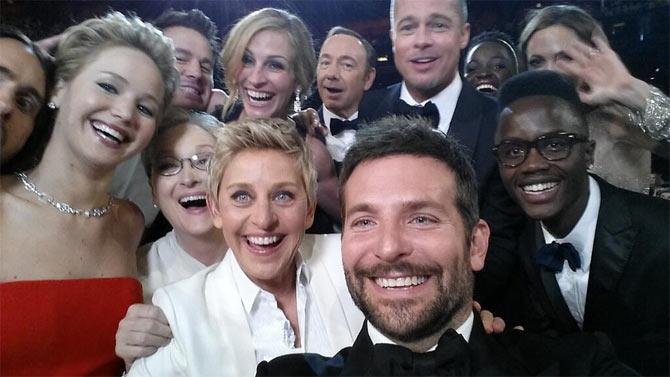 The traffic on popular social networking sites is heavier than usual around the awards season.

But something happened at the 86th Academy awards, concluded recently, that made Twitter crash momentarily.

Ellen DeGeneres, host of the evening, playfully skipped over to the celebrity audience seated in the Dolby theatre for the awards and urged all stars around her to pose for a selfie.

Soon Brad Pitt, Angelina Jolie, Kevin Spacey, Jennifer Lawrence, Lupita Nyong'o, Liza Minelli, Julia Roberts, Meryl Streep (phew!) and Jared Leto joined in.

While Ellen promptly tweeted that glorious Oscar selfie and went back to
her hosting duties, the picture was retweeted a record one million times in an hour.
At one point, Ellen mentioned that her team had got a mail from Twitter saying that the site had momentarily crashed.
This star selfie has now become the most retweeted picture in the history of Twitter, upstaging previous record holder, a
picture shared by US President Barack Obama
in 2012 after he won his second term.
Well, this one certainly gives a whole new dimension to the term e-pic, right?
Image: (Clockwise from centre) Ellen DeGeneres, Meryl Streep, Jennifer Lawrence, Julia Roberts, Kevin Spacey, Brad Pitt, Lupita Nyong'o, Angelina Jolie and Bradleuy Cooper. Photograph: Ellen DeGeneres/Twitter