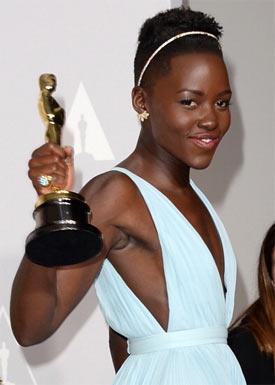 The 86th Annual Academy Awards seemed near perfect, almost predictable, as the awards went to the right people.

Lupita Nyong'o (in the picture), Jared Leto, Cate Blanchett and Matthew McConaughey
were the favourites and they won.
There was some wishful hoping but Leonardo DiCaprio still did not win for
The Wolf Of Wall Street
. In fact, the film lost out on all the nominations.
Host Ellen DeGeneres was refreshing, and the performances were entertaining enough.
Liked the show? Or did it not match up to expectations?
Join film critic Raja Sen as he deconstructs the show at length with Rediff readers from 12.30 pm to 1.30 pm on March 4, only on ZaraBol.