'If a hero wanted Mr Rafi to sing for him, naturally it had to be him.'
'Then if it was Dilip Kumar, who is a soft-spoken man, he naturally wanted Talat Mehmood.'
'Now you tell me, where did I stand a chance?'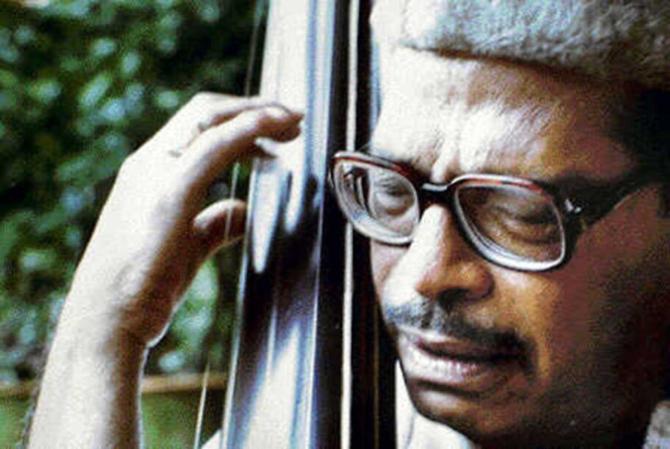 Think of Manna Dey and a dozen classic songs begin to play hide-and-seek in the corridors of our minds.
This constantly shortchanged singer has given Hindi music listeners such glorious evergreens as Kaun Aaya Mere Man Ke Dware (Dekh Kabira Roya), Ae Mere Pyare Watan (Kabuliwalla), Kasme Vaade Pyaar Wafaa Sab (Upkaar), Laga Chunri Mein Daag (Dil Hi To Hai) and Tujhko Chalna Hoga (Safar).
On the legendary singer's 102nd birth anniversary, Subhash K Jha traced an interview he had done with Mannada way back in 1997.
Though he was then on the wrong side of 70, Subhash remembers Mannada was as alert and outspoken as he used to be in his heyday.
Asked to comment on a colleague and he have Subhash his frank opinion, though occasionally qualified by, "You may not write this."
Often during the conversation, he would break into snatches of his memorable melodies to make a point on his musical literariness that always stood in the way of his achieving success in Hindi films.
The first of a two-part interview: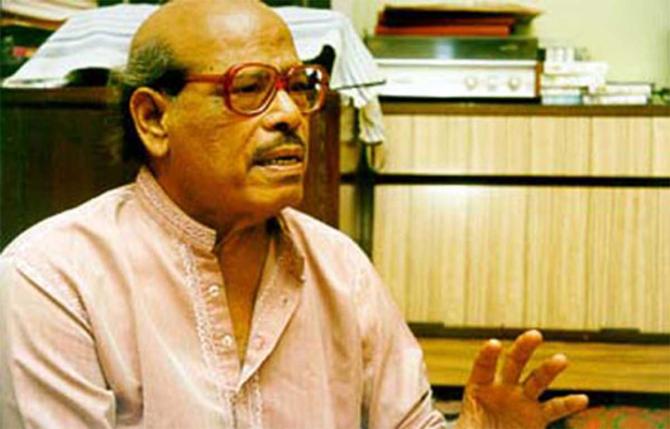 Most of your songs qualify as classics. How did you achieve such good results as in a Poocho Na Kaise Maine?
You see, when I'm asked to sing a song for a particular situation, I get totally involved with the song.
I gave an extra something to that song because it was composed by Mr (Sachin Dev) Burman, who was almost a brother to me.
The other songs for the same hero (Ashok Kumar) were sung by another singer, Mohammed Rafi.
But when Mr Burman chose me to sing Poocho Na Kaise, he told me to forget that I was Manna Dey and to sing for Ashok Kumar.
I did my very best.
I love to take on challenges.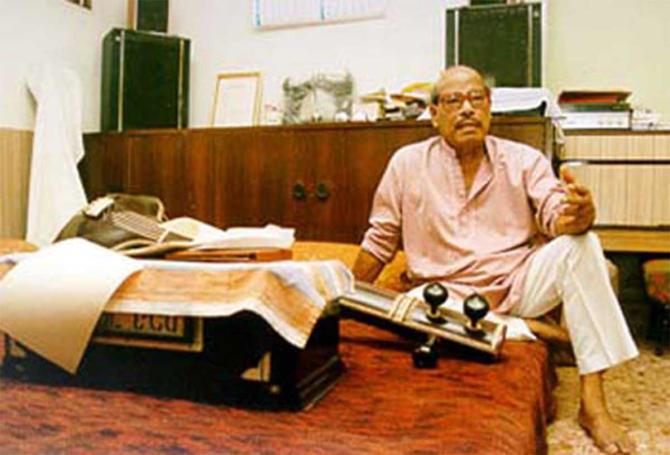 You just mentioned that all the other songs in Meri Surat Teri Aankhen were sung by Mr Rafi while the most challenging number went to you. This, I feel, has been the history of your career. You were invariably called for classical numbers.
I've always been a good student of classical music.
The little knowledge that I have has been used in my singing.
But classical singers are always dreaded by the masses, so I wanted to make it as a popular singer.
Many times I had to sing shoulder-to-shoulder with Rafi.
I accepted that he was a great singer.
If I didn't put in that extra something, I had very little chance to compete.
You sang some very popular numbers for Raj Kapoor like Aaja Sanam, Yeh Raat Bheegi Bheegi, Dil Ka Haal Sune Dilwala and Ae Bhai Zara Dekh Ke Chalo. Do you think it would have helped your career if you had forged a lasting bond with Raj Kapoor like Mukesh did?
The fact that Raj Kapoor chose me to sing a few songs for him was in itself a very big boost for my career.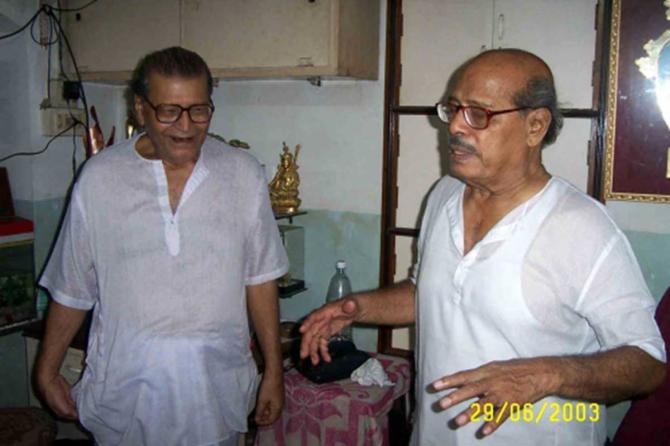 You were raised to be soft-spoken and family-oriented. But such values hardly help one to become successful in a competitive business like showbiz.
My father or uncles never raised their voices in front of me. Those values were instilled into my songs.
Whatever I put into my songs, I learnt from my family,
My uncle, the renowned singer K C Dey, who trained me, was a very hard taskmaster.
Ours was a joint family.
I was born in the same house as my kaka.
We used to have night-long music performances.
Woh sur jo kaan mein padaa, that was a great learning experience.
My first uncle used to earn the money, my second uncle used to take decisions and my father used to implement those decisions.
Even now, we live together.
Kabhi miljul ke batata aur bhat bhi kha lete hain toh khush rehte hain.
I wouldn't exchange my family for anything
The other day I was speaking to a music director. He said, 'Manna Dey was too much of a gentleman to become a success in Mumbai.'
(Laughs) I keep myself away from the industry.
Certain things never appealed to me. For instance, the drinking.
I don't drink.
Secondly, the gossiping.
My uncle's doctrine always played in my mind.
He said, 'If you don't deserve it, don't desire it.'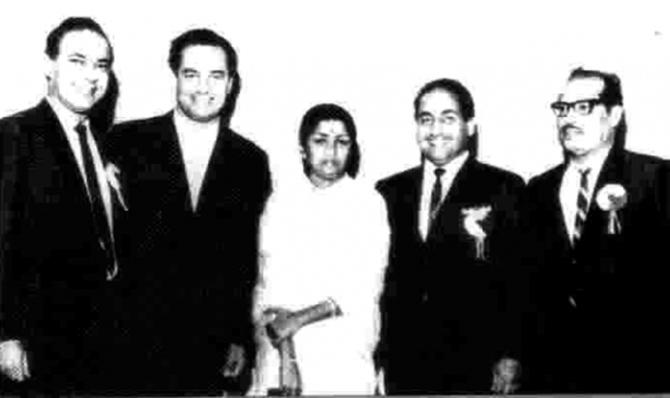 Competition in your times was rigid. Perhaps your lack of pushiness prevented you from claiming the success that was rightfully yours?
You are being too lenient about my failings.
When I started singing, there were quite a few stalwarts all around me -- Mohammed Rafi, Talat Mehmood, Mukesh, Kishore Kumar and Hemant Kumar.
There were only a limited number of songs in films.
If a hero wanted Mr Rafi to sing for him, naturally it had to be him.
Then if it was Dilip Kumar, who is a soft-spoken man, he naturally wanted Talat Mehmood.
Raj Kapoor wanted only Mukesh.
All of them had beautiful voices.
Now you tell me, where did I stand a chance?
I was given to sing songs like my uncle, in a stentorian voice.
I think they branded you a character singer.
Absolutely. In Bimalda's Do Bigha Zameen, I sang a popular song Dharti Kahe Pukar Ke for Balraj Sahni.
But in that film, he looked emaciated, down-and-out. So that became my image.
My song Chali Radhe Rani became popular.
But it was filmed on a beggar, so they branded me a side singer.
I used to weep about this.
A young man like me had to sing only one type of songs!
I don't know how their minds work in this film industry.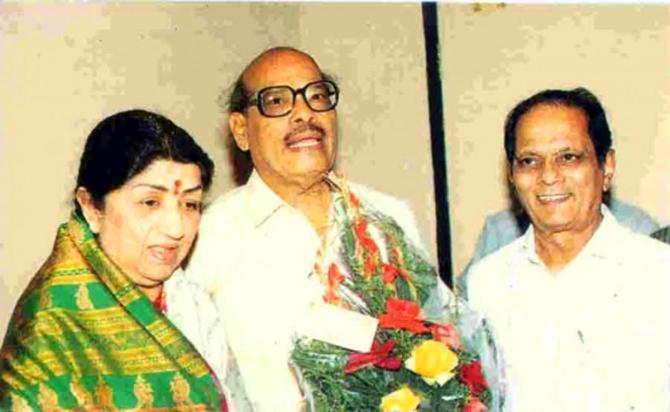 Would you say being part of a team is important for success?
Yes. Unless he's taken in hand by a capable composer, a new singer has no chance.
Rafisaab had talent, but Naushad took him under his wings and groomed him.
Even Lata Mangeshkar wouldn't have been what she is without the confidence shown in her abilities by Sajjad Husain, Ghulam Haider and Naushad.
But when Lata was coming up, the other lady singers like Zohrabai Ambewali and Shamshad Begum didn't have her sophistication.
Lata has a very rare talent.
I wouldn't say she has been taught music. Woh sun sun ke bani hai.
She learnt by listening to Noor Jehan and Geeta Dutt.
But Lata polished all the weaknesses in Geeta's throat.
At a time when you were hardly given love duets to sing, how did you manage to get the haunting Soch Ke Yeh Gagan Jhoome in the film Jyoti?
Oh, I love that song!
I don't think I was chosen by Burmanda.
Jyoti was produced by a gentleman called Alexander.
He was a football buff like me.
He insisted ke yeh gaana Manna Dey gayega.
Isn't it tragic that a singer like you who has sung such lovely love duets needed recommendation?
Believe me, I've thought about it many times.
At one point, I made up my mind to leave the film industry.
I didn't have a godfather and I didn't believe in asking for work.
Yeh sab mujhse hota nahin tha.
The turning point in my life was my marriage.
Even though my wife was a Keralite, she could sing Rabindra sangeet beautifully.
After marriage, we would sing together at home.
Were you against her singing publicly?
Yes, to an extent.
We continued to sing together at concerts abroad, but after we had our children, she said she wanted to stay home.
She's my perfect partner.
I remember one incident where V Shantaram insisted that I sing a song. But the music director wanted to sing it himself.
I told him to go ahead and sing it because his voice suited the song.
But Shantaramji was adamant.
The music director had modified the tune to suit my voice.
Shantaramji argued that if it's difficult for the singer to sing, the listeners can't sing it either.
In the evening, I narrated this incident to my would-be wife. She argued that if the tune was difficult, shouldn't I have made an effort to sing it?
She was absolutely right.
I had a kind of defeatist attitude towards my profession.
But is it absolutely necessary to be pushy to make it big?
I'll tell you an incident.
Years back, once when I was in Calcutta, I got a call from Raj Kapoor's office informing me that I was to attend his daughter's wedding.
I refused.
Even Rajsaab called me, which was a big happening.
But how could I abandon all my recordings in Calcutta? This kind of attitude did a lot of damage to my career.
I feel, apart from a few composers like Sachin Dev Burman and Madan Mohan, the rest could hardly sign even their names.
I was the only singer who made notations before recording a song.
I taught that to Lata and Asha, but they never made good use of it.
I used to work on the songs beforehand.
When I came for recordings, I could sing the number after only one rehearsal.
I've always been a perfectionist.
I took utmost care over every song that I sang so that even today, people want to listen to them.
Feature Presentation: Ashish Narsale/Rediff.com