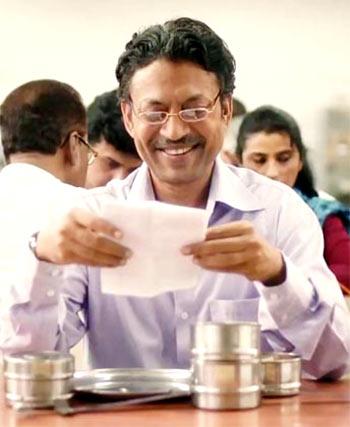 The Lunchbox's glory days are not over yet.
The film has been nominated to the prestigious BAFTA (British Academy Film Awards), 2015, in the Film Not In The English Language category.
Directed by Ritesh Batra, it stars Irrfan, Nimrat Kaur and Nawazuddin Siddique, and tells a unique love story.
Ritesh Batra, who is currently in London, sounds elated over the phone.
"I just heard in the news and it's a pleasant surprise for me. It's a wonderful way to start the New Year. I am extremely honoured to be nominated alongside some of the finest films from around the world," he says.
"The credit goes to the entire team, who made this film possible. It's a good validation to tell Indian stories to the world," he adds.
The beautiful Nimrat Kaur sounded just as happy over the phone.
"It's a wonderful feeling because The Lunchbox is my first film and it will always remain special," she says.
"This is a film which continues to bring in good news even after two years of its release. It really feels great to be nominated amongst the best films of the world.
"I would like to congratulate the entire team of The Lunchbox, who worked hard and gave their best to the film," she adds.
The Lunchbox missed its chance of representing India at the Oscars 2014, as the Film Federation of India chose The Good Road as India's official entry instead.
Do Read: How India may have blown its best Oscar chance
The BAFTAs will take place on Sunday, February 8.
Will the film finally get its due? Let's wait and watch.
Inputs from Sonil Dedhia/ Rediff.com