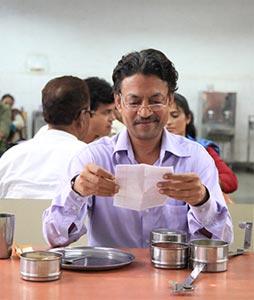 Raja Sen feels The Lunchbox is this generation's Masoom.

One of my favourite parts in The Lunchbox is when a character buys himself a painting.

No, sorry, scratch that; it is when a character narrates how and why he bought a painting.

It is a street-side purchase of a street-side scene: an artist at a scenic vantage point draws the same backdrop over and over again, but with varied details each time, his mental snapshot making each picture a wholly different capsule of captured time.

It is here that Mr Fernandez spots a likeness of himself, as a part of the throng -- not that unlikely an occurrence, given that he has walked that stretch nearly every day for decades and decades. Usually a reticent man, he allows himself this rare moment of vanity and buys the painting. And then he tells -- or, indeed, confesses -- all of this to a stranger.

There is so much to love here -- Mr Fernandez's discovery; the uncharacteristic puffing up of his chest; the need to boast about what is not an accomplishment but feels certainly like a triumph -- that this short, beautiful tale of an accidental portrait could well turn into a film all its own.

And yet in Ritesh Batra's film, this is but a throwaway scrap of a very special conversation. The film assuredly glides past this gem instead of dwelling on it, and, in the process, enriches its own narrative.

That, ladies and gentlemen, is how good The Lunchbox is, and how honest its storytelling rings.

Ritesh Batra's film -- about a city and serendipity -- might be about unremarkable folk, but it is a masterfully made and diligently restrained effort, one that impresses a viewer without impressing upon a viewer.

It is a simple story with unanimous appeal, told with unshowy efficacy, and yet The Lunchbox is the most fascinating film to come out of Bombay in a very, very long time. In many ways -- not least because it is an astonishing directorial debut -- The Lunchbox is this generation's Masoom. The Mumbai dabbawala is a miracle, a human cog with clockwork precision who operates, it seems, well outside Mumbai's haphazard universe, and yet fuels the mercenaries shovelling coal into the city's ever-open maw.

The Lunchbox begins with a dabbawala getting it wrong, odds of which happen to be one in six million. But then this is a film about happenstance, a wondrous what-if movie that lifts us from realism to something far better, and it's only fair that -- in ways unique to itself -- the city conspires, throughout the film, to set these events into motion, to champion this unlikely romance, to give us hope.

For Mumbai has always motored along on magic.

Thus, one fine afternoon, the city mistakes a widower for a husband and delivers him lunch. Lunch a wife laboured over, with much fondness and desperation, keen to surprise and amaze and seduce.

The meal licked clean, the steel tiffin-box returns home atypically empty. And when the widower discovers that the neighbourhood eatery hasn't suddenly upped its game, and the wife discovers her husband hasn't even missed her cooking, the two strike up a correspondence.

The parallels with The Shop Around The Corner (and its cinematic granddaughter You've Got Mail) are obvious but unwarranted: the letters exchanged in The Lunchbox are less conversational, more confessional.

He writes to her in English, writing initially for his own catharsis than any sense of communication, and she writes back in Hindi, giving away intimacies as if she thinks he might not understand the language that well.

They are letters written with the kind of comfortable candour one finds in the neighbouring seat of an airplane, for example, candour that exists because the speakers aren't
likely to meet again and can thus speak their minds.
In this film's case, they never meet.
Not that it gets in the way of their spirited romance. For that's what this is, a film where Ila discovers cracks in her marriage and can mention them only to the stranger eating (and, indeed, critiquing) her cooking, and where the quiet Mr Fernandez -- with a first name that delightfully belies his reclusive nature -- rediscovers VHS-era laughter.
There is much to smile at throughout this film as the two get to know each other and, in the process, tap into suppressed sides of themselves.
All while Mumbai, impossible Mumbai, takes each of their individual soundtracks (hers from a neighbour's cassette-player, his from kids on a train) and melds them together.
Irrfan Khan plays Mr Fernandez with a superb placidity, a clock-obeying government employee who treasures silence. Khan clearly relishes the amount of internalisation the role allows him, and savours the quiet, thoughtful, melancholy beats of the film, unhurried but with his timing immaculate.
He delivers his few lines with fantastic ease -- a deadpan gag about a blind man stands out -- but soaks up the silences even better: a scene where he reads a novel with one hand while eating his dinner with the other speaks, like this performance, volumes while keeping mum.
A scene he stares up at an unmoving ceiling fan, with disbelief and a (momentarily justifiable) tinge of fear, is overwhelmingly good.
Khan is a magnificent actor who keeps getting better, and this is him at his finest.
Enchanting him is Nimrat Kaur whom we haven't met before, but now, I daresay, shall be besotted with as a nation. Ila's brow is frequently furrowed and her eyes wide, and Kaur pulls off the role of a wife with a world on her shoulders very impressively.
It is a disarmingly natural performance that is impossible to forget and difficult to analyse, and in this limited space one may merely express admiration. There is a beautiful bemusement to most of her actions, as if she, initially can't believe the world she has made for herself, and later can't believe the world the letters are tugging her toward.
She cooks like someone who genuinely loves it, with an effortless sensuality and a discernible joy in the more meticulous preparations.
She's excellent, and her character is strengthened by the terrific addition of an off-screen neighbour who lives above Ila's flat and loves to help -- and to gloat.
The always-great Bharati Achrekar is a treat as this invisible Aunty, and provides invaluable narrative thrust to a film that ambles along nice and slow. Similarly critical is Fernandez's subordinate Aslam, a long-winded rookie the senior is supposed to show the ropes.
Nawazuddin Siddiqui plays it relentlessly, bearing down on the taciturn Fernandez with irresistibly good-natured oafishness. He's a mess, full of lies and insecurity and files smelling of the vegetables he chops on them during the train-ride back home, but in a film where the leads are quiet and cocoon their cards too close to their chests, Aslam is the one yanking the narrative with furious urgency, making things happen or, at the very least, talking about things happening.
Batra, who has also written
The Lunchbox
, has allowed his smashing actors tremendous room to improvise, all the while himself sketching in nuanced details about the city, its food-ferriers, and the many disparities Mumbai is crammed with.
It is a film of multiple pleasures -- small ones and overwhelming ones and exquisitely crafted ones -- layered one on top of the other, with something for everyone, and so, so much for the cinematic glutton.
Like the
dabbawalas
he loves, this director delivers.
Rediff Rating: