'I am not a supporter of complete freedom of speech or expression on any social platform, but we must have the right to choose as adults in a personal space.'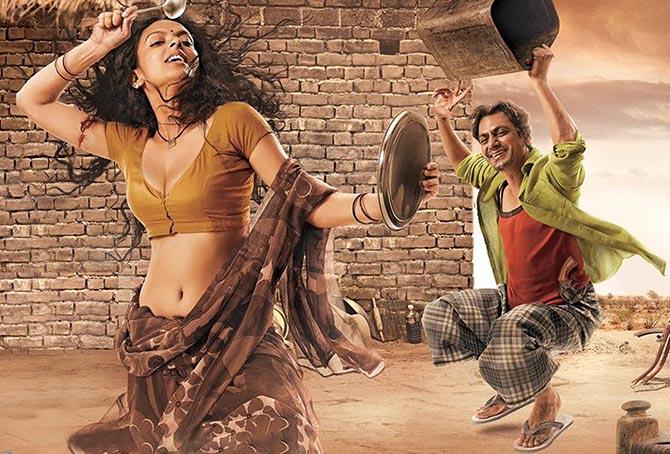 Babumoshai Bandookbaaz tells a unique story -- about a hitman who gets caught up in a strange killing.
Starring Nawazuddin Siddiqui and Bidita Bag, the film has been directed by Kushan Nandy.
Ghalib Asad Bhopali, lyricist Asad Bhopali's son, has written the story.
Ghalib, who has written popular television serials like Shaktiman and CID, tells Rajul Hegde about the film and his journey.
Pahlaj Nihalani has been replaced by Prasoon Joshi at the Central Board of Film Certification. Babumoshai Bandookbaaz had run into trouble with Nihalani.
Removing Pahlajji is definitely better, not only for filmmakers but also for the government.
Pahlajji wanted to prove a point as the chairperson of CBFC, but he didn't understand that we cannot grow backwards.
Any person, who is appointed by the government, must take care of its interests.
What Pahlajji was doing is not even in the government's interest. It was just hypocrisy and regression.
As a writer and lyricist, I am a fan of Prasoon Joshi. I am sure he understands craft and creativity.
I am not a supporter of complete freedom of speech or expression on any social platform, but we must have the right to choose as adults in a personal space.
I am sure Prasoonji will definitely take care of that right as chairperson of the CBFC.
Babumoshai Bandookbaaz has been asked to make eight cuts. Are you satisfied?
We haven't got any cuts.
They were all voluntary and we were prepared for that even before going to the FCAT (Film Certification Appellate Tribunal).
It doesn't affect our film or its content or its realistic approach.
Even the song and lovemaking scene, which we were asked to cut by 80 per cent, has not been reduced now.
Do you think family audiences can see the film?
When I wrote the film, I knew it can't be seen by families.
We have made a small budget film, and we know it is not meant for a large audience.
The hero belongs to a village and kills for money.
He (Babumoshai) belongs to the lower strata of society, where people use such language.
If we had shown a man with a gun on a bike, we would not have to give him cuss words because he would belong to a different strata of society.
He is unique because he does not kill like a common man.
He kills for two bananas because he is hungry.
He kills with a stone.
He learns to use the gun in jail.
He bargains for a murder and kills for Rs 10,000.
The target audience is different. We have not glamourised the film.
The film has all ingredients: Romance, thrill, action, emotions, everything...
Why is the film based in Bihar?
Our film was supposed to be based in Bengal, hence the word 'Babumoshai' in the title.
We went to shoot in Kolkata, but we had a bad experience and our budget overshot.
We decided we could not shoot there, so we shifted the film to Bihar.
Our title was already announced, so we could not change it.
So we have shown a character in jail who calls him Babumoshai.
Are you inspired by Anurag Kashyap?
The backdrop is similar to Gangs of Wasseypur, but other than that our film is more like (Ghalib's previous film) Bhendi Bazaar.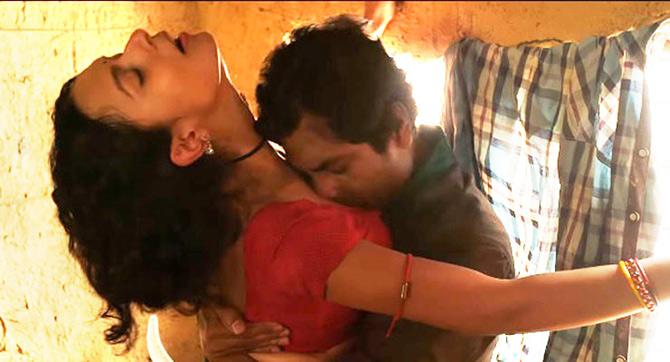 IMAGE: Bidita Bag and Nawazuudin Siddiqui in Babumoshai Bandookbaaz.
Chitrangda Singh walked out of the film, citing discomfort shooting intimate scenes with Nawazuddin, but director Kushan Nandy says the bone of contention was the script.
Chitrangda was there with us on the Bengal shoot.
We gave her a narration and clearly mentioned that the script was with us for three years.
We told her we cannot make any changes.
The heroine has grey shades, but she wanted it to be women-centric.
There is a scene in the film where the heroine sees a man's body and says, 'He has a great body.'
She said she would not look at him and say it.
The character is a cobbler, so she cannot be demure.
She has to be a woman of the street.
How did Bidita Bag come on board?
We had a lot of difficulty finding a heroine after Chitrangda left because we wanted a girl with no issues.
The girl should look real when she sits in the sun and does a cobbler's job.
After we watched Bidita's film With Love From Sydney, we felt she was perfect.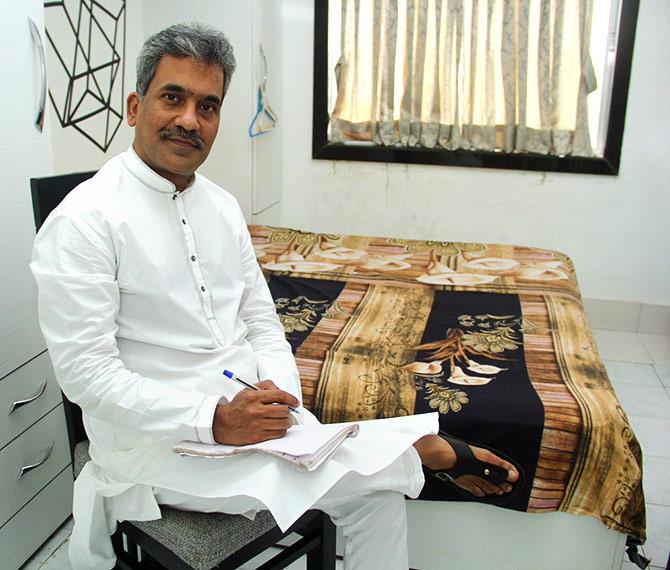 You have been in the industry for 25 years. Are you satisfied with your journey?
I am the youngest son in the family, with 10 brothers and sisters.
My father knew a lot of languages, like Arabic, English, Hindi... His Urdu was strong.
I got that flair for languages from him.
I started writing at the age of six.
My wife Rekha egged me on to write better shayari and writing.
I have had a great journey. I have not struggled much; I was not very ambitious.
I started as an AD (assistant director), then someone offered me a writer's job. Later, someone asked me to write lyrics.
I got a serial with Adhikari Brothers and then I wrote a lot of comedies.
I like writing comedies and thrillers. I don't like family dramas.
Your late father Asad Bhopalisaab wrote over 400 songs, including Maine Pyar Kiya.
My father wrote many more. Some recordings caught fire in recording studios, while many films and songs were not released.
My father got a Filmfare award for Maine Pyaar Kiya (for the song Dil Deewana).
He fell ill so he could not collect it.
The award is still in Sooraj Barjatya's office.
I am waiting for the day I get the award home.