Till the lockdown was imposed in March, more than 200 Zee staffers had spent over 2,500 hours across 28 regions in Punjab, Bihar, Madhya Pradesh, Karnataka, Tamil Nadu, Andhra Pradesh and West Bengal to understand the audiences.
The effort paid off, again and again.
Vanita Kohli-Khandekar finds out more.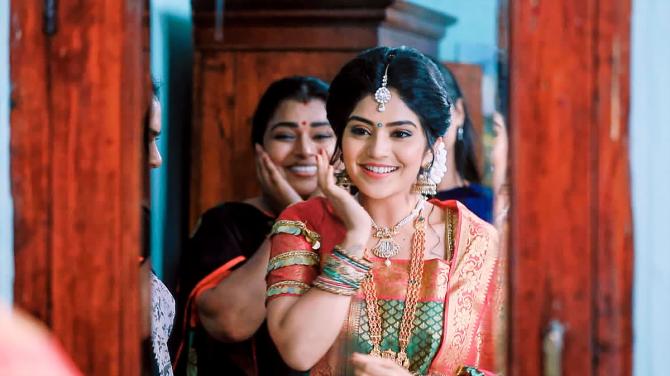 A 45-year-old man falls in love with a 25-year-old woman. Thereon begins the trouble, as does the story of Jothe Jotheyali, the Kannada remake of a popular Zee Marathi show, Tula Pahate Re.
Jothe Jotheyali, which went on air in September 2019, has -- along with Paaru and several other such shows -- solved a piquant problem for Zee Kannada.
Though the channel was leading in viewership share in Kannada, thanks to non-fiction shows such as Comedy Khiladigalu, getting audiences hooked to its fiction programming was a challenge.
And without the deep engagement and steady audience that fiction gets, Zee Kannada could never really become a leader in the real sense.
The solution was simple, but time consuming: speak to the audience.
So Zee Kannada roped in consulting firm Primalise to train some 45 people from its research, marketing and programming departments to have deep conversations with the target audiences.
Beginning August 2018, these people spent about six months travelling across Mysuru and Malenadu, Karu Nadu (North Karnataka), Dakshina Kannada and Kanara (Coastal Karnataka).
The idea was to understand what it is to be a Kannadiga -- their motivations, their values, the nuances of their language and so on.
"Saumyata (grace) is a big element in the state. In the other South Indian states, women are more evolved, assured. Kannadiga women are closer to their North Indian counterparts. They want to better their lots; they have self-assurance but also saumyata," says Prathyusha Agarwal, chief consumer officer, Zee Entertainment.
Jothe Jotheyali, Paaru (a poor girl who starts working for a rich, arrogant woman) and Kamali (a small-town girl wanting to play kabaddi) were born through such insights.
Shows such as these have pushed up Zee Kannada's audience share from 22 per cent in 2018 to 35 per cent now, making it a strong number one straddling both fiction and non-fiction.
Zee Kannada was the first.
The Rs 8,130 crore (Rs 81.3 billion) Zee Entertainment has repeated the 'Soul to Screen' exercise, as Zee calls it, for six of its 46 channels across shows.
Till the lockdown was imposed in March, more than 200 Zee staffers had spent over 2,500 hours across 28 regions in Punjab, Bihar, Madhya Pradesh, Karnataka, Tamil Nadu, Andhra Pradesh and West Bengal to understand the audiences. The effort paid off, again and again.
Zee Punjabi hit the number one position within six weeks of its launch in January (it is now at number three). Zee Bangla, Zee Sarthak (Odia), Zee Telugu and Zee Tamil have similarly seen their connection with the audience and viewer share rise steadily.
"Our growth in regional languages is because we started doing this on a regular basis," points out Agarwal.
In 2017, Zee's non-Hindi Indian language channels had a 7.4 per cent share of the total TV viewership, going by the Broadcast Audience Research Council data. This went to a high of 9.5 per cent before the lockdown, after which the lack of fresh programming pushed it down to 8.4 per cent.
On the face of it, 'Soul to Screen' Zee seems like the kind of research that most consumer good firms do. But in the Rs 79,000 crore (Rs 790 billion) Indian broadcasting industry, this is quite unusual. Most new shows and channels are decided upon by looking at viewership data and filling the gaps it shows.
Any qualitative input usually comes from focus groups or script testing (which is rare). Almost all channels commission programming, which means the creative process is outsourced.
What triggered this manpower and resource intensive approach?
"Between 2010 and 2020, the average TVR (television rating) was collapsing (across the industry). Many channels and shows were getting pulled out. Something was fundamentally wrong in the new product development process," says Agarwal.
This dilemma dovetailed with a corporate overhaul in 2017, which was about getting more consumer centric.
"In consumer marketing, the people delivering an experience (say, in a hotel) are a big component. If we extend that analogy to storytelling, the experience being delivered is storytelling created by humans in real time. And, therefore, being native to the consumer is critical," says Agarwal. "It is not just bhasha (language) or veshbhusha (clothes) that you are portraying; it is the core of their value system."
For instance, to figure out what Punjabiyat is about, 11 people from Zee Punjabi spent over a month-and-a-half in the state. They spoke to 150 people, including historians, journalists and politicians. The pain of Partition and the fact that "India ka nahi, Punjab ka batwara hua tha (Punjab, and not India, were partitioned)," kept coming up.
That helped create Tu Patang Main Dor, a love story that transcends this divide. The state's love of the army and the obsession of its youth to go overseas all became fodder for the creative team.
Similarly, for Krishnakoli, a big hit on Zee Bangla, the team travelled to North 24 Parganas and Nadia to study kirtan singers.
Note that most of Zee's success in using immersive cultural research seems to have worked in non-Hindi languages. There are two reasons for this.
One: Much of the programming in Bangla, Marathi, Kannada and other languages is either made in-house or the content teams at the channel are closely involved with the production process. This makes it "easier to pilot (the exercise), unlike Hindi where the production house is external," says Agarwal.
Two: "The regional teams, unlike Hindi, are more culturally responsive because they also consume the product," Agarwal adds.
This raises a question: Can it work in Hindi, which brings in the largest chunk of viewership and revenues for most broadcasters?
Zee has used it for &TV, where shows such as Gudiya Humari Sabhi Pe Bhari and Ek Mahanayak - Dr B R Ambedkar have helped push its share up.
It will be interesting to see what changes it can bring to popular Hindi programming.