'In the lockdown, family viewing became even more important.'
'Kids saw adult content and adults saw a lot of kids content.'
'The audience is no longer just the housewife, but the whole family.'
Vanita Kohli-Khandekar reports.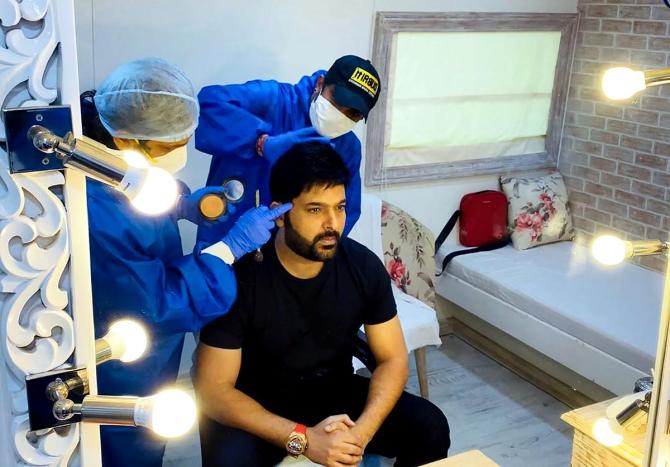 If Viacom18 and Sony are planning a merger, there couldn't be a better time.
That is the first thing that hits you when you look at Broadcast Audience Research Council numbers for what has happened to television broadcasting in the last six-odd months. The second is how much the market has changed.
In the first half of 2020, television viewership has risen by 9 per cent over the first half of 2019.
The average time spent has gone up from three hours and 46 minutes to over four hours. Yet, India's top five broadcast networks have lost audience share.
The estimated Rs 18,000 crore (Rs 180 billion) Star India fell from 19 per cent network share in 2019 to 16 per cent in the seven months till July.
What saved it was Disney's takeover of parent Fox in 2019.
Add Disney India to the Star kitty and India's largest broadcaster held steady at roughly last year's levels.
The Rs 8,130 crore (Rs 81.3 billion) Zee fell from 18.7 per cent to 17.2 per cent.
The reasons are not hard to find.
A bulk of the audience and revenues for the top five in the Rs 79,000 crore (Rs 790 billion) Indian broadcasting industry comes from entertainment programming.
The lockdown and the rolling effects of the pandemic meant that daily soaps, reality shows, all the stuff that drives viewership and keeps audiences hooked were missing.
Therefore, while viewership rose, a lot of it went to the worst programming form on TV -- news.
The other big gainers were films and kids.
For Star, an added factor was its inability to broadcast the Indian Premier League or IPL in April. Star is one of the few networks with heavy investments in domestic sports programming, largely cricket and kabaddi.
Of all the broadcasters, the two rumoured to be in merger talks -- the Rs 4,025 crore (Rs 40.25 billion) Viacom18 (Colors, Nick, MTV) and the Rs 6,336 crore (Rs 63.36 billion) Sony (Sab, Max) -- have been the steadiest.
While there are no comments from Sony on whether the merger is on, it is clear about what kept it going.
"The bigger beating (during the pandemic) has been on fiction shows. Our strength was The Kapil Sharma Show and our weekend line up. That worked and we grew initially. Also, Sab TV did well with Tarak Mehta Ka Ooltah Chashma," says Rohit Gupta, president, Sony Pictures Network.
A similar focus on its usually strong weekend programming (Bigg Boss, Khatron Ke Khiladi, Naagin 5), mythologicals and other repeats (Balika Vadhu, Karmaphal Daata Shani) and lots of dubbed programming worked for Viacom18. On the regional side it actually gained 2 per cent viewership share.
"The number one learning during this lockdown has been on creation versus curation. We have started challenging our notions of original versus older shows," says Ravish Kumar, head, regional TV network, Viacom18.
In Oriya, Bangla, and other languages the use of dubbed programming from across the network pushed up viewership by twice or more for many channels.
Much of this happened because most of India's 836 million TV viewers are sitting at home.
There is no prime time or non-prime time, there is no kids or adults time in India's 197 million, largely single TV homes.
"In the lockdown the family was coming together. Family viewing became even more important. People get together, to watch and discuss. Kids saw adult content and adults saw a lot of kids content," says Nina Elavia Jaipuria, head, Hindi mass entertainment and kids TV network, Viacom18.
"The world has changed. The audience is no longer just the housewife, but the whole family. The FPC (fixed point chart or programming schedule) needs to capture this new reality," says Kumar.
While prime time viewing grew by 4 per cent, non-prime time grew by 14 per cent.
None of this growth, however, meant much on revenues.
"In April, we saw only 20 to 25 per cent of the usual revenue, in May it went to 40 per cent, and in June 50 to 60 per cent," says Gupta.
Jaipuria says: "March, April, May were the worst months. Fortunately, outgoing had reduced because there was no shooting. July, August, September look good -- but maybe not the same as last year. We are hopeful that September should be equal to September 2019. A lot of segments and categories not on air are coming back -- auto, e-commerce, FMCG."
The uptick in advertising began with fresh programming coming in from July.
"As a marketer, you are very challenged on where you can reach out. You can't use outdoor, print is down, there is no commute so radio can't be used. Therefore, TV is the best media. Also, it offers measurement unlike digital (which has no standard third-party measurement). You know the exact impressions. We will begin the festive season with a bang," says Jaipuria.
<p">Gupta is upbeat about the discussions he has had with advertisers for the new seasons of The Kapil Sharma Show, Tarak Mehta and Kaun Banega Crorepati coming later this year.
These are, however, flickers of a market crawling back to normalcy, not signs of growth.
Media Partners Asia estimates that it will take the Indian video industry about three years to come back to 2019 levels in ad revenues.
If and when it does, the fact remains that the last six months have changed the interplay between advertisers, audiences, and entertainment broadcasters in many ways. Not just by mixing prime time and non-prime time or making the long tail or niche content irrelevant.
It is because TV audiences also sampled and gorged on large quantities of streaming video -- more than half of which was linear broadcast content.
The big battles in the video business will now be fought between Google (YouTube), Amazon (Prime Video), Disney Star, maybe Facebook, all of them 3 to 5 times Sony's size.
A consolidated Sony-Viacom18 will simply be better placed to deal with this new reality. And maybe the Sun Network could join in to make the combo stronger.