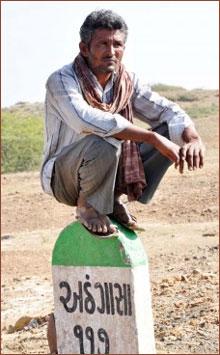 Gyan Correa's film The Good Road has not made it to the nine films that were short-listed for the 86th Annual Academy Awards.

Correa, who recently returned from Los Angeles after promoting his film there, says, "There was no point being exuberant. Even if we had made it into the nine short-listed films, no one in the US was going to look at our film during this holiday season."

Correa feels Indians lack both the financial and marketing means to bring home the Oscar.

Besides, there is no American distributor for The Good Road yet. "I don't think we are equipped to take our films to the Oscars. The Cannes film festival is easier to crack than the Oscars."

Vikramjit Roy, head of productions NFDC (the producers of The Good Road), was stationed in LA for the past two months and he's very optimistic.

"It was an eye-opening experience," Roy says. "I've returned with hope and experience. The critics in the US no longer seek the song-and-dance Bollywood formula in our cinema. Nor do they expect us to make their kind of cinema for us to gain their approval and acceptance. They looked at The Good Road without prejudice. There was absolutely no negative energy surrounding the film in LA."

He adds the NFDC left no stone unturned to make sure The Good Road made it into the Oscars short-list. "We did our best but yes, as compared to the clout, reach and promotional pitch of Sony Pictures or Warner Brothers, we did lag behind.

"There are basically four buckets to be filled for any foreign film to make it into the Oscar shortlist. Out of these, we filled three. The one area where we got left behind was the introduction of The Good Road through the international film festivals. Our film was a zero in that area. Otherwise, as per requirements, we had appointed an influential publicist in the US, screened the film to various guilds and had tied up for promotion marketing and screening with various film and trade magazines in LA such as Variety and Hollywood Reporter."

He explains that there are 76 films from all over the world vying for a place in the Best Foreign Film Category.
"Our product was appreciated wherever it was screened for the Oscars. However, as far as 'lobbying' for the Oscars goes, there is no such thing. We couldn't approach the jury members directly. Both Gyan Correa and I have enjoyed the experience of being in LA trying to make sense of the Oscars' sensibility."
Here's a look at the nine films short-listed for the Best Foreign Language Film category:
The Broken Circle Breakdown, Belgium

An Episode in the Life of an Iron Picker, Bosnia and Herzegovina
The Missing Picture, Cambodia
The Hunt, Denmark
Two Lives, Germany
The Grandmaster, Hong Kong
The Notebook, Hungary
The Great Beauty, Italy
Omar, Palestine