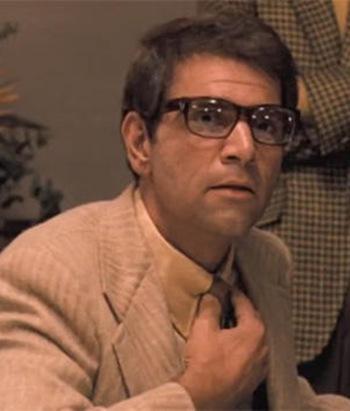 Alex Rocco, the gravelly-voiced actor whose gallery of memorable characters included Moe Greene, the cocky, bespectacled Las Vegas casino owner in The Godfather, has died.

He was 79.

Rocco died on Saturday at his home in the Studio City neighbourhood of Los Angeles.

The cause was cancer, his manager, Susan Zachary, said, reported New York Times.

Rocco had fairly limited screen time in The Godfather (1972), but he emerged from that film with a collection of signature lines, including "You don't buy me out. I buy you out" and "Do you know who I am?" (both spoken to the Godfather-in-waiting, played by Al Pacino), and a Hollywood reputation for stealing scenes with little more than a Boston attitude and his eyebrows.

In 1990 he won an Emmy Award for his role as a larger-than-life old-school talent agent in the well-reviewed but short-lived Jon Cryer sitcom The Famous Teddy Z.

Rocco's other noteworthy films included The Friends of Eddie Coyle (1973), with Robert Mitchum; Freebie and the Bean (1974), one of several projects he did with Alan Arkin; Tom Hanks's That Thing You Do!" (1996), as a fast-talking music executive; The Wedding Planner (2001), as Jennifer Lopez's old-fashioned father; and A Bug's Life (1998), as the voice of the grumpy grain-counting ant Thorny.

(He once said of his voice work, which also included the role of a cynical cartoon producer on The Simpsons, "It's like stealing money.")

Rocco, whose real name was Alexander Federico Petricone Jr, was a Leap Year baby, born in Cambridge, Massachusetts, on February 29, 1936, to Alexander Sr and the former Mary Di Biase.

Rocco moved to Southern California in the early 1960s and worked as a bartender while studying acting with Leonard Nimoy.

His first film role was in Motorpsycho! (1965), a Russ Meyer special in which he played a biker-gang
rapist.
Between that movie and his role in
The Godfather,
he was typecast quickly in films including
The St Valentine's Day Massacre
,
The Boston Strangler
,
Wild Riders
and
Blood Mania
.
Television viewers knew him best as the rough-edged father of Nancy McKeon's character, the blue-collar student at a fancy girls' school, on the long-running NBC series
The Facts of Life
in the 1980s.
His last series was
Magic City
(2012-13), a Starz drama about mobsters in 1950s Miami.
He was most recently seen in
Scammerhead
, a noirish comedy, but two films he made are awaiting release now. In
Silver Skies
, a comic drama about eccentric retirees, he plays a nice guy, nostalgic for his days as a guard at Paramount.
In
The Other
, a thriller, he's the owner of an estate where dark, demonic things seem to happen.
Rocco married Sandie Elaine Garrett in 1966, and they had three children.
She died in 2002.
He married the actress
Shannon Wilcox
in 2005.
She survives him, as do a son,
Lucien
; a daughter,
Jennifer Rocco
; a stepson,
Sean Doyle
; a stepdaughter, the actress
Kelli Williams
; a sister,
Vivian De Simone
; and four grandchildren.
Another son, the director Marc Rocco, died in 2009.
Image: Alex Rocco as casino owner Moe Greene in The Godfather