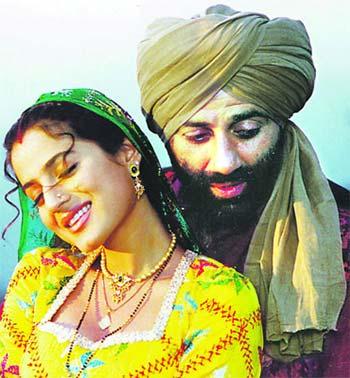 'Dharmendra doesn't realise he is such a great man. According to him, he is just a schoolmaster's son.'
'Sunny speaks very little and has huge respect for his father. Whenever he is in the room, Sunny will be quiet or he will finish soon and leave.'
'Bobby is the laadla of his parents.'
Director Anil Sharma gives us an insight into the Deol men, and other Bollywood Greats.
Anil Sharma's phone rings in the middle of our conversation.
It's Dharmendra, and the two start chatting warmly. The veteran superstar is currently holidaying in Lonavala, and they promise to meet up after three days when he returns.
Their relationship started way back in 1980, when Sharma was an assistant on The Burning Train. They went on to work in five movies, all big hits.
They became such good friends that Sharma directed Dharmendra's son Sunny Deol in four movies, the biggest hit being Gadar: Ek Prem Katha.
Anil Sharma may be a blockbuster director, but he's very humble and friendly when we sit down to chat at his Mumbai office.
He looks back at his long directorial career -- which started on July 14, when he gave his first shot -- spiced up with amazing insights about the movie gods. He also discusses his next film Genius in which he will launch his son Utkarsh.
Rediff.com's Patcy N in conversation with Anil Sharma.
'It looked like Rajesh Khanna owned Mumbai'
My grandfather and father were astrologers. My grandfather practised in Mathura, but my father practised in Mumbai. People from the film industry like Raj Kapoor were his clients.
Special clients like Geeta Dutt would travel to Mathura to seek advice from my grandfather in the 1960s.
I was living in Mathura and did not know any of them. By the time I was 13, I knew the Bhagvad Gita by heart. My grandfather would ask me to recite stories from the Bhagvad Gita. I think that's when I started becoming a storyteller.
One day, I went with my grandfather to Meerut for a wedding. I saw a theatre with a huge poster outside. I insisted that my grandfather take me inside. I had heard from friends about film theatres, about this huge dark room with live pictures.
When I entered, I was scared. It was too dark. The film, Ganga ki Laharen was playing. The first film I ever saw starred Dharmendra. Later, I worked mostly with Dharmendra. I think it was destiny.
I developed a craze for watching films. I would bunk school and watch films.
I started writing plays. With the help of my friends, we would act in plays on Bhagat Singh or something from the Gita.
After I turned 14, I started visiting my father in Mumbai, and vacationing here. On my first visit to the city, I took a cab from Dadar railway station to Khar (from the central to the western suburb of Mumbai) where my father lived, and saw huge hoardings of Rajesh Khanna. It looked like he owned the city.
My father made his first film Meera Shyam in 1976. I would go on the sets, and do little things like looking after the stars' needs.
I settled permanently in Mumbai when I was 16. I was made to read the English and Marathi papers out loud every day to become fluent in these languages.
'When I came to Mumbai, I wanted to be an actor. I thought I looked good'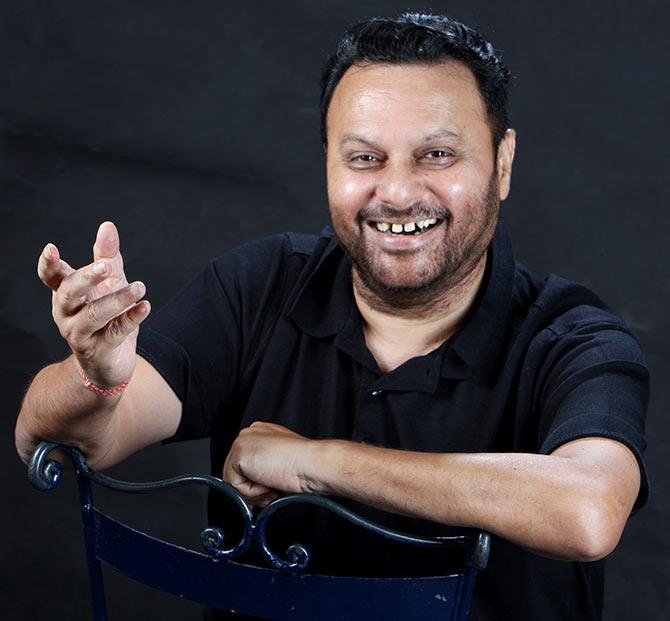 IMAGE: Director Anil Sharma
Like in Mathura, in Mumbai too I formed a small group to enact plays. I wrote a play, The Villain.
I put up a six-hour variety show in my housing complex which had dance, songs and my play. As the show progressed, people from outside also came to watch; at least 4,000 people gathered. We got a lot of appreciation.
Like so many people, when I came to Mumbai, I wanted to be an actor. I thought I looked good and had scope. But I realised that writing and direction was inbuilt in me. I did not have to learn them, it came naturally to me.
Pandit Narendra Sharma, who wrote Satyam Shivam Sundaram, was present for my show. He told my father I had potential and that he should get me into the film line.
But my parents were very clear that I have to do medicine. In Mumbai, I had started watching English movies. I saw Peter Sellers' The Party and liked it. Inspired by that, I wrote a play, Bure Fasey.
Since I had never seen a play, my inspiration was films. I wrote a play just like a film.
Narendra Sharma told my father that I had written a script, and that I should get into films. This time I also pressurised my father to get me into films. He agreed.
My father knew B R Chopra and Manoj Kumar. I came to know B R Chopra was making films like Pati Patni Aur Woh, The Burning Train and Insaaf Ka Tarazu.
I told my father to get me time with B R Chopra as I wanted to narrate a story to him. I was just 18. I met him two days later. I did not have a script ready with me, and wrote Tumhare Liye in those two days. He loved it and told me it could be made into a film.
I told him my motive was just to impress him so that I could assist him. He agreed and I assisted him on the three films.
'I was better at writing and direction than acting'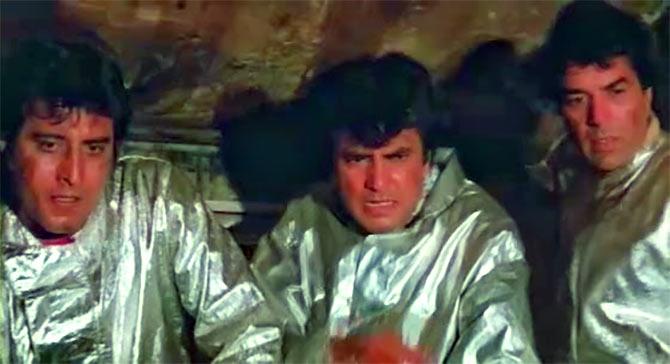 IMAGE: Anil Sharma worked as an assistant on The Burning Train, starring Vinod Khanna, Jeetendra and Dharmendra.
I still remember a shot in Pati, Patni Aur Woh, where Sanjeev Kumar rings the doorbell after meeting his Woh. His wife opens the door and he enters with a transistor in his hand. There was no comedy in it.

Sanjeev Kumar suggested that he would play a song on the transistor while entering the house. When he entered that way, everyone started laughing. Sanjeev Kumar didn't want his wife to think that he is over cool because he was guilty.

ChopraSaab told me that a good actor goes beyond the script. The writer or director didn't think of this, but the actor (Sanjeev Kumar) thought about it and took the script forward. I learnt about an actor's contribution in cinema.

There were many incidents that happened when I was assisting during the making of The Burning Train. There were already 17, 18 assistants. I got to be the assistant of the chief assistant.
There were 40 actors and in those days, since there weren't any computers, we had to hand write the dialogues for each of them and make 40 copies because there was no photocopy machines either.

I would do the writing till 10 in the night. One day, Ravisaab (B R Chopra's son Ravi Chopra) asked the watchman at the office to get some files. The watchman couldn't understand which files so he told Ravisaab that there is one Anil Sharma still in office.
I took the files and went to BR House. There were some other assistants with him who were my seniors. They started laughing when they saw me and asked me what I was doing in the office so late at night.

I told them I was writing some stuff that Sibalsaab (R K Sibal, chief assistant director) had asked me to do.
The next day Ravisaab called me to his office and asked me if I wanted to become his assistant. I said yes. He said he already had 18 assistants. I requested him to keep me as his 19th one. And that's how I got to be his assistant.

There were always bit roles here and there and Sibalsaab, who was always kind to me, would offer them to me and I would do them. I also did a small role in Insaaf ka Tarazu.
I had a good personality and thought that I could become a hero. But in those days, there were superstars like Amitabh Bachchan and Dharmendra. I would be reduced to a small time hero in front of them, and I didn't want to be behind in any way.

So I thought I would become a director and be among the top five or six directors. I thought I was better at writing and direction than acting.
'I took Rs 1,001 from my aunt and gave Rakhee that as the signing amount'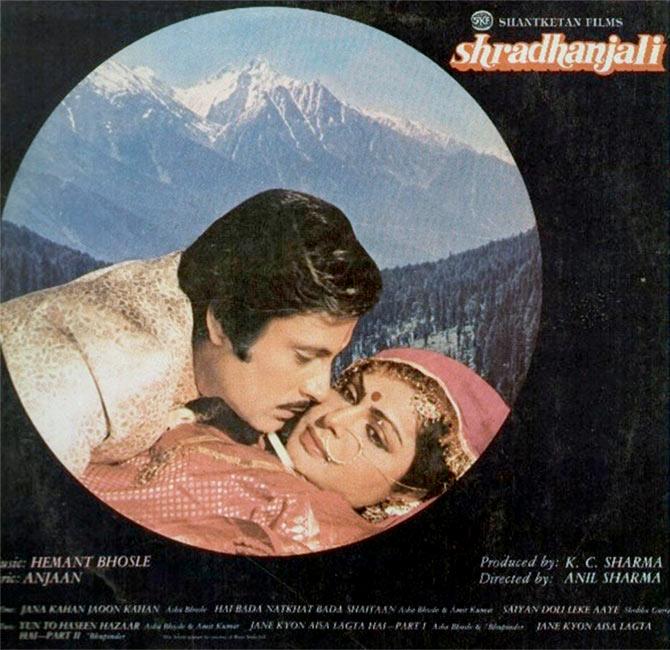 IMAGE: The poster of Shradhanjali starring Deepak Parashar and Rakhee.
Towards the end of the shooting of The Burning Train, Ravi Chopra had gained confidence in me, so he allowed me to shoot with Vinod Mehra. He was impressed with my work.
Meanwhile, my father was producing a film, Aap Ki Pehloo Main with Vinod Mehra. The director was Vinod Babu, who was giving my father a hard time. Vinod Mehra told my father that instead of giving this director a chance why don't you give your son a chance. But nothing happened.
I was doing Insaaf Ki Tarazu when I started my first film as a writer-director. I wrote the story of Shradhanjali on the lines of Satyavan and Savitri based in today's time.
I made a woman-oriented film because the budget would be less. Rakhee was a big actress then, so I decided to make film with her.
I met Rakhee through a friend. She was surprised to see me. I was just 21, and in those days there were no young directors. She gave me just 10 minutes to narrate the story, but listened for three hours and immediately said yes. She gave me 40 days of her schedule.
I did not have money for the signing amount. I took Rs 1,001 from my aunt and gave Rakhee that as the signing amount. She was shocked. She used to take Rs 51,000 as the signing amount.
I told her I would arrange for the rest and as my career was at stake, I would do a good job. I am grateful that she said yes to a young newcomer.
When I told my father that Rakheejihas signed my first film, he decided to produce it. The film starred Suresh Oberoi, Deepak Parashar and Arun Govil.
I took the first shot of my life on July 14, 1980.
I shot the film in little more than 40 days. It was a super hit.
'Zeenat Aman told me, "Anil, you are the first director who is covering me"'
IMAGE: The poster of Bandhan Kuchchey Dhaagon Ka starring Shashi Kapoor, Rakhee and Zeenat Aman.
In 1983, I made Bandhan Kuchchey Dhaagon Ka, again with Rakhee, as well as Zeenat Aman and Shashi Kapoor.
Shashi Kapoor is a very nice man; I was a huge fan. I have never been nervous when narrating a story, but I was very nervous when I met him. I went to his house and was fumbling. I thought I should narrate in English, but my English was not that good.
Shashi Kapoor gave me a glass of water, and told me to relax. He told me the film is in Hindi so tell me the story in Hindi.
I got more confident then and narrated the story. He okayed it and came on board.
Zeenat Aman was a huge star. She taught Indian women to wear jeans. She was the dream girl of every man. I had worked with her on B R Chopra's Insaaf Ka Tarazu. I always wanted to direct her.
On the first day of the shoot, she was happy with the way I was portraying her in the movie and with her costume. I had her all covered while designing her costume. She got very emotional and said, 'Anil, you are the first director who is covering me.'
I told her, 'Madam, your asset has been exposed a lot, but your personality has not been tapped. I want to bring that to the forefront.'
'If you convince Dharmendra, he will do anything'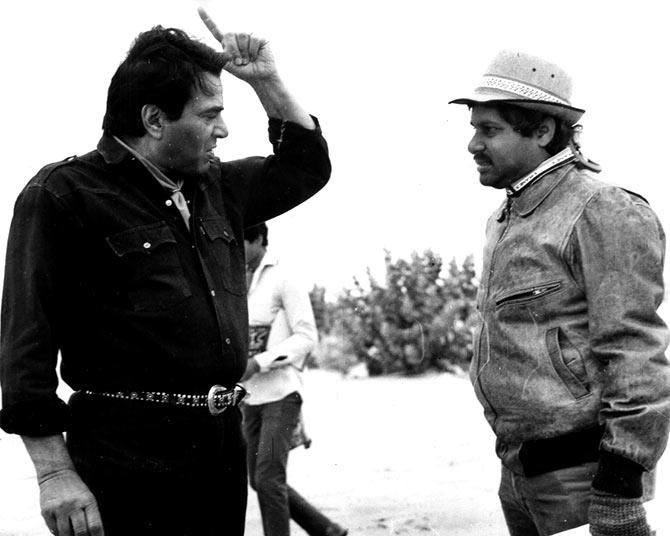 IMAGE: Dharmendra and Anil Sharma on the sets of Hukumat.
My third film was made in 1987 with Dharmendra, Hukumat.
I had worked with Dharamji on The Burning Train. Dharmji was coming to RK Studio for the first day's shooting of the film and I was in charge of taking care of his costumes.
Dharmendra had come with Hema Malini, he was sitting in his car and some 500 people, all shooting in RK studio, had left their work and were standing around his car in silence. They were waiting for the God to come out of the car, but he did not.
Then Choprasaab went to the van and the door opened. That was the first time I saw him. He told Choprasaab, 'I have just come back from the Razia Sultan shoot. I am tired, can we start the shoot tomorrow?'
Choprasaab said no problem. After chatting with people for two hours, he started to leave. It then dawned on me that I will not get to meet him before the shoot. Since there were foreign technicians on The Burning Train, a first in Bollywood, there was a call sheet for people to know their reporting time. I was given the job as I was educated.
I ran with the call sheet after Dharmendra's car and when it stopped at the gate, I knocked on the window. He opened it and I gave him the call sheet.
He asked, 'What is this?'
I said 'Kal ka programme.'
He said, 'Choprasaab told me when to come.' He threw the call sheet away.
I was disappointed. He smiled and said, 'Assistant ho?'
I said, 'Jee'.
Then he spoke nicely to me and said, 'I will come on time' and he drove away.
I met Dharamjifor Hukumat. I just narrated the story for 10 minutes and he said yes. My father gave him a small token and he signed the film.
Hukumat was a super hit and was in the theatres for 75 weeks.
My first two films, Shradhanjali and Bandhan Kuchchey Dhaagon Ka, were very light films, but I went all out with Hukumat. I made a complete masala film; it was an action packed film. Sadashiv Amrapurkar became huge and his character was loved by all.
Dharamji is a very mature actor. We were shooting the muhurat shot of Hukumat.
There were two dogs in the scene and Dharamjiwas a bit tense about the dogs, but I told him not to worry.
In the scene, Dharamji was to pull out a revolver on Sadashiv Amprapurkar and the dog would jump on Dharamji and take the revolver. Dharamji would then fight the dog.
But the dog, instead of jumping at Dharamji's hand, caught Dharamji's feet! He got hurt and was angry and shouted 'Pack up'.
Dharamji got up and drove away in his car. I was nervous. I did not know what to do. After two hours, I went to his house. He was chatting with people, but as soon as he saw me, he said, 'I told you the dog will bite,'
I asked how was I to know the dog would bite. We started arguing, then Dharamjistarted laughing. He told me he would come after two days.
When we were shooting in Nainital, we had to reach the sets at 7 am. Dharamji would be out at 5 am and would jog with his bodyguard to the shooting location and play football. He would not sit in his van and eat; he would eat wherever he was shooting.
He is a very natural actor, he is spontaneous, he listens to his director. If you convince him, he will do anything.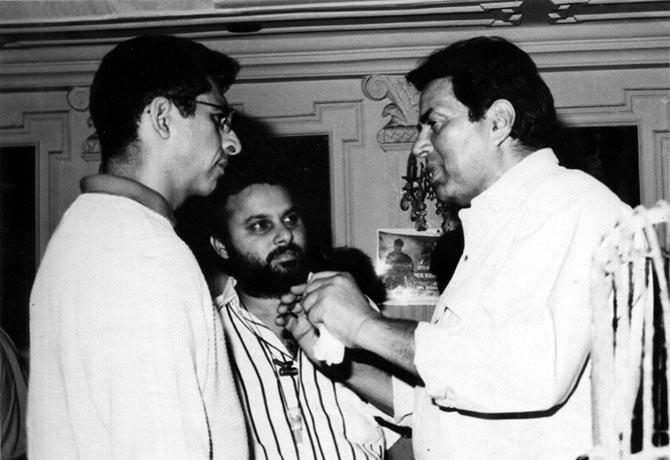 IMAGE: Naseerudin Shah, Anil Sharma and Dharmendra on the sets of Tahalka.
After Hukumat, I did Tahalka, Farishtay, Elaan-E-Jung, all with Dharmendra. After that, our relationship just got better.
He has a 55-year-old career and he doesn't realise that he is such a great man. According to him, he is just a schoolmaster's son.
Farishtay was a big film, with Dharamji, Vinod Khanna, Rajinikanth, Sridevi, Jaya Prada.
Rajinikanthsir is a gem of a person; he is very sincere and always on time on the sets. On outdoor shoots, he would sit with his back to whatever was happening on the sets. He would be looking at the sky, at the birds or the valley.
He will never once ask why there is a delay in the shoot, even if he is on the sets from 7 am and you take his shot at 4 pm.
If he has to go to the bathroom, his man Friday will come and take permission to leave the sets for a minute.
Even Sridevi would never say anything if there was a delay; she would sit and read a book.
'Govinda's comic timing was not very good'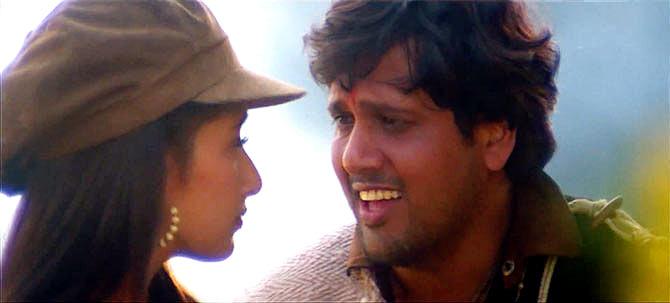 IMAGE: Manisha Koirala and Govinda in Maharaja.
After Hukumat, I wanted to work with a newcomer, so I decided to work with Govinda in Maharaja.
Madhu Ambat was the cameraman and he wanted to take early morning shots of Govinda. Govinda never comes on time, so we decided to do a night shoot which went on till 5 am, and Madhu got his shot.
I would call Govinda at 3 pm and shoot with him till 7 pm. Govinda is a very quick actor; he would shoot a scene in four hours that would take another actor two days.
His comic timing was not very good. Maharaja was my first film that did not do well.
I started producing films. I had given seven back-to-back hits in the beginning of my career. So after Thalaka, I did not work for around four years.
From Maharaja onwards I started working with a writer Shaktimaanji -- before that I wrote all my scripts. The work had increased, so I started working with him, but I was completely involved in my scripts.
'If I don't hit a six now, I will be out forever'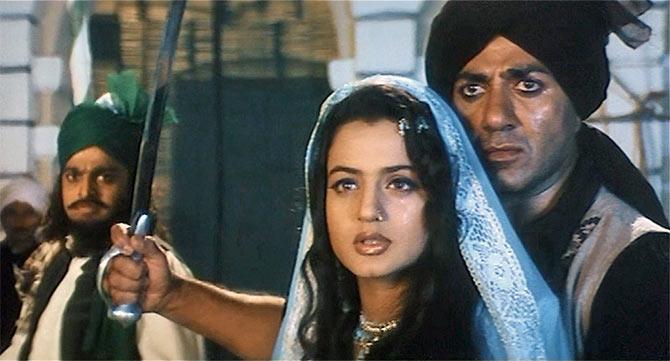 IMAGE: Vivek Shauq, Ameesha Patel and Sunny Deol.
After Maharaja, I realised that if I don't hit a six now, I will be out forever.
I was planning to write a script, something on the lines of Partition or Kashmir about the escape of the Pandits.
When I was writing the script I needed a plot of a Muslim girl from Pakistan and a Hindu boy from Kashmir, for the second half. While I was writing it, Shaktimaan narrated the true story of Butta Singh.

When I heard this story I suggested that we drop scripting Kashmirand do Ramayan instead.
Shaktimaan was taken aback. I explained the plot to him: A small boy tells his father to get his mother back from Pakistan. So Pakistan becomes Lanka.
Kargil had just happened and it was the right time for such a film because every Indian would want that the child gets his mother back.

There was no better choice than Sunny Deol. We couldn't imagine anyone else uprooting the hand pump.

We met Sunnysaab who was shooting in Ooty. He had tears in his eyes when he heard the script.
One great thing about Sunnysaab is that once he likes the script and agrees with the logic of the director, he won't ask anything. But if you manipulate the script or change it, he doesn't like it.
We never had any confrontation during the making of that film. We had suggestions and discussions, but ultimately worked as a unit.
There was pressure from Zee about the budget. They asked me to choose between Amrish Puri and a bigger heroine. I told them I want Amrish Puri and I am ready to take a newcomer as the heroine.

We auditioned some 400 girls, and selected Ameesha Patel. Her face fitted right for one of the dialogues in the movie, 'Main uchakar Chand ko nahin choo sakta.'

She had come down from Boston and there was a slight problem in her language and performance, but she was a very dedicated girl. She attended workshops for six months. I moulded her into Sakina.


IMAGE: Anil Sharma explains a shot to his son Utkarsh, as Sunny Deol looks on.
Shooting had started and we had to yet select the child. My son Utkarsh was five years old then and everyone from my unit suggested his name. He was just starting school and I didn't want him to miss that. And then my wife would have to be on the sets with him and we also had a two-year-old daughter.

Everyone, including Ameesha, insisted that I take Utkarsh, who was such a cute looking kid.

I asked him if he would like to act. He said no. I sat him down and made him understand that I was not getting a good child and he was a good choice. I asked my wife Suman to teach him a couple of scenes. He enacted them naturally. I would tell him don't act, just feel the scene.
The first scene with Utkarsh was to be shot at Naban Miyan's haveli, which was a two-hour drive from Lucknow. The song Udja kaale kawan plays when Sunny Deol reaches the wedding ceremony in the film in Pakistan.

I was tense, as director as well as father. It was my son's first shot. He was supposed to come and hug Ameesha, but something kept delaying that shot which ultimately happened at 2 am. We had to wake up the poor child, but he quickly gave the shot.

The climax scene with Utkarsh was also memorable. In the final scene Vivek Shauq, Ameesha and Sunny Deol, with the child in his arms, are running on the train.

First, I decided to use a dummy instead of the child, but then decided against it. It was foolish of me to put Sunny at risk -- he would have been safer with a dummy.

But the camera was on the chopper and so the dummy would be noticed. Sunny said he would manage with the child.
Both Sunny and Ameesha were running on the train. They could have slipped and anything could have happened. For the first time in my life, I directed a shot with my fingers crossed, praying that nothing untoward happened.
Tinu Verma was on the camera and I literally closed my eyes and opened them only when I heard the train come to a halt.

I was worried about everyone, but I was more worried about my son.
If you see the shot, you will realise how the child is holding onto Sunny. When the shot was over and I saw the rushes, I realised how much responsibility I had put on Sunny Sir, so I went to him and thanked him.

He would have been more tense than me because he had someone else's child to take care of. He is a lion-hearted man, I must say. I get goose bumps whenever I think of it.

During the making of the film, two tragedies happened. We were shooting the train riot scene and a small boy died in the stampede.
Zee had given an advertisement on television in Punjab saying we are shooting for a film starring Sunny Deol and whoever wants to be part of the film can come to the railway station. Thousands gathered and there was police to handle them. But things went wrong and a child passed away.
In the other incident, we were shooting the climax train shot and our technician was sitting on the crane to take the shot. The crane broke and the technician fell onto the tracks. We saved him, but he sustained injuries due to the fall. He was bedridden for a long time.
Gadar was a huge hit. It released with Lagaan and both films did good business.
I went abroad to write my next film and we would be invited into restaurants and offered free food.
'When Priyanka Chopra was new, she would always stand'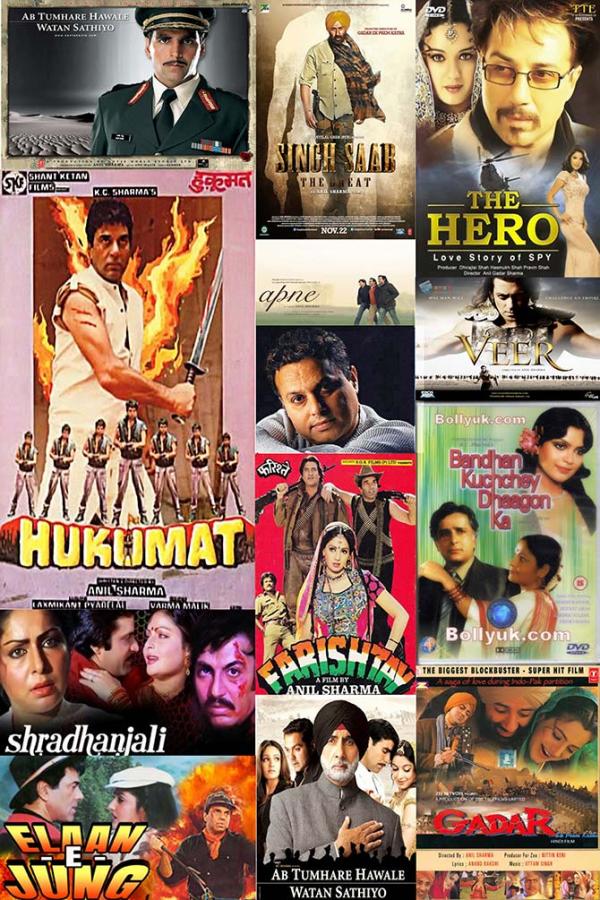 IMAGE: A collage of posters of all the films directed by Anil Sharma.
After Gadar, I made The Hero: Love Story Of A Spy, again with Sunny Deol. Priyanka Chopra got her first break in the film. I saw her winning the Miss World title and I told my producer that we need her in our film.
When she was new, she would always stand. I told Amrish Puri and Kabir Bedi that they were in charge of her and to see to it that she sits and eats her food on time and to chat with her and make her feel relaxed. They took good care of her.
We shot The Hero abroad -- it took us six months to get permission to shoot at Buckingham Palace.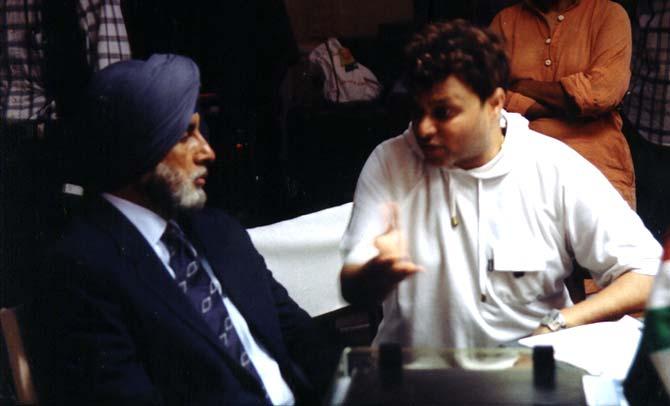 IMAGE: Anil Sharma explains a scene to Amitabh Bachchan on the sets of Ab Tumhare Hawale Watan Sathiyo.
In Ab Tumhare Hawale Watan Sathiyo, I shot with Amitabh Bachchan, Akshay Kumar and Bobby Deol and we introduced Divya Khosla. I think Bobby is the most honest star I have met. He is very innocent and child-like.
Amitabh Bachchan is one actor who as soon as make-up is done sits on the sets and not in his vanity van. He keeps reading the script and his dialogues. Till pack-up, he doesn't go to his vanity van to rest.
He is always on the sets even when the cameras are shifting and he is not required to be present.
I think Ab Tumhare Hawale Watan Sathiyo is Akshay's best performance. I have never seen any actor as punctual as Akshay.
During Gadar, it was decided that the three Deols would work together and I had to make a film keeping that in mind. I was looking at many scripts and ultimately, I decided on the story of a fallen boxer who wants his son to do well in the field.
Working with all the three Deols in Apne was fun. I have a good understating with all three. Dharamji is a happy-go-lucky person and he wants to talk to everyone.
Sunny speaks very little and has huge respect for his father. Whenever he is in the room, Sunny will be quiet or he will finish soon and leave. My generation never spoke much to their fathers, we just did kaam ki baat and left.
Bobby is the laadla of his parents. He is always joyful on the sets. He looks after all the needs of his parents and is very close to them.
After Apne, I made Veerwith Salman Khan. It was his story idea, a very good film, but I don't know why it did not work. Salman Khan was very good on the sets; we did have differences, but that was okay. Ultimately, he listens to his director and doesn't argue.
After Veer, I made another film with Sunny Deol, Singh Saab The Great. It did not do well. I gave two back-to-back flops.
Launching Utkarsh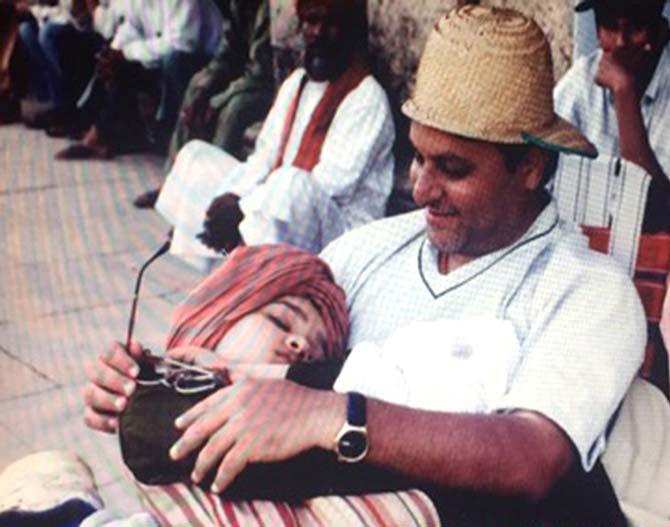 IMAGE: Anil Sharma with his son Utkarsh on the sets of Gadar: Ek Prem Katha.
During the making of Singh Saab The Great, Sunny Deol had told me that he wants me to direct his son Karan. But now, he has decided to do so himself.
So now, I have decided to launch my son Utkarsh, who is 22. I told him to get into engineering as he had secured good marks, but he wanted to get into films.
After Gadar, he worked in bit roles in Ab Tumhare Hawale Watan Sathiyo and Apne. He was very confident as a child. He did the entire dubbing of Gadar in half an hour. When he worked with Amitabh Bachchan, he gave the shot in one take.
I sent him to Chapman University, California, for four years to learn direction, production and writing. After that, he went to the Lee Strasberg Theatre & Film Institute to learn acting.
I had decided to launch him, so I have started working on the story. The film is called Genius. We have already started the pre-production work. It will go on the floors by the year end and will release next year.