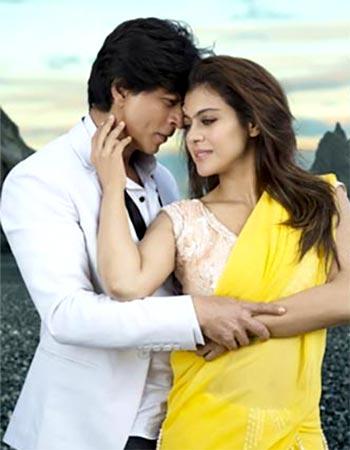 The box office battle over 25 years!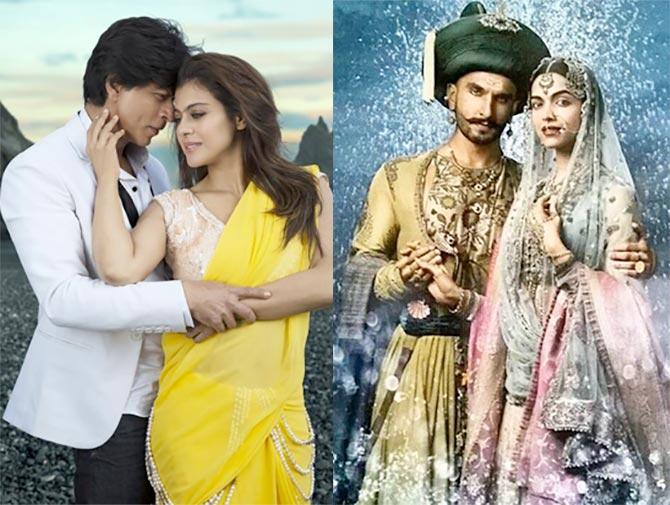 Shah Rukh Khan and Kajol in Dilwale. Ranveer Singh and Deepika Padukone in Bajirao Mastani
The game is on.
Bajirao Mastani and Dilwale will clash at the box office on December 18.
But big movies releasing on the same day is not a new phenomenon. We've seen them many times before.
Here's a look at the notable clashes over the last 25 years.
Phool Aur Kaante (Rs 5 crore), Lamhe (Rs 2.5 crore)
Release date: November 22, 1991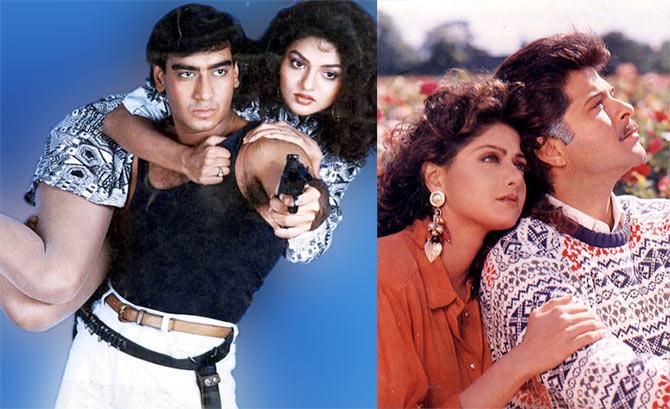 Ajay Devgn and Madhoo in Phool Aur Kaanta. Sridevi and Anil Kapoor in Lamhe
When Yash Chopra made a romantic film with Anil Kapoor and Sridevi, with good music, everything thought it would be successful.
But then, a youngster came atop a bike with a new heroine and a relatively unknown director and stole the show.
Ajay Devgn arrived, and how, when his debut film Phool Aur Kaante, made on a modest budget, went on to do double the business of Lamhe.
Ram Jaane (Rs 9 crore), Akele Hum Akele Tum (Rs 7 crore)
Release date: November 29, 1995

Juhi Chawla and Shah Rukh Khan in Ram Jaane. Manisha Koirala and Aamir Khan in Akele Hum Akele Tum
Shah Rukh and Aamir were on an equal footing when their films Ram Jaane and Akele Hum Akele Tum released on the same day.
But the former came with an out-and-out massy film while latter experimented with a classy affair.
Ram Jaane turned out to be a bigger success.
Mohabbatein (Rs 42 crore), Mission Kashmir (Rs 23 crore)
Release date: October 27, 2000
Aishwarya Rai Bachchan and Shah Rukh Khan in Mohabbatein. Hrithik Roshan and Preity Zinta in Mission Kashmir

Aditya Chopra released his second directorial venture Mohabbatein with Shah Rukh Khan, and it was obviously a big deal. Amitabh Bachchan and Aishwarya Rai Bachchan were the added attractions.
Vidhu Vinod Chopra expected his Mission Kashmir hero Hrithik Roshan to make a loud splash too, since he had become an overnight star with Kaho Na... Pyaar Hai the same year.
It stayed average while Mohabbatein was a superhit.
Read the Mohabbatein review here.
Read the Mission Kashmir review here.
Aks (Rs 8 crore), Tum Bin (Rs 4.5 crore)
Release date:July 13, 2001

Amitabh Bachchan in Aks. Priyanshu Chatterjee, Sandali Sinha, Himanshu Malik and Raqesh Vashisth in Tum Bin
A classic case of an underdog ruling the show, this wasn't really a clash of epic proportions but it's still worth a mention.
The bigger film Aks took a better opening due to Amitabh Bachchan's towering presence and hit music.
But the overall film made by Rakeysh Omprakash Mehra was rejected.
Instead, audience went for a simpler romantic musical by Anubhav Sinha, which was a winner.
Read the Aks review here
Read the Tum Bin reviewhere
Garam Masala (Rs 29 crore), Kyon Ki (Rs 13 crore)
Release date: November 2, 2005

John Abraham and Akshay Kumar in Garam Masala. Salman Khan and Kareena Kapoor Khan in Kyon Ki
Priyadarshan found himself in a sticky spot in 2005 when both of his own releases opened on the same day on Diwali.
He offered audience a choice between a drama (Kyon Ki) and a comedy (Garam Masala).
The festive mood meant that audience preferred to go with the comedy. There were no takers for Kyon Ki.
Read the reviews of Garam Masala: Raja Sen/ Sukanya Verma
Read the Kyon Ki review here
Welcome (Rs 75 crore), Taare Zameen Par (Rs 60 crore)
Release date: December 21, 2007

Nana Patekar, Anil Kapoor and Firoz Khan in Welcome. Aamir Khan and Darsheel Safary in Taare Zameen Par
When Akshay Kumar, Anil Kapoor, Nana Patekar and team came together with Anees Bazmee's Welcome, the film was expected to take a flying start.
But Aamir Khan's somber and offbeat film Taare Zameen Par enjoyed a longer run.
This was one of the rare events when both the releases fared well.
Read the Welcome review here.
Read the Taare Zameen Par review here.
Jaane Tu... Ya Jaane Na (Rs 56 crore), Love Story 2050 (Rs 11 crore)
Release date: July 4, 2008

Genelia D'Souza Deshmukh and Imran Khan in Jaane Tu Ya Jaane Na. Harman Baweja and Priyanka Chopra in Love Story 2050
Both films took a while to get made, but carried a lot of expectations for its leading heroes.
Imran Khan was being launched by his uncle Aamir Khan while Harman Baweja had dad Harry Baweja backing him up.
The verdict was out on the first day itself -- Love Story 2015 failed to take off while Jaane Tu... Ya Jaane Na rose from strength to strength.
Read the Jaane Tu Ya Jaane Naa review here
Read the reviews of Love Story 2050: Raja Sen/ Sanaya Dalal

Golmaal Returns (Rs 52 crore), Fashion (Rs 30 crore)
Release date: October 29, 2008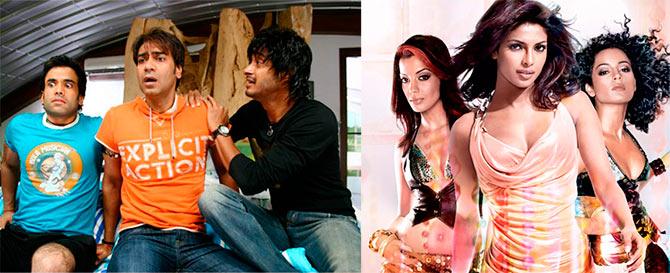 Tusshar Kapoor, Ajay Devgn and Shreyas Talpade in Golmaal Returns. Mugdha Godse, Priyanka Chopra and Kangana Ranaut in Fashion
Rohit Shetty was still climbing the success ladder when he released the second film in the Golmaal series.
He faced stiff competition from Madhur Bhandarkar's Fashion.
Fortunately, both films took a good opening.
Ajay Devgn ruled in single screens while Priyanka Chopra had multiplexes rooting for her.
Read the Golmaal Returns review here.
Read the Fashion review here.
Blue (Rs 40 crore), All The Best (Rs 42 crore)
Release date: October 16, 2009
Sanjay Dutt, Akshay Kumar, Zayed Khan and Lara Dutta in Blue. Ajay Devgn, Bipasha Basu, Sanjay Dutt, Mugdha Godse and Fardeen Khan in All The Best
A year later, Ajay Devgn found competition in the Akshay Kumar-Sanjay Dutt combo as his All The Best (again with Rohit Shetty) clashed with Blue, one of the costliest films made that year.
With debutant director Anthony D'Souza at the helm of affairs, Blue took a better opening.
But All The Best had the last laugh. It ran for a longer period and eventually overtook Blue.
Read the Blue review here.
Read the All The Best review here.
Golmaal 3 (Rs 106 crore), Action Replayy (Rs 28 crore)
Release date: November 5, 2010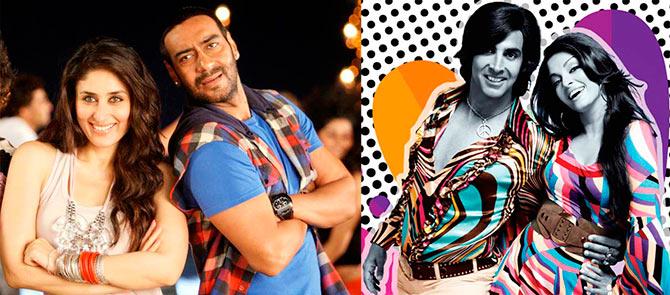 Kareena Kapoor Khan and Ajay Devgn in Golmaal 3. Akshay Kumar and Aishwarya Rai Bachchan in Action Replayy
Ajay Devgn and Rohit Shetty made Diwali their own, as they released the third Golmaal the next year.

There was no comparison in collections of Golmaal 3 and the other release Action Replayy, as the former took a huge lead on the opening day itself.
Read the Golmaal 3 review here.
Read the Action Replayy review here