Check out which movies made Sreehari Nair's list.
In 2017, as voices around me vouched for neatness, niceness, and decency, I longed for movies that attempted to de-demonise our preferred demons; movies that tried to increase our range of compassion; and help us to see the world beyond the usual advertising clichés.
In short, I longed for everything you don't get in an Aamir Khan film.
Here then is a year-end list of Indian movies that largely or wholly fulfilled that longing. I hope this list, as much as it documents the state of our cinema, also stimulates your sense of the times we're living in.
10. Tumhari Sulu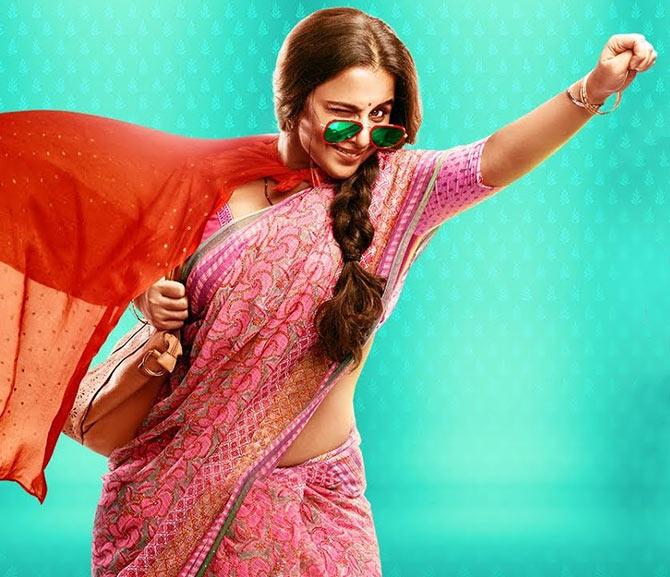 The centerpiece of this movie, about Radio Jockeying and the logical niceties therein, was complete hogwash, I thought.
But it's outside this stillborn section that director Suresh Triveni shows off his true mojo: A talent for shooting spaces and for recording domestic trivialities.
There's a passing frame of Sulu's son practicing his cricket shot and then topping it off with a commentary in which he praises himself.
Then there are the evident tricks like the sound of small talks playing over a shot of Sulu's building.
These are such inventively plugged-in frames that they give the whole narrative a whirring, on-the-move feel.
The movie also features one of the funniest scenes of the year, in which Manav Kaul fumes in his office of old, sleepy bosses, dragging into his frustration the subject of an unclaimed tooth.
Vidya Balan is probably the Hindi film actress that women in the metros most identify with, and here she plays a character basking in her knowingness of her glow. And that is most refreshing!
She has a way around her husband and Manav Kaul gets one the most original husband-characters in Hindi cinema: He's a short-on-confidence, bad-at-playing-the-iron-hand male who can't even spank his son proper.
There's a scene of Kaul asking Sulu's twin sisters if he may help them arrange for tiffins, and he mumbles so badly there that your heart goes out to him.
And then you remember Sulu's wonderful, ushering-in face and you realise that it's only when the man comes to her at night that he feels like a real man.
Seen this film? Rate it!
9. Jagga Jasoos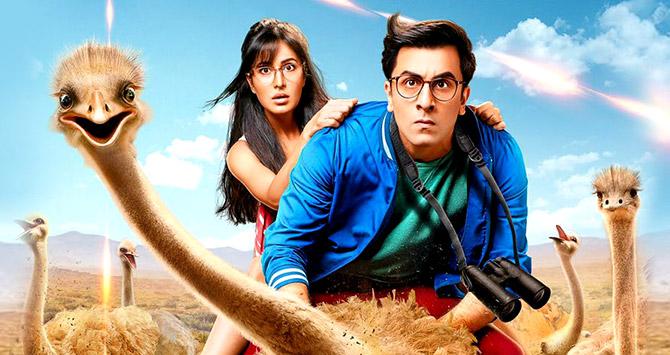 Its crowning glories aside, each time Jagga Jasoos fails, you can tell it is an artist's failure.
In other words, this is a movie which fails at altitudes that a hack would never dare to climb.
Anurag Basu isn't deep; his ideas are as basic as a young poet's condemnation of war. However, his visuals, probably written in his dreams, have a dream-like clarity that sustains you through the picture's dreary patches.
Developed as a compendium of many Improbable Missions interspersed with short monologues of sadness rendered as songs, the movie has numbers closer to Charlie Kaufman's unproduced Frank or Francis in that it has characters singing out their innermost fears, fantasies, and prejudices.
Basu is an elemental man; the kind of man, who, I assume, enjoys talking to animals and turning into music even his bodily functions.
In the musical word of Jagga Jasoos, the boundaries of language are busted; the dialogues and the slightest of human actions become jumbled and grow into codes in their own right, full of palindromes, onomatopoeias, and verbal topsy-turvydom (Tiktiki, Agapastala...).
It was a mistake marketing this as a children's film because while it borrows the architecture of a children's film, it clearly is a film that both children and adults with low attention spans will have trouble responding to.
Jagga Jasoos essentially deals with states of childhood that we tend to appreciate more as adults (There's a Crime of Passion narrated entirely through a jaunty song).
The editing is pure magic, managed almost like stagecraft.
Scenes transition without dissolves and there are scenes overlaid upon one another; parts of the film function like a set of frames arranged sequentially into which the characters walk or from which they walk out of.
Katrina Kaif's much panned performance was an act of goofiness not assumed but thoroughly felt. She is all crow walks and off balance here -- it's a marvelous, entertaining turn.
Ranbir Kapoor internalises the breakouts and complexes of his character and then lets them dissipate into a series of tantras, giving us the little dodges, the quivering upper lip, and the jimmy legs.
Anurag Basu clearly had so much fun thinking up and making this one that he presumed the audience would, too. The walkouts during the screenings were an indication that generosity in art doesn't always yield generous results.
Seen this film? Rate it!
8. Newton
Amit Masurkar's movie is commendable primarily for its ambition: It wants to aggregate all the confusions and complexities of our democracy, at one place, over one Election Day.
In this, the film is closer to those great family novels where a family becomes a stand-in for a country.
I could never feel any sympathy for the pillar-of-rectitude protagonist (though Rajkummar Rao is unquestionably brilliant in the role) or see him as a sort of spiritual leader for our times (which was my problem with those who thought this an inspirational film); for how do you accept a leader who has no tolerance for the perversities and the ineptitudes of human beings? Isn't that, also, the mark of a fascist?
Thankfully, Masurkar wholeheartedly believes in his hyper-idealistic central character and he also has great consideration for those opposed to his idealism.
Pankaj Tripathi is marvelous in his role as Aatma Singh, the intelligent, ill-tempered commander, whose experiences in life causes him to look at Newton with suspicion ('Is this guy for real?' Aatma wonders, and at times we empathise more with his misgivings than with Newton's stiffness).
Anjali Patil is unforgettable as Malko, the tribal girl, who carries the entire history of her land on her face, and Raghubir Yadav dishes out his character in razor slices, giving us bits and back-stories in each scene he appears, and by the end, we know the man almost intimately.
The movie offers us a template for change while simultaneously showing us what a great fallacy our idea of quick, sweeping change actually is.
Seen this film? Rate it!
7. Raag Desh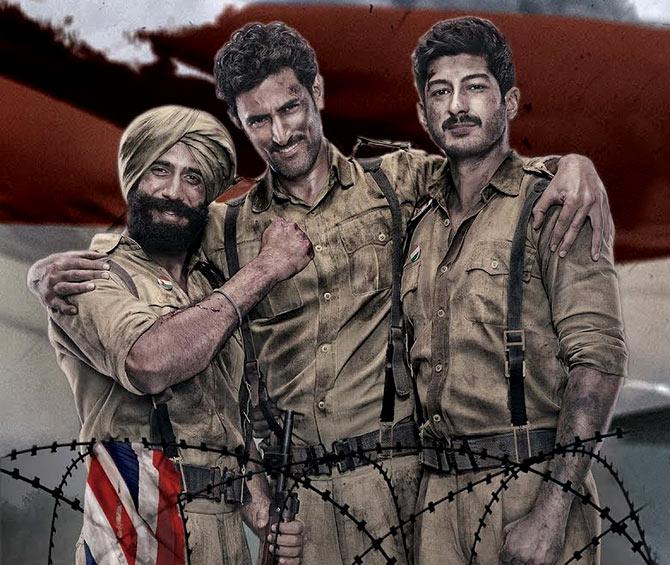 Tigmanshu Dhulia's cinematic sensibility travels on two rivers, one sentimental, the other pulp; he is moved by the most obvious things but has eyes that transform the 'moving' into something satirical, something playful.
In Raag Desh he takes as his subject the 1945 court-martial of three officers of the Indian National Army, a subject that evidently lends itself to patriotism, and gives it bounce and looseness.
Dhulia keeps on adding layers and details, and most importantly, humanizes textbook figures, while giving us his personal readings of them.
His version of Subhas Chandra Bose (portrayed by Kenny Basumatary) has to be the best and the most unhallowed version of Bose at the movies.
And this is precisely why it beat me when a certain critic grumbled that this film is no Gandhi. I mean, how do you even compare works of such dissimilar textures and ambitions?
Raag Desh is a hip, unsettling movie that gets at a very critical conundrum that the INA officers faced: In the course of their combat, they had to kill Indians who worked for the British army.
The film also makes us see the humour inside patriotism and the ways in which good intentions can go terribly wrong.
Through his personal subversions of History with a capital H, Dhulia lets a battery of fine, fine actors -- Kanwaljit Singh, Mrudula Murali, Vijay Varma, Kunal Kapoor, Amit Sadh, Mohit Marwah, Rajesh Khera, and the incomparable Kenny Desai -- discover new dimensions to their approaches (they improvise within the borders of shared knowledge).
By making us see a factual event through his candidly playful eyes, Dhulia presents another degree of possibility; we perceive a historical chapter by the personality of the film-maker. And with the holiness of our revered figures now banished, we can laugh at their little miscalculations, and moments of self-doubt shown in passing.
Seen this film? Rate it!
6. Kadvi Hawa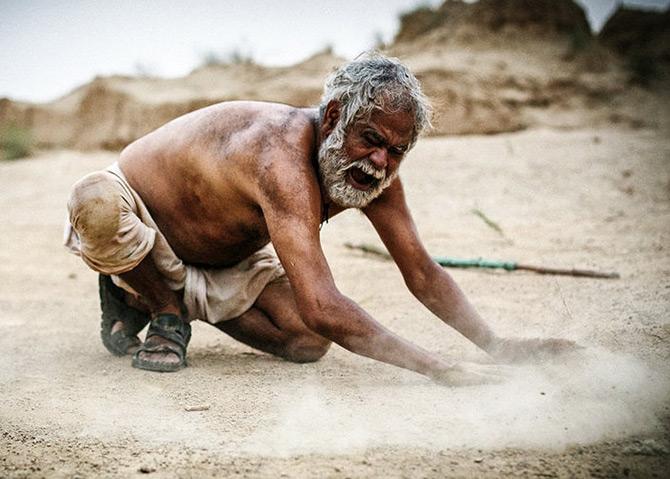 A good way to approach Kadvi Hawa is to not approach it as a movie about climate change, but simply as a human story.
Unlike some of those exploitative message pictures, this one doesn't want to tap into our rush for judgment. On the contrary, it wants to increase our depth of understanding.
Director Nila Madhab Panda wonderfully dramatises the effects of climate change by presenting to us two faces of the problem, and two people (played by Sanjay Mishra and Ranvir Shorey) caught in the grip of it.
When Sanjay Mishra's character rats on his villagers (to save his son), it offers us a window into understanding how corruption often develops out of our desperations.
And when Mishra is finally unable to forgive himself, we're reminded of a time past when people believed that children eventually pay for the sins their parents commit.
The characters in Kadvi Hawa all appear motored by the natural momentum that life is giving them. Watch out for a scene where Tillotama Shome pauses to take in her domestic frustrations and then uses them to roll her chapattis.
You get such an intimate portrait of lives and life in the village of Mahua that the makers didn't have to insert a climate change statistic at the end: The kind of spoon-feeding that detractors of the movie wished, were present in more abundance.
This is one of those pictures that you give yourself over to completely and then it reveals its fineness.
Seen this film? Rate it!
5. Gurgaon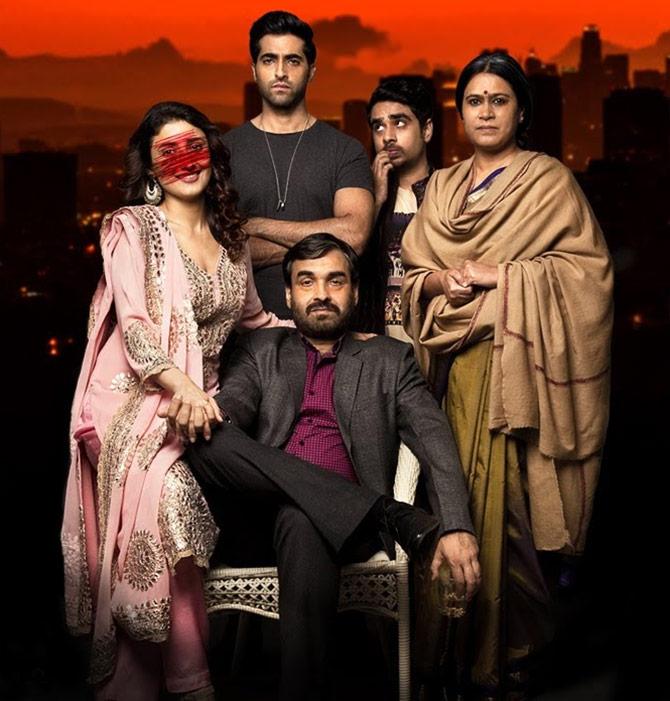 Director Shanker Raman's lit-like-a-noir, cut-like-a-thriller motion picture has two stories, of a city on the boil and of a family on the verge of crumbling, unfurling parallely.
Raman's major triumph here is in the way he shows us both the arc of the land and that of the leads with no overt flourishes, while pulling us into the movie's vortex very slowly.
Men and their misplaced sense of masculinity is, at the heart of Gurgaon, but Raman knows that to really reveal the devil, you have to first set him within the small details of everyday life.
So we see Nikki Singh (played astutely by Akshay Oberoi) bumbling, hedging, trying to hang onto his last thread of grace, before he lets slip his devious ideas.
And then there's the matchless, peerless, Pankaj Tripathi as Kehri Singh, his face a facsimile of all the battering he has taken and meted out.
Raman depicts the relationship between Kehri and his wife (a silently towering performance by Shalini Vatsa) with utmost care and such is his build-up that at the end, when Tripathi unloads upon Vatsa a deadly secret, you get precisely what both of them feel at that moment.
There's certain frostiness about the movie's soul, but it is not a hollow frostiness.
And who can be left unaffected by that image of two people bloodying each other up at a toll booth even as drivers pass by the scene without bothering to cast one look?
Seen this film? Rate it!
4. Bareilly Ki Barfi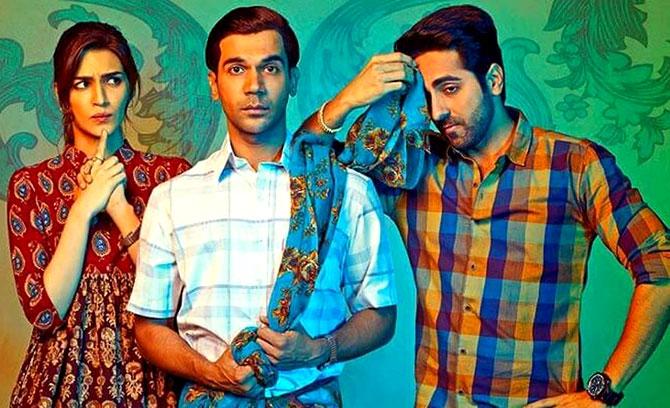 A movie that frees your tongue.
Ashwini Iyer Tiwari's high-energy screwball comedy is, among other things, a film, that makes you yearn to speak in circumlocutions, circuitous Hindi sentences, and proselytise for bizarre clauses and phrases.
Iyer Tiwari benefits from having a crackling script but she also knows how to 'direct a joke.' (Which is what makes this picture many times more fun than, say, a Shubh Mangal Saavdhan).
The actors, led by Rajkummar Rao, all work to make the other actors vivid to us. Rao shoots the film sky-high each time he appears on screen and the scenes of his transformation from 'sad-sack to badass and back' ought to rank among the finest screwball achievements of Hindi cinema.
Pankaj Tripathi and Seema Pahwa constantly threaten to spin the movie off into their personal orbit, and Ayushmann Khurrana wonderfully blends his character's outward sweetness with a dark, nasty side.
Kriti Sanon's performance as Bitti was probably the most unfairly judged act of the year (Most critics treated her as a large target and hence easy to hit).
Sanon is brilliant here. Her physical turn, full of faint facial contortions, irritations, and small pleading, is in fact the marrow of this giddily pleasurable ride.
Seen this film? Rate it!
3. Haraamkhor
Had read a post somewhere, on the day of Qarib Qarib Singlle's release, proclaiming Parvathy as India's finest actress.
No Sir, oh no Sir, that'd be Shweta Tripathi.
Upon watching Shlok Sharma's Haraamkhor, you'll be compelled to call Tripathi a 'Girl Wonder.'
And then, after snapping back into reality, you'll have a tough time reconciling with the fact that that smart 14 year old you saw just a while back is actually a 34-year-old lady.
Tripathi is magical here as the 9th grader Sandhya -- never too precocious, on the other side of easy sentimentality, and slowly becoming alert to her sexuality.
And every time she watches her teacher-lover Shyam's (Nawazuddin Siddiqui) male vanity being crushed, she breaks into a mocking, gummy laughter.
This is a liberating movie roughly about the hypocrisy that adulthood brings with itself and which easily gets caught out by bright, intuitive children.
Siddiqui merges into the movie without once lording over it and his held-back performance becomes a statement of his character's duplicity.
Shyam's routines with Sandhya are written and directed with terrific perception.
When the much-married Shyam asks Sandhya to define their relationship, and she can't, it charges him, and you get it: This is a man bored of the small rules of domesticity, and she is his release.
Later, he debases her just after she has likened him to her father.
Haraamkhor is a movie of faces, stony postures, and play-acting, and the mousy Tripathi and Siddiqui with one arm clasped behind his back, slowly and silently, make us better aware of the culture of exploitation than any movie before it that simply blew blasts!
Seen this film? Rate it!
2. Angamaly Diaries
In this Lijo Jose Pellissery picture, misplaced jokes, price bargains, and heartfelt confessions, all end in violence.
The boys who strut their way through marketplaces and rubber plantations looking for showdowns, get their showdowns, but for reasons entirely different from what they were originally planned for.
It's this overarching comic spirit that supplies the humanity of this film and sensitises you to the exact grain of its violence (Those who found the movie too violent perhaps live in a world of only pacifists and vegetarians).
Very broadly this is a story of Pepe, the choir-boy who grows up fantasising about ruling the streets of Angamaly, and Appani Ravi, who lives for nothing beyond a quick buck, who tussle it out while silently admiring each other.
Between the grunting noises of pigs and the sing-songy Angamaly style of talking, we're drawn into these lives and feel new sensations.
And all of this culminates in an 11-minute-long uncut shot, set in the middle of a carnival procession, with actors beautifully playing off each other and a crowd of I-don't-know-how-many hundreds looking on, as cinema emerges from life and socks us between our ears.
Seen this film? Rate it!
1. Thondimuthalum Driksakshiyum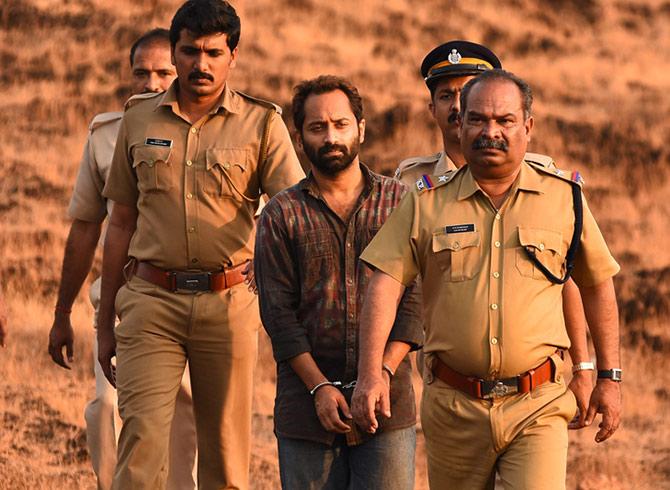 You walk out of this movie thinking more clearly.
Dileesh Pothan's second film, after the magnificent Maheshinte Prathikaram, has the synthesising wisdom of great books.
Like Tolstoy, Pothan manages to be both immensely severe and compassionate toward his each character; he forgives nothing too easily and yet shows us that however broken these people are they're still trying to do the best they can.
Most of Thondimuthalum takes place inside a police station in Kasargode, Kerala, and it deals with a chain-snatching case, in which the snatcher swallows the chain immediately after he flicks it.
From this small plotline Pothan and his team create an entire ecosystem that flawlessly mirrors our petty lives, our propensity for judging too quickly, and our basic leaning for being self-righteous, and how the system both reinforces and toys with these personal tendencies that we come studded with.
Fahadh Faasil's nameless thief act is easily the best by an Indian actor this year, and Alencier Ley, Suraj Venjaramoodu, Nimisha Sajayan, and a bunch of real policemen all pitch in with the sort of performances that can compete with those legendary feats the world of theatre has seen.
If there's an aspect that binds the directors of this Malayalam New Wave, it's that they're not necessarily chasing stories but are instead out to make each shot truthful.
Every shot (and not just every scene) matters to Pothan who has a clear understanding of the politics of his settings, and the interweaving energies that make up his geographies.
And while he never plays these up, they influence the small tales he goes on to narrate, and give glory to even the most ordinary-seeming of his characters.
In a Dileesh Pothan movie, there's always too much happening beneath the feet, and you feel it, as he passes on the tickles.
Seen this film? Rate it!