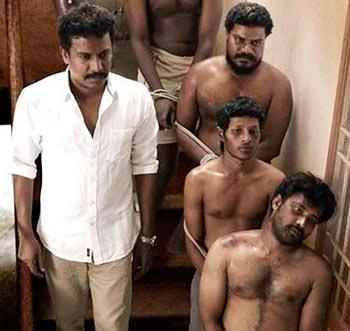 'My status in society as an auto driver could never have brought me this glory; it is my writing that has taken me across the seas and brought me fame.'
M Chandrakumar shares his success story.
M Chandrakumar, 53, has been making a living as an auto driver for nearly three decades now.
But there is more to him than just ferrying passengers.
His sensitivity to issues plaguing our society and some bitter past experiences led him to seek solace in writing. Today, the Class 10 dropout is the author of six Tamil novels.
Auto Chandran, as he is fondly called, has just returned from a trip to the Venice film festival, where he was invited to attend the screening of National award-winning director Vetrimaaran's film Visaranai.
Visaranai is an experimental film based on Chandrakumar's 2006 Tamil novel, Lock Up.
The film has been making waves in the international film community and holds the distinction of being the first Tamil film to be screened at the competitive section of the festival. It went on to win the Amnesty International Italy 'Cinema for Human Rights' Award.
An elated Chandrakumar tells Rediff.com contributor S Saraswathi his experience at Venice, relives the bitter experiences of his past and tells us how Lock Up became a movie.
Congratulations! Your story has garnered a lot of appreciation. How does it feel?
The excitement and joy I feel is overwhelming. My status in society as an auto driver could never have brought me this glory; it is my writing that has taken me across the seas and brought me fame.
Director Vetrimaaran and Dhanush have made this a reality. It is through their efforts that this tiny voice of the defenseless and vulnerable has been able to reach millions across the globe.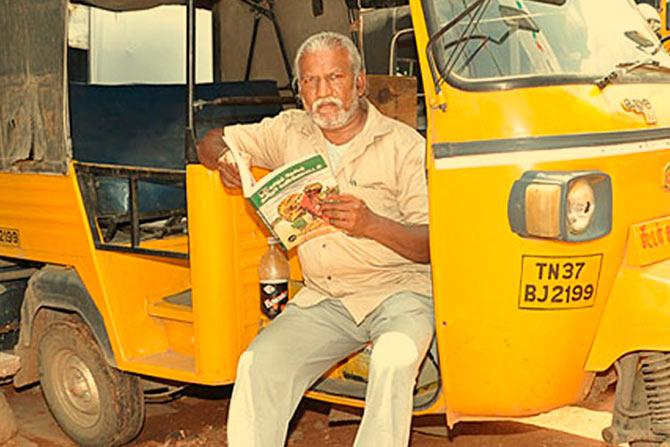 What is your book Lock Up about?
There was this period in my life as a young boy, when I ran away from home and survived doing odd jobs in different cities. I was working as a hotel server in a village near Guntur district, when two of my friends and I were arrested on suspicion.
For 13 days, I was in police custody and it is the pain and anguish of those endless days and nights in an 8-by-10' cell that I have penned in my book.
It has been over three decades, but every moment of utter helplessness that I felt as I was brutalized by powerful men in authority, is still fresh in my mind.
With no food or water, in that small hot and stuffy room, we were beaten at will for a confession to a crime that we did not commit.
My book, Lock Up, gives a minute-by-minute account to the atrocities we were forced to endure.
How did it come to be made into a film?
Gnani, one of my close friends, has been a part of the film industry for a very long time. He had previously worked with director Balu Mahendra and is a good friend of director Vetrimaaran.
During one of our meetings, we got to talking about my past. I told him of my horrifying experience and how it still haunted me. It was he, who first encouraged me to write down my thoughts. He felt it would make a great book, a book that could become the Voice of the Voiceless.
What he said struck a chord, but I kept putting it off. That was in the year 2000. A couple of years later, I started penning my thoughts, mostly at traffic jams or while waiting for a customer. The memories just kept pouring in. I remembered every detail and slowly I was able to compile it all into a book. Finally, in 2006, I published the book.
The book later won the 'Best document of human rights' award by a human rights body headed by Justice V R Krishna Iyer.
Gnani presented the book to director Vetrimaaran, who loved it. He sat up the entire night reading the book and called me up the next morning. He was very keen to make a film based on my story.
He also wished to produce the film along with Dhanush and just like that, everything fell into place.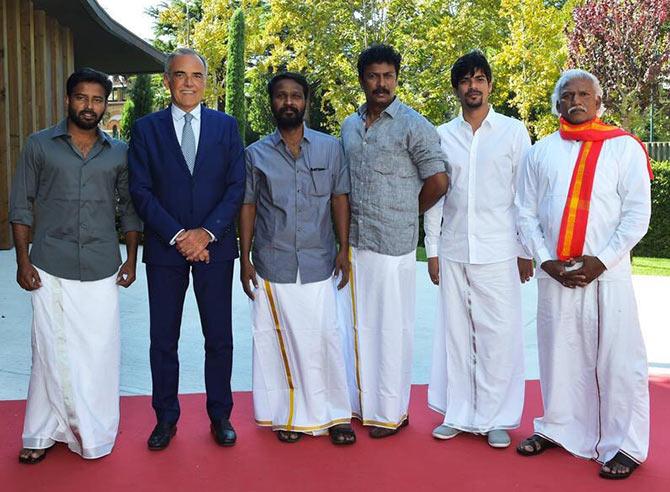 Tell us about your Venice red carpet experience.
Venice is an unbelievably beautiful city, surrounded by water. It has lovely weather and spectacular sights.
The day before the film was to be screened, we walked the red carpet, dressed in suits, arriving in a big luxurious car. But on the day of the screening, we decided to wear the traditional dhoti and shirt.
Director Vetrimaaran, Samuthirakani and I rented bicycles and cycled to the venue, oblivious to the swanky cars that dropped off the other guests. We stayed just 3 km away and it was an exhilarating ride.
The film was screened at a huge auditorium with a seating capacity of over a 1,000. At first, when the end credits began to roll, there was pin drop silence. Then the lights came on and the applause began. Everyone got up and clapped and clapped and clapped. I was later told that the applause went on non-stop for eight minutes and 40 seconds.
Vetrimaaran was too choked up to say anything. We kept on thanking them as they drew closer to us.
Some came to me and apologised, saying that as a society they too were responsible for remaining indifferent to the injustice happening in the world today. There were unshed tears in the eyes of many. This gesture was far more precious than any award.
Their love and empathy transcended all barriers of language and nationality. It was a moment of both immense pride and joy for us.