'To be complimented for a fantastic performance after just viewing the trailer! This never happened to me before.'
'If you have given a party a mandate for five years, stop blaming it for everything under the sun.'
'My kind of films do not make stars. Now we, the actors, after years of struggle, have created a parallel industry where we have made a name for ourselves. But stars we are not nor can we be.'
'For a boy coming from a remote village of Bihar at the Indo-Nepal border where no transport was available to commute to the nearest town, even coming to Delhi and then Mumbai and finally watching himself on the silver screen was a huge thing!'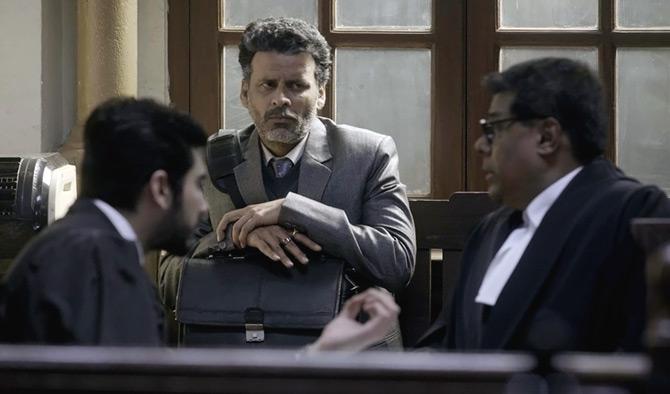 IMAGE: Manoj Bajpayee as the tragic Aligarh Muslim University Professor Ramchandra Siras in Hansal Mehta's Aligarh.
Ever since Manoj Bajpayee proclaimed himself the 'King of Mumbai' as Bhiku Mhatre in Satya, he has not looked back.
Be it the system thwarted inspector of Shool, Sameer A Purnavale in Kaun, the obsessed stalker in Tevar, the revengeful Sardar Khan of Gangs of Wasseypur, the cackling villain in Aks, the suave and sophisticated prince of Zubeidaa or the rioter turned lover of Pinjar, Manoj changes colour like a chameleon to merge and become the character he is portraying at the given moment.
His great strength lies in his piercing gaze and commanding voice that is effortlessly capable of dialogue delivery that stirs, moves and arouses emotions in the hearts and minds of his audiences.
Neither of these attributes will be visible in Hansal Mehta's Aligarh.
In the film, he plays a soft spoken, mild mannered, hurt man who retreats into his shell as society closes ranks around him, leaving him in an isle of isolation away from the poetry of life.
Society in general refuses to allow an individual the right to a different sexual preference and homosexuality continues to remain a criminal offence in India, confined to the closet.
That Manoj chose to portray the professor and gives this role compassion, love and quiet dignity speaks volumes for his love of the craft and the willingness to go the extra mile as he brings to the screen the ordeal of Professor Ramchandra Siras whose sexual orientation hounded him out of existence in an intolerant society.
Sudarshna Dwivedi met the man who is willing to go to any length to reinvent the actor within.
A candid chat about his career, craft and life as he gets ready to face viewers in his latest avatar in Aligarh.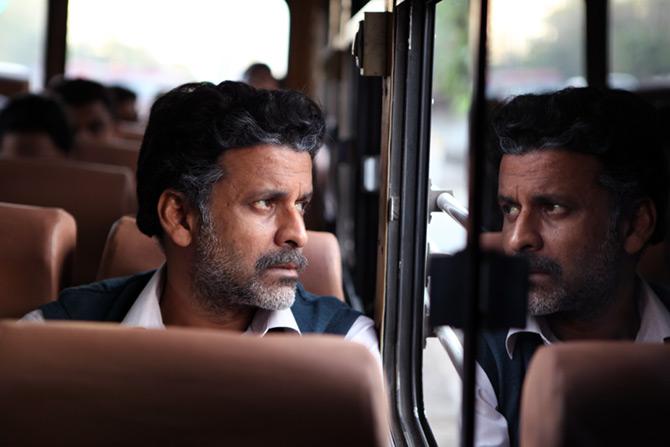 IMAGE: 'The kind of reaction I am getting is overwhelming,' says Manoj Bajpayee of his role in Aligarh.
What do you feel about Aligarh?
The kind of reaction I am getting is overwhelming. I always knew the film will start a debate, something we had hoped for.
It is the real story of the struggle of a professor, so its touching a chord was natural, but the reactions we are getting for the trailer alone and the way the media has been sort of campaigning for it is nothing short of a blessing.
To be complimented for a fantastic performance after just viewing the trailer! This never happened to me before and I am thankful to God for it. It is highly gratifying.
What was your reaction when the film was offered to you? Did you decide to do it immediately?
Immediately!
I am basically a very liberal person, so the idea that this role may affect me or what may be the consequences of doing it never occurred to me nor was there any insecurity in my mind regarding it.
I am a known actor who wants to challenge himself in difficult roles. I am not a star but an actor, so I am always looking for strong scripts and strong roles.
I am known by my performance, so neither do big films need me nor do I big films.
I just need great scripts and great films and great roles. And here I had both. All I needed was to work hard on it and give dignity to Professor Siras' role.
I have many friends, acquaintances and even teachers who are homosexuals. What I cannot understand is a person being denied the right to live a life because of a different sexual preference, that too in a democratic country like ours.
I am glad the Supreme Court has referred it to a bench of five judges. I consider this a very healthy and positive step towards a bright future.
Criminalising or denying the right of alternate sexual preference to a group of people negates the principles of democracy.
Do you find that all religions gang up whenever there is a debate for liberalisation on this topic?
Not religions, but the extremists in all religions do that. I have Christian and Muslim as well as Hindu friends who do not consider it taboo or look at it in a stereotypical way.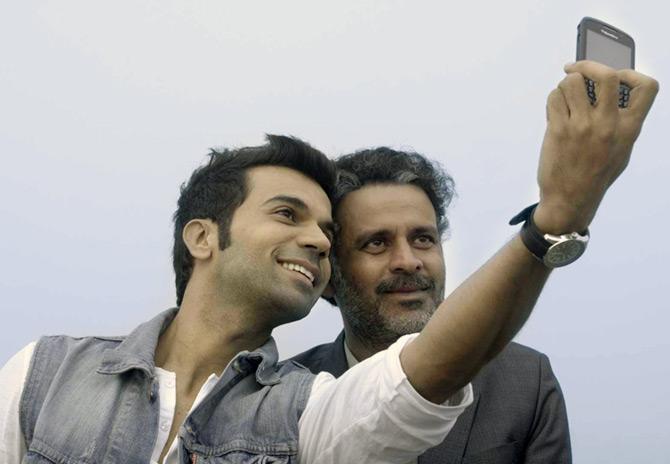 IMAGE: 'Criminalising or denying the right of alternate sexual preference to a group of people negates the principles of democracy,' says Manoj Bajpayee, seen here with Rajkummar Rao in Aligarh.
So you do not feel there is an atmosphere of intolerance in the country as some do?
No. There is a lot of debate going on about it, but I think differently.
There have been riots ever since I can remember and all the parties have been responsible for these.
Even as a child I was witness to protests against a film or a play or a book. All through my growing years I found various people or organisations protesting against something. Why is an issue being made out of it now?
If you have given a party a mandate for five years, stop blaming it for everything under the sun. No doubt, there are lots of problems, but you cannot keep blaming one party or person for it all. It has to be a shared responsibility.
I am not naming any party because I am totally apolitical. It is only at the time of voting that I decide whom to vote for and my participation in politics ends there.
I have been coaxed and cajoled many times to contest election by various parties, but I am firm in my resolve not to do so since I am not someone who enjoys delving into politics.
I am happy being an actor and a thinking responsible citizen of this country who has always had his own opinion and still does.
This is not your first film with Hansal. You worked with him in Dil Pe Mat Le Yaar. How has your journey been with him?
Hansal is a very dear friend of mine whom I have known for the last 21 years, ever since I came to Mumbai.
Coming from Delhi and Bihar, the impersonal attitude of the people in Mumbai was hurting me a lot. Nobody, not even people from Delhi, had time for me. And then I met someone who welcomed me with a smile, who was caring, always fed me when I visited him, took me out partying and made me feel warm.
This was Hansal. One of the few people who cared for me.
So when Satya happened, I went to Hansal and asked him to make a film with me as I had achieved a certain stature. This resulted in Dil Pe Mat Le Yaar.
Since then we did not get a chance to work together, but the friendship continued. It continues because we accept each other wholeheartedly with our flaws and weaknesses.
Aligarh also didn't come to me directly. Hansal first went to (the well-known casting director) Mukesh Chabra and then met me.
I am very thankful to him for giving me Aligarh, as he has helped me in creating a new milestone in my career.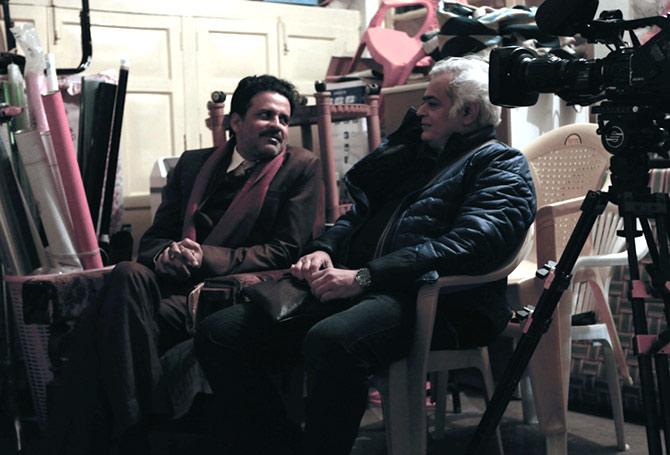 IMAGE: Manoj Bajpayee and director Hansal Mehta on the sets of Aligarh: 'When a man discovers his backbone, it is reflected in his work as well.'
He has given you this opportunity to explore yourself as an actor and develop further. How has he himself developed as a director since those early days of Dil Pe Mat Le Yaar?
When his political thinking turned right and he started asserting himself, his filmmaking changed. He is now very vocal in his opinions, be it films or the socio-political situation. He keeps voicing his thoughts fearlessly through tweets and social media.
When a man discovers his backbone, it is reflected in his work as well. This is visible since Shahid.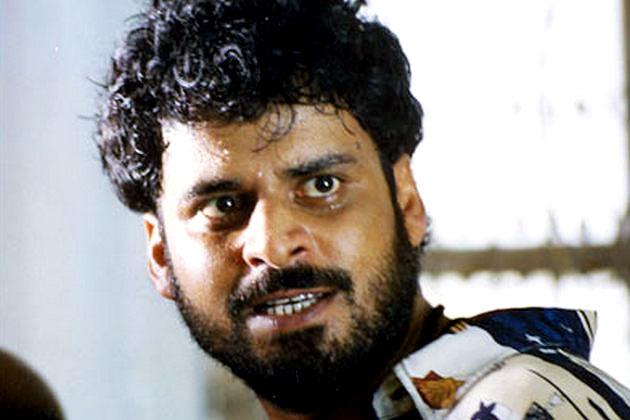 IMAGE: Manoj Bajpayee in the role that first made him famous, as Bhiku Mhatre in Satya.
You were expected to achieve a lot after Satya, but that didn't happen. Were you not disappointed?
I was the first one to state in an interview after Satya that this euphoria won't last. I knew I would be offered the same kind of films and as I didn't want to repeat myself I will not accept these, so the scene was bound to become quiet.
I knew I am not star material. I cannot sing or dance nor am I good for action. I can only perform for which strong, diverse, roles are needed.
My kind of films do not make stars. Now we, the actors, performers, after years of struggle, have created a parallel industry where we have made a name for ourselves.
But stars we are not nor can we be.
So we do not expect people to flock with friends and family for the screening of our films. Our agenda is different.
We keep experimenting with different characters and scripts and introduce new facets to these. We believe in the pure art form.
You give the impression of having suppressed anger that is sometimes visible in your performances.
I don't think it is anger, but a kind of constant challenge that comes from within and goads me into raising the bar higher and higher.
Sometimes there is a role that someone else is performing and I feel I could have done it better. But that's it! I cannot take it from him and as he had already performed it there is nothing much I can do about it.
The only way I can prove that I am capable of doing multiple types of roles is by being sincere and true to the character I am playing.
You give your all to the role that you have got and then pray that this is considered the best film of the world. And leave it at that.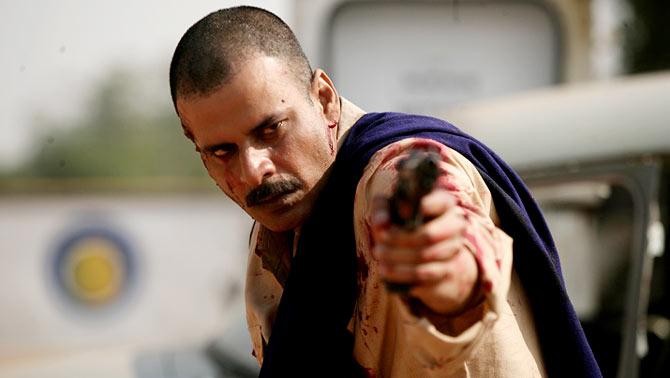 IMAGE: Manoj Bajpayee as the revengeful Sardar Khan in Anurag Kashyap's Gangs of Wasseypur.
There was a long plateau in your career when you were not doing much. How did you cope with that?
I don't take it as a plateau. You may verify with my wife that having no work does not bother me.
My only worry is to provide for the family. Ghar ka chulha jalata rahe! (The home fires keep burning!) Once that is taken care of, I have so much to do.
I conduct workshops, watch films, read lots of books, visit my village. I spend a lot of time in my village, meeting people, catching up with old friends. I go to Delhi and meet my friends of theatre days, watch plays.
So before I can land up with a challenging role, I am busy working to redefine Manoj Bajpayee. Since I am never idle, I don't find there to be a plateau at all.
Earlier I would get frustrated sometimes, but not any longer.
Has fatherhood helped?
Yes it has, but in another way. It provides one with a distraction. When a child is constantly screaming for your attention, you hardly have time to get depressed or frustrated.
Also, it makes you a lot more organised and responsible. I was always disciplined, but now I am more so.
All my dreams except those related to acting now include my daughter and wife. You want to earn for them, invest for them, have a hefty bank balance for them. I no longer want to do anything for myself.
So this is a major change where you stop being selfish and your priorities change. You become a better human being and think beyond yourself.
Lots of actors -- and I am not talking about stars only -- are now crossing boundaries to be part of international cinema. Don't you feel that you too deserve such a chance? Did you not think about trying to make it internationally?
I would like to talk about it after about a month or so. There are some developments, but I cannot talk about it right now as I have been asked not to.
For a boy coming from a remote village of Bihar at the Indo-Nepal border where no transport was available to commute to the nearest town, even coming to Delhi and then Mumbai and finally watching himself on the silver screen was a huge thing!
You can't ever realise the enormity of this dream. I was learning Hindi, English, Urdu, dramatics, honing my acting abilities and discovering the nuances of the art.
For me coming to Mumbai itself was like going abroad.
Now we have exposure to world cinema. After watching good films, you also crave to do something similar. I saw Whiplash recently and really would like to do something similar.
Someone recently suggested that I should hire an agent in LA (Los Angeles). But after all these years of struggle, I am now tired, I definitely don't want to struggle anymore.
I did get my showreel made. I showed it to someone who was going to LA. He said he will show it. He did so, but we got no response.
That was all the effort I ever made to be part of the Hollywood circuit. It might surprise you that I have never been to LA. It is not because of apathy or laziness, but because of lack of resources.
I cannot spend 10 lakhs (Rs 1 million) on an agent there. I have a family to care for and I don't want to do just any film for that. I want to do good films and these are mostly not paying propositions.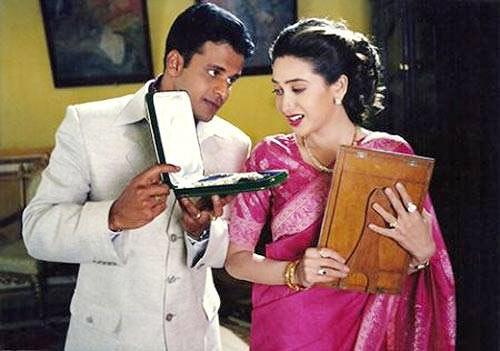 IMAGE: Manoj Bajpayee and Karisma Kapoor in Shyam Benegal's Zubaida.
Almost every thinking serious actor has done some films purely for money. Have you?
I have. I won't name them, but when I had bought my flat I did a number of films so that I could make the payments. These were not good films and I was even criticised for doing them, but I had to repay the loans I incurred for buying my house.
Similarly, there must have been some roles which would have given you immense gratification, films you would have loved to do, even if you were paid nothing.
Pinjar, Satya, Zubaida, Kaun are some films I loved doing. Then there was Aks. I had enjoyed doing Aks immensely. But since I was a newcomer I hardly got paid.
Since I was getting good roles, it was not deemed necessary to pay me as well. There must have been more than a dozen such roles where satisfaction was the only remuneration.
I continued to live in a rented place for six years even after Satya. It was not that I was not asking for it, but I was just not paid. Zubeidaa I did for free. Even Fiza I had to do for free. I was not paid much even for Aks.
With Ram Gopal Verma, I was his protege and it was enough that he was casting me. Actually at that point of time, it was more important to build my filmography than being paid well.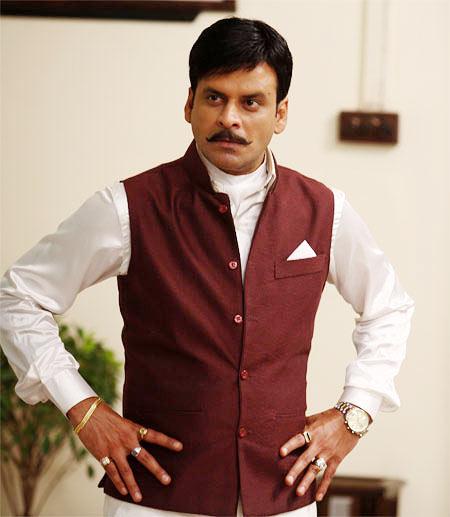 IMAGE: Manoj Bajpayee in Prakash Jha's Rajneeti.
So finally did you get roles that gave you money as well as satisfaction?
Oh yes, Many. Rajneeti, Arakshan, Special Chabbis, Gangs of Waaseypur, Tevar and Aligarh to name some.
Now I get paid. Even the producer is willing to put some money in the project since I have got recognition. This strong base that I have created is now helping me.
Some times you work very hard on a role, but the film does not do well. Does it hurt?
No. And believe me, to gauge the capability of an actor by the success or failure of his films creates only misery.
You do a film because of a conviction. Whether it does well or not is not in your power. That is for the public to decide.
For example, though lots of people liked Tevar, there were many who didn't. But why should it bother me if even those who didn't like the film liked my performance?
A lot depends on your point of view. Either you kill yourself lamenting that the film has bombed or be happy with the appreciation of your work and work even harder on your next project.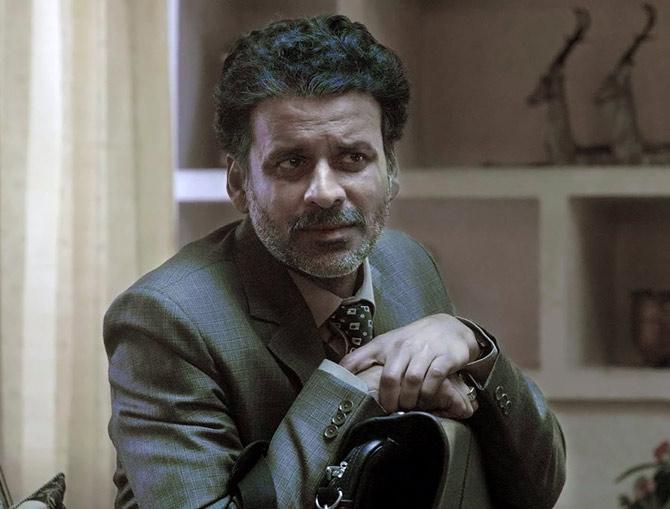 IMAGE: Manoj Bajpayee's role in Aligarh is widely expected to be one of the finest performances we have seen on the Indian screen in recent times.
What is your top priority in life?
My wife and my daughter.
Any role that you are dying to do?
I very much wanted to do Devdas, but I didn't get that role. It has already been made so many times there is no likelihood of me getting to essay it and moreover nobody would be interested in a forty plus Devdas.
You never know. The classics have been through weird avatars. Somebody may still like to go for a different take on it with a mature Devdas and you may still get a chance to play it.
Maybe some one reading this interview gets inspired and I get lucky. You never know.
Which are your next films?
Saat Uchakke is based on the lives of seven loafers of Chandni Chowk, with a humorous take on it. It will follow Aligarh.
The other film Missing is with Tabu as my co-star. I have co-produced the film with Neeraj Pandey. It is a psychological thriller due in June/July.
Next to follow these is one of the most important films of my life -- Duranto. It is about the life of Budhia Singh, the five-year-old racing wonder of Odisha and his coach, Biranchi Das, who was shot dead.
They were very much in the news a few years ago. Code Red Ad is making it and it is in the last stage of post-production. We intend to take it first to festivals and then have a release here.