'I prefer calling myself a 'film activist' rather than a filmmaker,' Mahesh Kathi tells Radhika Rajamani/ Rediff.com
Mahesh Kathi is ready with the first ever crowd-funded, crowd-sourced film in Telugu, called Pesarattu.
He had earlier directed the short film Edari Varsham based on the story Vooru Chivuru Illu by Devakonda Balagangadhara Tilak. A communications graduate who has worked with UNICEF, World Bank, Save the Children and the Clinton Foundation, he has always been passionate about films.
He started the Telugu Independent Cinema group on Facebook to discuss ways of making Telugu cinema better. He was involved in scripting the critically acclaimed Telugu film Minugurulu.
In this exclusive interview with Radhika Rajamani/ Rediff.com, Mahesh explains how he went about making the film, releasing today.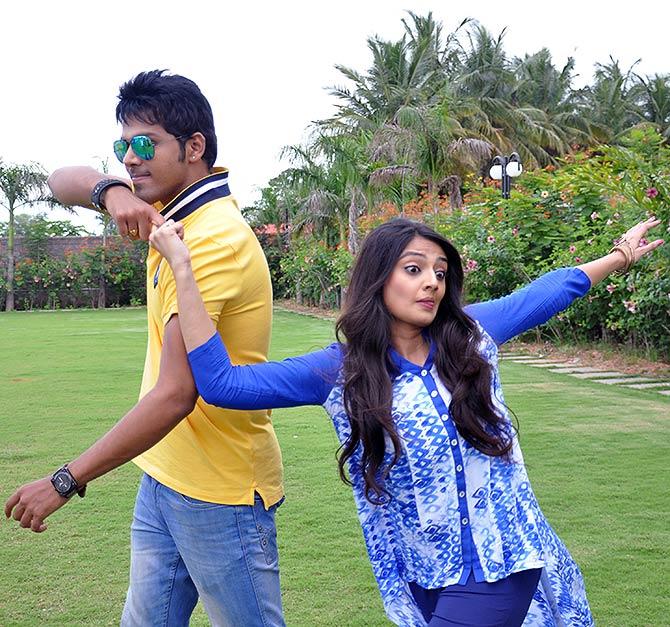 Nandu and Nikitha Narayan
Why make a feature film after making short films?
I prefer calling myself a 'film activist' rather than a filmmaker. I always felt Telugu cinema, in spite of its commercial potential, never expanded into meaningful cinema. That is where my dissent with Telugu cinema has always been.
I kept voicing my opinions for a change. As a process of change, I also ventured into making films. I started with short films using "crowd funding" to finance them. Now I have extended that to making a feature film.
My short film Edari Varsham had 38 producers. Pesarattu has 12 producers. All of them are sourced by using Facebook alone.
Pesarattu is the first-ever crowd-funded, crowd-sourced and cooperative film in Telugu.
My dream was to be in films and contribute to films. I have been a film critic, film analyst, film theorist, actor, writer and now director.
What inspired you to do Pesarattu?
The idea of Pesarattu came from one of my TV debates with ace director Ram Gopal Varma. I disagreed with his use of technology called "flow-cam" in his film Icecream.
In response to my disagreement, he asked me if I could make better use of the same technology. I took it as a challenge and designed a film that is in contrast to RGV's cinema, by using the same technology.
Pesarattu is made with technology introduced by RGV. But the content will be like Jandhyala's films and the look and feel is similar to Krishna Vamsi's grandeur. It's a masala mix.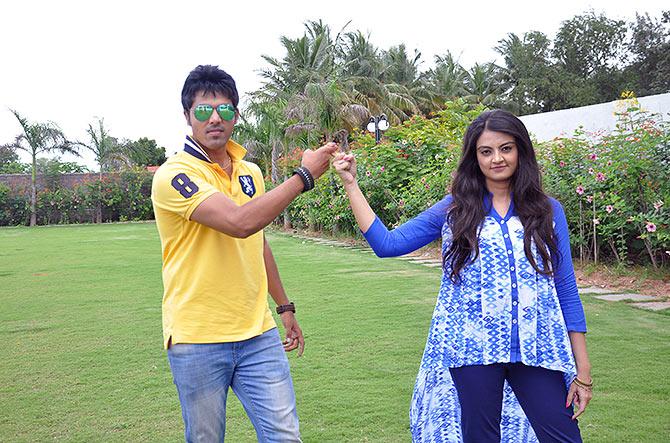 Nandu and Nikitha Narayan
It is said that the film has a lot of new talent.
Yes. Except for the lead pair Nandu and Nikitha, the rest of the 34 actors in the film are new.
All the talent is sourced from Facebook again. Through a casting call we selected actors through auditions. Most of the direction team and support team worked voluntarily.
We trained all the new actors for a week before the shooting. This helped a great deal to make the kind of film we planned to make. A film with long shots using flow-cam technology!
Was using flow-cam technology beneficial? Were there any disadvantages?
Flow-cam is a boon to small and medium filmmakers. It can reduce at least 25-30 per cent of the cost of shooting a film. This is actually huge.
Flow-cam can be used as an effective alternative to track-trolly and crane.
It has its limitations as it is an evolving technology. We faced issues with wi-fi monitor and follow-focus. Recently, even that has been solved I hear.
I hope this will liberate filmmakers from huge set-ups and additional manpower costs.
What's Pesarattu about?
Pesarattu is about an urban girl with a commitment phobia. Many independent women consider marriage a burden as it might curtail their freedom physically and financially. They keep postponing marriage.
The film is about such a girl played by Nikitha Narayan. And about her two lovers and a would-be groom! All those three characters are played by Nandu.
It's the first film in which Nandu is doing a triple role. Pesarattu is a farcical comedy that raises a lot of questions about marriage for this generation.
Why did you resort to crowd-funding? Were no producers willing to back your project?
Crowd-funding is the best method to produce small and medium budget films.
The simple logic is that it minimises risk and increases collective ownership.
I wanted to do something new both in terms of content and how it is produced. It is easy to convince one producer to make a film. I convinced 12 producers and more than 10 brands to contribute to my film.
The model is here to stay and I am the pioneer when it comes to Telugu films.
What are your expectations from the film?
The film should do well for all the people who contributed their talent, skill and money to this idea.