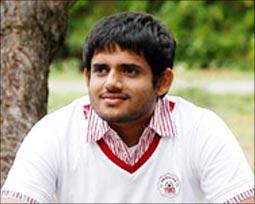 Telugu actor Bharath alias Yasho Sagar, whose debut film
Ullasanga Utsahanga
(2008) was a blockbuster, died in a road accident near Tumkur in Karnataka in the wee hours of December 19.
Besides Sagar, who was in his mid 20s, his assistant Vishvanath Reddy was also killed. Another person was injured when their car rammed into a bridge near Tumkur, about 100 km from Bangalore, District SP T R Suresh told PTI.
The condition of the injured, admitted to a Tumkur hospital, was critical, he said.
Sagar was on his way to Bangalore from Pune when the accident took place around 6.30 am, Suresh said. Reddy was driving the car.
A native of Bangalore, Sagar made his debut in Telugu film
Ullasanga Utsahanga
which was a major hit in 2008.
Sagar's father B P Somu is a big time producer in Kannada films.
The young star had also acted in Kannada flick Mr Premikudu, which was produced by his father. He also did the lead in Ayyo Pavam, Malayalam remake of Ullasanga Utsahanga.