Newcomer Tanisha is no ordinary star kid.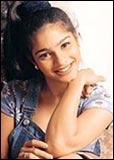 Her resume features her as granddaughter of Shobhana Samarth, daughter of Tanuja, niece of Nutan, sister of Kajol, and cousin of Mohnish Bahl. Her filmmaker father Shomu Mukherjee's family tree is no less. Her paternal grandfather, late Sashadhar Mukherjee, owned Filmalaya studios. She is also the niece of actor Joy Mukherjee and cousin of Rani Mukerji.
Tanisha, or Tich as she is called, makes her debut in small screen director turned filmmaker Pawan Kaul's Sshhh opposite Dino Morea.
Produced by Cinevista, Sshhh is a murder mystery involving seven youngsters who travel all over the country and abroad. 
Originally, Tanisha was to make her debut in a Rajshri film that did not materialise. She was also considered for a project with ad filmmaker Ajit Pal opposite Karan Nath. "But I think due to some financial problems, the film got scrapped," she informs.  
Unlike most star children who prefer to be introduced in candyfloss love stories, Tanisha's choice for her first film is rather unconventional. "Dream debut? I never dreamed about what my entry into films should be like. If tomorrow a script demands me to wear chiffon saris, I will wear them," she chuckles. 
Acting runs in her blood. Tanisha, however, modestly says, "The audience will soon find out. It's for them to judge whether I have it [the ability to act] in me or not. My mom tells me, ever since I was a kid, I have been trying out her wigs and claiming 'I want to be an actress.' Acting intrigues me. I was around 16 when Shekar [Kapur] offered me a film [Ta Ra Rum Pum Pum] but since Kads [Kajol's pet name] told me life would change dramatically after films, I decided to study after which I told myself, 'But I can do acting too.' I love dancing. I'll try doing everything in a film at least once."

Tanisha recalls the first time she put glycerine in her eyes for an emotional scene. "It burnt in my eyes and here my director was telling me to speak my dialogues, cry and scream all in the same shot!"
What convinced her to accept Sshhh was the unusual story. "But shooting it has been very tough. It's very physical unlike a romantic film, where you have to either look happy or sad depending on the situation. In a thriller, you have to scream, run, say your lines, cry, all at one go." 
Does Kajol advice her on the kind of films she must do? Pat comes the reply, "'Be yourself'. Whenever I ask her if I should do so and so film, she tells me, 'Did you hear the story? Did you like it? If you liked it, then just go ahead and do it. With my sister's new baby [Nysa] on the scene, both sis and mom are completely busy."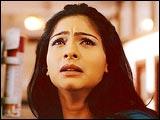 Earlier this year, Tanisha and her costar Morea were badly hurt in a road accident. "My mom has been completely rattled after that accident I had on location of this film [Sshhh]. When I was lying on the bed, I told myself, 'This is it'. I was bloated just lying there. I was advised not to walk. My face was all puffed up. The efforts I had put in, in working out -- considering my genetic tendency to put on weight -- were gone in vain. It was quite scary to go through that whole experience."
If she could work in any of Kajol's films, which one would she pick? "All of them. The scripts of all her films were good. I remember I was so kicked by her character in Rajiv Rai's Gupt. She was worried about how she would carry off a vicious role. I told her to go for it. I don't mind doing a film with her, provided someone casts us as sisters because we are so used to that role is real life," says Tanisha.