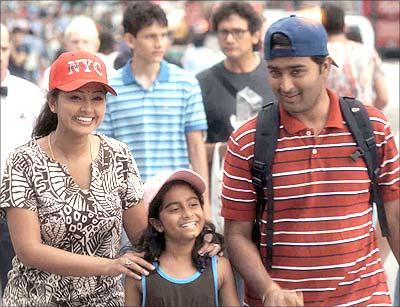 Arun Vaidyanathan's Tamil film Achachamundu... Achachamundu may not have had its release in India yet, but the film is winning laurels abroad.
After winning the 'Home grown -- Best feature' award at the recently concluded 7th Annual Garden State Film Festival, the film has now been selected to be screened at the 12th Shanghai International Film Festival to be held from June 13 to 21. The event is one of the foremost festivals in Asia which draws 300,000 audience every year. Danny Boyle, the Oscar winning director of Slumdog Millionaire, heads the jury.
Achachamundu... Achachamundu has been selected to compete in the 'International panorama' category.
Says Arun Vaidyanathan of the honour, "I think this is one of the big festivals where films from 70 countries compete. Each and every festival screening is an opportunity for the filmmaker to show off his work. It just makes me happy that Achchamundu... Achamundu will be playing in front of an audience with a diverse culture and background."
Though the director had submitted the film in January 2009, he did not expect a positive response. "I didn't expect this. I was travelling to India via Dubai when I checked my email. My wife sent an email saying that 'Shanghai has accepted your film.'
"I pinched myself to confirm whether it was really happening to me. I already knew that Danny Boyle was going to head the jury. I am sure that it's going to be an exciting event," he added.
The filmmaker is now gearing up to release the film in Tamil Nadu. "Now the time has come to show the film to our audience. Our team of producers is working tirelessly towards this end," he signed off.
Text: Shobha Warrier