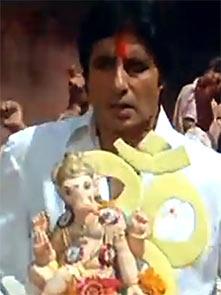 The good-vs-evil drama is omnipresent in Hindi cinema, and festivals have always played an important part in our films.

The metaphors are obvious, the symbols in-your-face.

God favours the good, and our directors chose to announce that with full directness.

On Ganesh Chaturthi, here's a quiz to take you down memory lane about Bollywood scenes involving the god of wisdom.
1. During the Ganesh aarti in the Mithun Chakraborty starrer Humse Badkar Kaun, which song plays in the background?
1. Deva ho deva
2. Mera man mandir
3. Ganapati bappa maurya
2. In the 1982 film Dard Ka Rishta, who carries the Ganesh idol for the immersion ceremony?
1. Vinod Khanna
2. Sunil Dutt
3. Rajesh Khanna
3. In Aan: Men At Work, who is killed on the day of Ganesh Chaturthi?
1. Suniel Shetty
2. Paresh Rawal
3. Akshay Kumar Gavaskar
4. When does the hero kill the villain Bhau Thakurdas Jhawle in Satya?
1. While he is making a Ganesh idol
2. During Ganesh puja ceremonies at home
3. During the immersion
5. Whose men are following Amitabh Bachchan during the immersion ceremony in the film Agneepath?
1. Danny Dengzongpa
2. Vikram Gokhale
3. Tinnu Anand
Your score is: 0 out of 5