'There is Bebo and a common friend of ours, Rina.
'I'm the only father with the moms.
'Right now, as long as they have toys to play with and other kids are there, it's fine.'
If there is one character from the Golmaal franchise that has stayed with most of us, it's the one essayed by Tusshar Kapoor, who plays Lucky.
Lucky's unique way of communicating has left audiences in splits for years now.
With the franchise's fourth installment releasing this Diwali, Tusshar has a quick chat with Urvi Parikh about Golmaal Again, its clash with Secret Superstar and his son Laksshya and BFF Kareena's son Taimur Ali Khan.
Excerpts: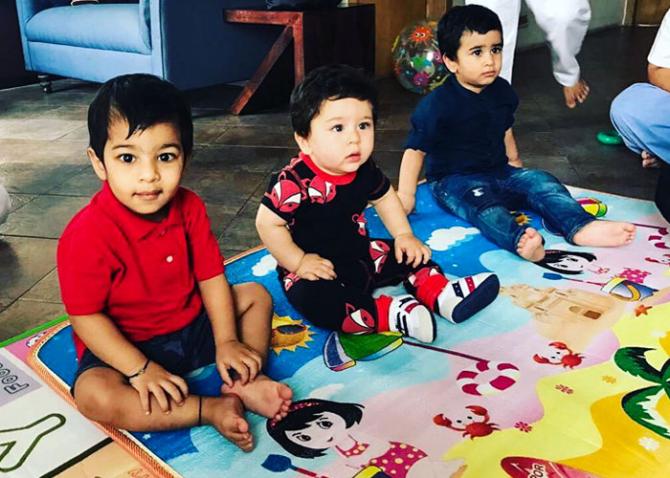 IMAGE: 'Three's company!' Taimur and Laksshya with their friend. Photograph: Kind courtesy Tusshar Kapoor/Instagram.
Tusshar, in all the previous Golmaals you weren't talking. This time you are and it seems like you are imitating Nana Patekar.
You all have watched the trailer very closely I guess.
Yes, it's true that my character in the film has tried to imitate Nana Patekar but you will only come to know why he does this when you watch the movie in the theatres.
Whose idea was it to make you talk this time in the film?
Actually, I had lines even in the previous Golmaal films. This time, I have actual words to say.
The credit goes to Sajid-Farhad (dialogue) and Rohit (Shetty, director) as they decided how and what Lucky would speak in the film, what he does and how he loses his voice again.
He just has to be provoked enough and be crazy too to have his voice back.
What happens after that, and how I play that part, is for you to find out in the theatre.
Given the kind of love you got for your character in the previous Golmaals, were you averse to the idea of talking in the fourth part?
No, I was not at all averse to the idea of trying to speak in the film as I was coming back to films after long time and I shouldn't be doing the same thing each time.
There should always be new and surprising elements in a character so that the audiences continue love it.
That's what keeps the franchise and the characters in the film memorable.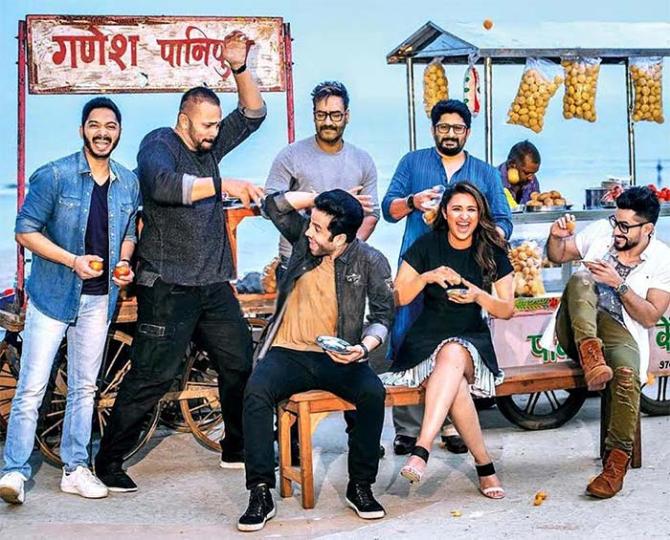 IMAGE: While shooting a film like Golmaal Again, the fun has to be unlimited. Photograph: Kind courtesy Tusshar Kapoor/Instagram.
Which new swear words will we get to hear from Lucky this time?
Swear words should be left to the imagination of the audience.
As when they come in the film, it should shock and surprise people so I won't confirm that part now.
Horror-comedy as a genre isn't much explored in Bollywood. Great Grand Masti was a horror-comedy but is best remembered as an adult comedy. Your take on this?
Actually, the sad and bad part is that horror-comedy films have not worked out that well with audiences.
Bhool Bhulaiya worked, but after that this genre was not explored much by filmmakers.
I am not embarrassed to say that I have been a part of some of adult comedy films which have really worked well with audiences and have created box office records. But now is not the time to make an adult comedy; though there's a huge audience for it, there's a lot of hate for it as well.
Golmaal Again is clashing with Secret Superstar. Any apprehensions?
Secret Superstar is a smaller and very different type of film. It has its own zone and audience. Golmaal Again is not clashing with that zone at all.
There's nothing competitive between both films; both are secure in their own space.
Web series are the new trend. Are you open to doing one?
I would really love to work in a web series.
It is like there is a whole new world and galaxy waiting out there for you, ie the digital medium, where there are no restrictions and there is no censorship.
You can showcase what you want to without thinking about the cuts by the censor board.
You can reach any part of the world or country at any time of the day in any language.
I am open to the idea of doing a web series but my first priority will always be films.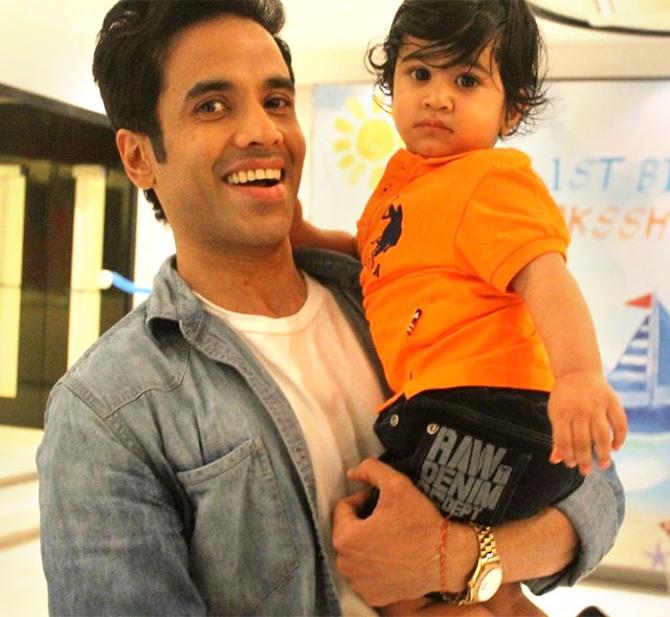 IMAGE: 'Nothing has been more worthwhile than having you in my life!'. Photograph: Kind courtesy Tusshar Kapoor/Instagram.
Your son Laksshya and Kareena Kapoor Khan's son Taimur Ali Khan are often clicked together on a play date.
There is Bebo and a common friend of ours, Rina.
I'm the only father with the moms.
Once a month, we have these playdates.
The kids don't even know the other kids. At this age, they just like to play alongside other kids.
The time for names, memory, the sharing of toys, wanting to be with certain friends and not others, that comes later at the age of three or four.
Right now, as long as they have toys to play with and other kids are there, it's fine.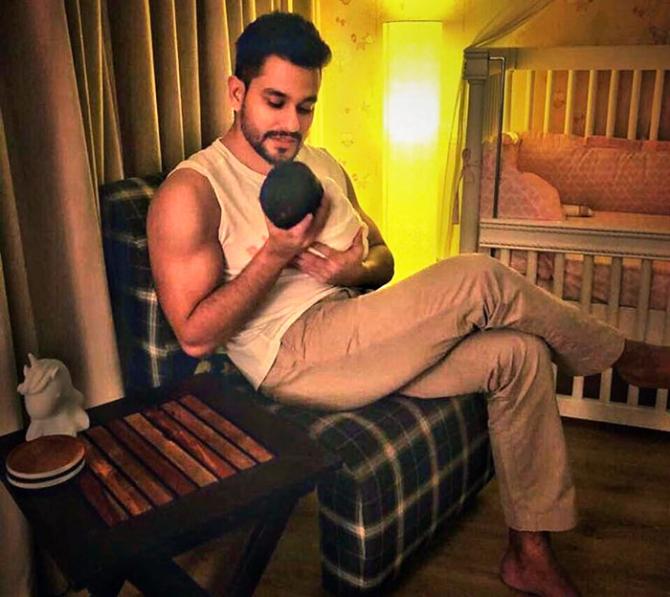 IMAGE: Kunal Kemmu with his little bundle of joy in his arms. Photograph: Kind courtesy Soha Ali Khan/Instagram.
Your co-star and friend Kunal Kemmu has recently become a father. Have you shared any daddy tips with him?
No. When I used to discuss Laksshya with Kunal, Soha was heavily pregnant.
He has listened so much to these things that, now, he knows exactly what he has to do as a father. I don't need to give him tips.