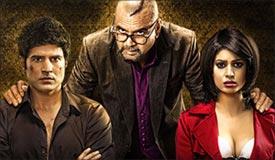 Ankur Pathak feels Table No 21 should be watched for the reactive social commentary that it is, and should not be misconceived as a vigilante film.


If we leave aside a few embarrassing hiccups (read
Rajdhani Express
) that don't even deserve to be accounted for, 2013 has begun on a hard-hitting note at the movies.
Table No. 21
, the first genuine release of the centenary year of Hindi cinema is a psychological thriller that ends with a delectable twist, one which justifies the intent of the highly structured plot.
It not only conveys a relevant message, but does so without being propagandist about it.
The tables for Rajeev Khandelwal have turned. He's no longer the nonchalant interrogator placing vulnerable souls on the uninviting seat of
Sach Ka Saamna
, but the candidate who may have to face his own moment of truth. And the truth, as they say, hardly ever comes easy.
Khandelwal plays a middle-class guy, jobless, and married to his college sweetheart (Tina Desae) for five years. An all-expense paid trip to the exotic Fiji islands becomes a life-altering deal for the passionately-in-love couple as a man who calls himself Khan (Paresh Rawal) engages them in a web-based reality show where the brutal severity of invasive questions rises with the dramatically increasing reward ( 7 Questions, 21 crores).
Each question is followed by a relevant physical task that is governed by a one-point rule: If you lie, you die. As cheeky as the line sounds, the premise is rather intriguing.
A substantial part of the film is an intense voyeuristic session as the lead couple is coerced into confronting the unflattering deeds of their eventful past.
What is of interest here is the invasive nature of the idea that the film is based on: you cannot escape your past, it will come back to haunt you.
It is essentially about two very different but inter-linked things and the thought-process
that has gone into is remarkable.
By putting its two principal characters in inescapably moral and, frequently, physical conflict, the film becomes a reflection of our obsession with materialistic wealth, and money itself, and its obscenely destructive capacity.
The marriage of a perfectly fine couple reveals a disturbing duplicity when the two are put against each other, resulting in a collapsed relationship which may have something to do with what the characters believed to be a harmless exercise in their carefree adolescence.
Some scenes in the film are shot with disturbing realism and perhaps it is that prevailing reality, in an ostensibly fictional set-up that has a chilling impact in the end.
What the film essentially lacks is stylish direction. Aditya Datt seems so excited with the content, he forgets it all has to be directed. This is best reflected in the way the performances are handled.
Despite Khandelwal and Tina Desae having strongly etched characters with complex back-stories, neither can manage to pull off their respective parts credibly.
Khandelwal has an imposing screen presence but the effort in the acting is all too evident to make it look plausible, while the girl is plain amateur and even struggles with her lines.
Oddly, Paresh Rawal, who plays the dispassionate devil's advocate, doesn't come up to expectation. Overly-styled, he looks a bit comical which doesn't go well with the sombreness that his character demands. 
On the whole,
Table No. 21
should be watched for the reactive social commentary that it is, and should not be misconceived as a vigilante film.
Although the lust for money is not the essential theme here, how its seductive force brings out animal tendencies within seemingly normal people is what I relished the most, other than, as you will see, a disturbing reality flourishing in our country's colleges.   
Rediff Rating: