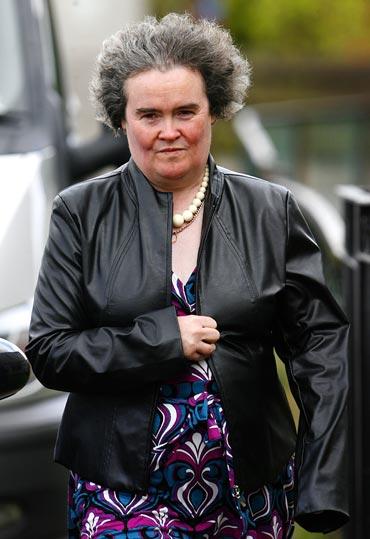 Britain's Got Talent star Susan Boyle had an 'emotional breakdown' after losing out in the show's grand final.
According to sources, the singer was rushed to Priory clinic suffering from exhaustion.
'I was having a cigarette break when a whole load of ambulances arrived.
'Everyone was saying, 'Who's that''? Then I saw her and it was Susan Boyle. I was gobsmacked,' the Sun quoted a source as saying.
A spokeswoman for the show said: 'Following Saturday's show, Susan is exhausted and emotionally drained.
'She has been seen by her private GP, who supports her decision to take a few days out for rest and recovery. We offer her our ongoing support and wish her a speedy recovery,' she added.
A show source said: 'It's very tough, Susan is emotionally drained -- she gave it her all and is absolutely shattered.
'Simon Cowell spoke to her backstage on Saturday night and told her she had everything going for her -- a record deal, an American tour. But it's up to her, she has to see what she wants.
'We do realise that we have a care of duty to look after her,' the source added.
Text: ANI | Photograph: David Moir/Reuters