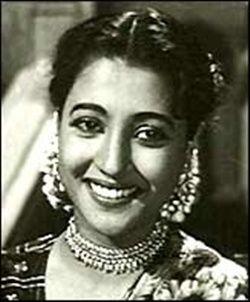 Legendary actress Suchitra Sen passed away on Friday, January 17, after a massive heart attack, family sources said.
According to sources at Belle Vue, the nursing home in south Kolkata where Suchitra Sen breathed her last, the actress refused to be put on invasive ventilation.
She kept telling the doctors and nurses around her, "Let me die in peace."
She listened to bhajans the whole of yesterday.
Early this morning, she complained of chest pain and her heartbeat went up alarmingly.
Around 8.20 am, she suffered a massive heart attack and passed away minutes later.
After having stabilised for the last two-three days, the condition of the 82-year-old actress had started deteriorating since Thursday night.
The emergency measures executed by the doctors included non-invasive BIPAP since Thursday night.
Sen was admitted to the Belle Vue Clinic on December 23 following a respiratory tract infection. Later she was treated in a private Intensive Treatment Unit for chronic obstructive pulmonary disease.
Led by Dr Subrata Maitra, a medical board was formed to monitor the health of the star patient around-the-clock.
Sen, who has been living the life of a recluse in a south Kolkata apartment, has starred in memorable Hindi films like Devdas, Aandhi, Saat Paake Bandha, Agnipariksha, Saptapadi and Deep Jwele Jai in Bengali.
Beginning her career with the Bengali film Shesh Kothai in 1952, Sen went on to receive a National Award for her performance as Paro in the Bimal Roy's 1955 Hindi classic Devdas opposite Dilip Kumar. She is also famous for her role in Gulzar's political drama Aandhi, where she starred opposite Sanjeev Kumar.
She is the first Indian actress to be awarded at an international film festival. She was given the best actress award for Saat Paake Bandha in 1963 Moscow film festival.
After her 1978 movie Pronoy Pasha with Soumitra Chatterjee flopped, she disappeared from the public eye and even allegedly refused the Dadasaheb Phalke Award in 2005 because she preferred not to make a public appearance.
With inputs from Indrani Roy