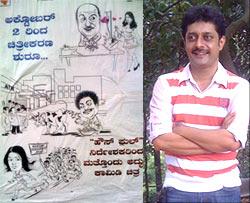 Director Subhash Ghai has ventured into Kannada film production. His maiden Kannada venture has been titled
Nimbehuli
.
Hemanth Hegde will be calling the shots in this Mukta Arts film. He is also playing the main lead. His association with Mukta Arts is not new. He has directed their Hindi project
Khanna and Iyer
.
Nimbehuli
, a satire, is about life's sweet and sour experiences. "Life is an expert at throwing surprises and my film will tell you how we need to be prepared to expect the unexpected," says Hemanth.
Comedians Sadhu Kokhila and Bullet Prakash, veteran actor Dattana and Anupam Kher will be a part of the cast. Komal Jha and Madhurima are the leading ladies. The hunt is on for a Kannada-speaking actress to play another lead character.
Veer Samarth is the music director. "I was inspired to compose film music after I heard songs from Ghai's production,
Hero
. So I feel great to be a part of his venture," he says.
It was
apt that Dada Saheb Phalke award winner and ace cinematographer V K Murthy came to roll the camera and wish the team luck. He recalls that "Subhash Ghai acted in my first film as cinematographer."
The film starts with a controversy
Nimbehuli
has been making enough noise and not just because of Ghai's entry into Kannada films, but also because of its controversial poster, which shows members of the film industry protesting against the actress Nikhita. The caricature refers to the ban that was imposed on the actress after she was blamed for the marital discord between actor Darshan and his wife, which landed the former in jail for a month before he was recently let out on bail.
"Through the poster I wanted to show that this is a mad mad world. It carried caricatures of all the things that I found funny and I just happened to include incidents from the film industry too. But the Producers' Association objected to it. On their insistence, I have decided to withdraw the posters," says Hemanth.
Controversies are not new to Hemanth. His
Housefull
had run into trouble over the erection of a Charlie Chaplin statue that finally didn't even feature in the film.