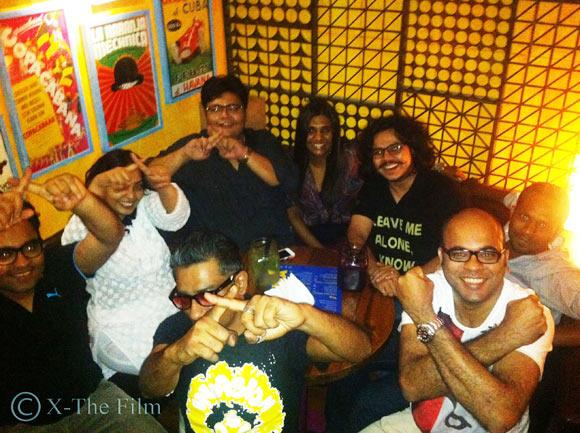 After Bombay Talkies comes another film directed by several filmmakers.

Only, X-The Film isn't an anthology.

A filmmaker's journey through his past encounters with his 10 ex-girlfriends, X-The Film is a collective effort of 11 filmmakers from different parts of the country with the most diverse cinematic sensibilites to fuse their distinctive styles for a larger narrative of a story.

rediff.com's Raja Sen along with Abhinav Shiv Tiwari (Oass), Anu Menon (London Paris New York), Hemant Gaba (Shuttlecock Boys), Pratim D Gupta (Paanch Adhyay), Q (Gandu), Rajshree Ojha (Aisha), Sandeep Mohan (Love, Wrinkle Free), Sudhish Kamath (Good Night Good Morning), Suparn Verma (Aatma) and Thiagarajan Kumararaja (Aaranya Kaandam) will write and direct individual segments, as writer-director K (Rajat Kapoor) goes back in time as memories of his 10 ex-girlfriends
haunt him over the course of one night.
"What started out as just a random idea has blown into this big and brilliant exercise in collaboration of minds and exchange of ideas across genres," says Kamath, who was instrumental in getting the filmmakers together from everywhere -- Mumbai, Delhi, Kolkata and Chennai.
The filmis already into production (one of the segments has already been shot) and will come to a theatre near you later this year.
Clockwise from left: Hemant Gaba, Rajshree Ojha, Pratim D Gupta, Anu Menon, Raja Sen, Thiagarajan Kumararaja, Suparn Verma and Q (Qaushik Mukherjee)