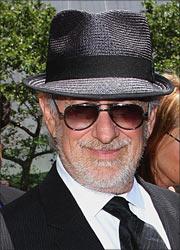 Award-winning Hollywood filmmaker Steven Spielberg arrived in India in the wee hours of Monday morning amidst tight security and was revcieved by Anil and Tina Ambani at the Mumbai airport.

The celebrated director is accompanied by his wife Kate Capshaw.

There's a lot of excitement among Spielberg's fans and in the media. However, Reliance Entertainment, the team meticulously supervising Spielberg's maiden trip to India is tight-lipped about the details.

According to a source, "Mr Spielberg's security arrangements were made a week in advance. His entourage, which includes trained bouncers, will arrive before to check out the hotel and other venues where the Lincoln director and his wife are scheduled
to make appearances."
"Only Mr and Mrs Ambani and some top executives from Reliance were allowed to receive Mr and Mrs Spielberg. The couple was promptly whisked away Taj Mahal hotel in Colaba, South Mumbai," the source adds.
Amitabh Bachchan
, who's currently shooting for Prakash Jha's
Satyagraha
in Bhopal, is scheduled to arrive in Mumbai this evening to moderate a session between Spielberg and some prominent Indian filmmakers.
Rajkumar Hirani, Anurag Kashyap, Farhan and Zoya Akhtar, Abhishek Kapoor, Ram Gopal Varma and Sanjay Leela Bhansali are among the 60 filmmakers who have been invited to the do.
The more articulate ones, we hear, will occupy the front rows at the session.
Hosts Anil and Tina Ambani are set to host a star-studded party for the Spielbergs at their residence on March 12.
Photograph: Rob Kim/Getty Images