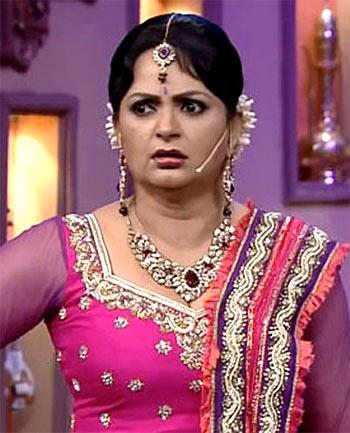 'I have created a name for myself. I don't need to prove to anyone in terms of acting and talent any more. There is no dearth of work in the industry.'
Upasana Singh tells us why she quit Comedy Nights Live.
Upasana Singh has quit Comedy Nights Live, citing various reasons, and says she regrets being a part of the show.
The actress became a household name with her popular character of Pinky Bua in Comedy Nights with Kapil. After Kapil Sharma moved out of the show, she stayed back with Comedy Nights Live.
But now, she's had enough.
She tells Rediff.com contributor Rajul Hegde what exactly went wrong.
Have you quit the show?
Yes. I have not been shooting from the last three or four weeks. There was no work satisfaction in Comedy Nights Live. Sometimes, I could not believe that it was a comedy show because the script was so bad.
Could you elaborate?
The lines I got on the show were without any humour and punch lines. If I didn't find it funny, how will viewers laugh?
Besides that, they did not give me the agreement papers even after four months of working with them. When I finally got it, there were so many terms and conditions.
The agreement said I could not do another comedy show and that they could terminate me from the show within 24 hours. But if I wanted to leave the show, I would have to give them a three-month notice. I should also be able to quit the show by giving a 24-hour notice, right?
It did not have the terms and conditions that we had mutually agreed upon. Basically, they wanted to treat me like a puppet, where I had to only listen to them.
It's a rule of the CINTAA to give the agreement to the artist within 15 days of working on a show but they delayed it for four months. If they can do this to an established actor like me, imagine the plight of a newcomer! They promised me a lot of things about my character but did not fulfill a single commitment.
Did you tell them your problems?
Yes. I requested the director of the show to look into the matter but he always said that the show had just started, and that everything will fall in place slowly. They assured me that there would be another writer for me soon and that I would also get good punch lines. But that never happened.
Were there monetary issues too?
Yes. They have paid me for just two episodes in the last four months even though they had promised to pay after every 30 days. I have had a word with them, I think they will clear the dues.
After you quit the show, did the production team call you back to discuss the issue?
No.
The intention was to put me under pressure to leave the show. Now, I feel they roped me in just because they wanted someone who had worked in Kapil (Sharma)'s show earlier to help them get good TRPs. Now that the show has opened to a good TRP and is established, they have started making me feel useless. Staying back on the show was a big blunder.
Did you have problems with the other actors on the show?
No. I have no complaints against the actors.
Since I have a good equation with the channel, I continued to stay with them after Kapil's team left the show. But my new agreement is with another production house. Since the channel had asked me to stay back, they could not remove me directly. They deliberately gave me bad lines and made the channel believe that the show would do well without me.
I have created a name for myself. I don't need to prove to anyone in terms of acting and talent any more. There is no dearth of work in the industry. I have no complaints against the channel, they have always given me the best shows.
I regret working with this production house, the work atmosphere was very unprofessional.
Will you work with Kapil Sharma if you are offered a role?
I have worked with him and his team for two and a half years, and have a good equation. But I will work with them only if I get to do something substantial, which will give me creative stratification. I will not work just for the sake of working.
I am doing another show called Santhoshi Maa on another channel. I will get more work.