Though T N Seetharam's Meera Maadhava Raaghava has not been greatly appreciated by the critics and masses, Tilak's performance in a negative role has gone down well with the audience.
For the 'villain' who has become a 'hero', Meera Maadhava Raaghava is only his second film (the first one, also a negative role, was Ravi Srivathsa's Ganda Hendathi). But now the young actor, who was a model before he entered the Kannada film industry, is in the news for his brilliant portrayal of Raghava.  
R G Vijayasarathy finds out more.
Your performance in Meera Maadhva Raaghava has been well appreciated. How do you feel?
I am thrilled and excited.Everyday I get so many messages and calls from lots of people. I don't know how they manage to get my phone number. 
It is heartening that many film and television artists who hardly know me are calling and congratulating me on my performance. The reviews were highly encouraging and inspiring, and were like a tonic to me. 
I give full credit to the film's director T N Seetharam who guided me and explained the nuances of the character.
How did you get the role?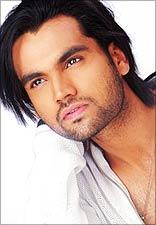 The director was searching for a suitable person to play Raaghava. One day Ravi Belagere Sir called me to his office. I was surprised to see Seetharam Sir also there in his cabin.  It was our first meeting. After asking a few questions, he said he would cast me in an important role in his film if it was agreeable with me.
I was in seventh heaven. It is a dream come true for any actor to work in Seetharam's film as he is very well known throughout the state. So, without wasting any time, I agreed.
How was it working with the film's heroine Ramya?
Ramya is a big star and I have learnt a lot from her. She made things easier for all of us by being friendly and humorous all the time. 
Do you regret the fact that you could not dub for the film, which may rob you of an opportunity to win many prestigious awards?
I wanted to dub for the film but didn't have the courage to request Seetharam sir to allow me to dub in my own voice.
But, I have no regrets as the best voice in the television industry has dubbed for me.But hereafter, I will definitely dub in my own. I speak in chaste and pure Kannada and am equally good in speaking the tapori Kannada too.  
How did you get into films?
I was into modelling before I entered the film industry. I was also doing ramp shows. And then I got bitten by the acting bug. I went to Mumbai to undergo a training course in Kishore Namith Kapoor's acting school.
After I came back, well known film cinematographer Venu saw some of my photographs and contacted me. He told me that producer Shylendra Babu was searching for an actor to play a negative role in a film (a remake of the Hindi film Murder).
I went to Babu Sir's office and met the film's director Ravi Srivathsa, who chose me. He told me to get ready to go to Bangkok to shoot for the film.That is how Ganda Hendathi happened. 
What was the biggest compliment you received?
After watching the preview of Meera Madhava Raghava, actor-producer-distributor Rockline Venkatesh patted me on my back and said, well done!  Writer-Journalist Ravi Belagere, whom I consider my godfather, hugged me. I would say each and every compliment I received is special to me.