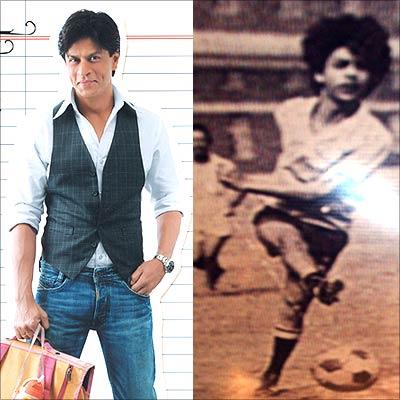 Shah Rukh Khan returns as quizmaster on television with his new show, Kya Aap Paanchvi Paas Se Tez Hain, after his successful first innings in Star Plus' Kaun Banega Crorepati.
Paanchvi Paas is a show based on the American quiz contest, Are You Smarter Than A Fifth Grader. It has been running successfully in about 50 countries.
Anyone above the age of 18 can participate in this show. The questions asked will be taken from the first to fifth grade syllabus. Which means that anything taught to students studying between the first to fifth grades can be asked.
Of course, the questions will not be as easy as you would expect them to be.
So if you want to win Rs 5 crores (Rs 50 million), all you have to do is participate in the game show!
Paanchvi Paas will be telecast on Star Plus during the summer vacations. The exact date for launch has not been decided yet.
In the picture: SRK, in a publicity still for Kya Aap Paanchvi Paas Se Tez Hain (left), and as a child, playing football in school.
Text: Patcy N