'...and they did that. I want my films to release with love.'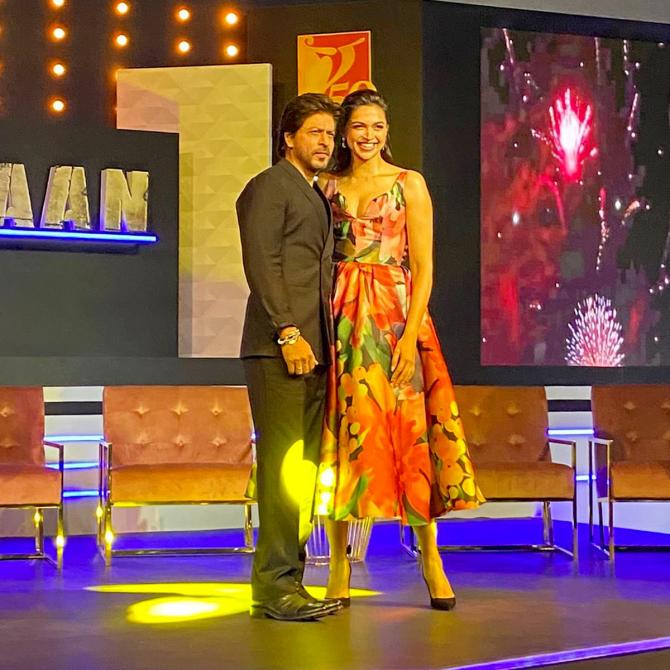 As Pathaan touched Rs 500 crore (Rs 5 billion) mark at the global box office within five days of its release, Shah Rukh Khan says, "In these four days, I've forgotten my last four years", referring to his long absence from the screen.
Shah Rukh's face was visibly glowing at a media interaction at the Taj Lands End hotel in Bandra, northwest Mumbai, which is located almost next to Mannat, where he lives.
Wearing black blazer, layered over a tee and trousers, Shah Rukh interacted at his first off-screen Pathaan event with co-stars Deepika Padukone, John Abraham and Director Siddharth Anand.
"This is an experience that's yet to sink in. Maybe we will be more grateful to God," he says, adding, "There were times when we had to make calls to people to make them release the film with ease and they did that. I want my films to release with love."
"Deepika is Amar, I am Akbar, John is Anthony. We love you, and that's why we make films. Nothing is bigger than this. We have to keep our stories seeped in India. When we tell our stories, we don't deride it," he added.
When an euphoric fan shouted, "Bollywood and Shah Rukh Khan are back!", John quipped, "Let me correct you. Shah Rukh Khan isn't back. He had just gone for a loo break."
Praising the superstar, John said Shah Rukh is the Number One action hero of the country today and was surprised why Khan didn't become an action star before.
Shah Rukh said he always wanted to be an action hero, but it was Producer Aditya Chopra, who kept dilly-dallying about the idea.
"When we were shooting Darr, Adi narrated a story where I'm the action hero -- the one who wears a baniyan, has muscles, a girl on one hand and a gun in the other. I got very excited. But after Darr, he narrated a film, saying, 'Tujhe dekha toh ye jaana sanam...' I was confused.
"Four years ago, he narrated another action film, but again, he didn't make it. When he finally narrated the opening scene of Pathaan, I thought he was lying. I thank him that he has kept his promise. I hope Adi takes me more in action films now," Shah Rukh said..
Then he added cheekily: "Both DDLJ and Pathaan are running at Maratha Mandir (the movie theatre in central Mumbai where Dilwale Dulhaniya Le Jayenge has been playing for 27 years)! I'm very happy about that. Jiska ticket na mile dusri dekh lo."
Now that Pathaan is a blockbuster success, the big question is: Will it have a sequel?
"Whenever Siddharth wants me to do Pathaan 2, I will do it. It will be my honour."
Siddharth borrows Khan's oft-repeated phrase to add: "Insha Allah."