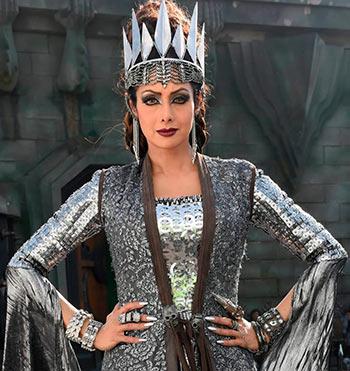 Sridevi-Vijay starrer Puli made all the right noises when it was released last month in Hindi and Telugu but it turned out to be a disaster at the box office.
To add to the producer's woes, Sridevi filed a complaint at the Mumbai Producers' Council that the makers owe her Rs 50 lakh.
Puli producers Shibu Thameens and PT Selvakumar were quick to retaliate by releasing a four-page statement clarifying the issue.
According to the statement, an amount of Rs 3 crore had been agreed upon and been paid to Sridevi, which includes Rs 2.7 crore as salary and Rs 30 lakh as service tax.
The producers allege that later, Sridevi and her husband Boney Kapoor made more demands.
'We have immense respect for Sridevi. When we signed her for the movie, we had agreed to pay her a remuneration of Rs 2.7 crore, along with Rs 30 lakh as service tax. But when the movie was in its final stages of production, Sridevi's husband Boney Kapoor demanded that if Puli was being dubbed in other languages, she should be paid extra. None of the others had asked for extra payment. Boney Kapoor insisted that Sridevi would come for the shoot only if she was paid extra.'
Since we had erected huge sets and all the other stars were waiting, we agreed to his demand and decided to pay Rs 15 lakh for the Telugu dubbed version and and 20 percent of the Hindi satellite rights for the Hindi dubbed version. This is not something that is usually done, but we went ahead and did it to complete the film,' the statement read.
They added that it was Boney Kapoor, who convinced them that Sridevi had a very good market in Hindi circuit. The makers spent another crore to release the film in Hindi but failed to recover the amount. 'The Hindi satellite rights were sold to one Manish from whom Boney Kapoor had received 15 percent of the payment which amounts to Rs 55 lakh. We did not get a single penny for releasing the film in Hindi,' they wrote.
The statement went on to add that they had hired three costume designers for the film, but Sridevi insisted that Manish Malhotra design her costumes. For this they spent an additional 50 lakh. She also wanted a marketing designer for the film in Hindi and they were forced to shell out another eight lakh for this.
'Like this, we have spent crores more than what was committed originally. But Sridevi did not even turn up for the audio release of the Hindi and Telugu versions of the film. As we faced huge losses apart from income tax raids and other issues, Vijay, Shruti Haasan and Sudeep came forward to cut a part of their salaries. But Sridevi is asking more,' they concluded.
Latest reports, however, suggest that the matter has been sorted out amicably. Shibu Tameens, one of the producers, has been quoted saying "We didn't want this issue to get misconstrued by the media. We have not returned the money, but we have spoken over phone and amicably sorted the issue, reaching an understanding that will benefit both the parties."