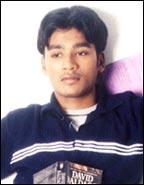 Last week has been one of the most eventful and exciting for those connected with Tamil cinema.
After a gap of three years, Rajnikant has started shooting for a film. Yes, finally the camera started rolling for Chandramukhi in Chennai. 
Even then, the most interesting event of the week was the hurriedly organised press conference on October 21 at the Good Luck preview theatre by the most promising young star of Tamil cinema, 22-year-old Dhanush.
Dressed in black, the young actor arrived in a Black Honda accompanied by his manager. A visibly happy Dhanush then announced to the press that he was getting married to Aishwarya, Rajnikant's eldest daughter. He thanked the media for making him realise his dream of marrying before he turned 23. His 28-year-old brother Selvaraghavan is yet to get married.
No, it was not a love marriage at all, he said. In fact, he vehemently denied it. He knew Aishwarya for some time but only as his elder sister's friend. When the media started writing about their 'alleged' affair, the two families sat together to find a way to dispel the rumours. Finally, they thought, what is wrong with the idea of marriage?
"So, I have to thank the media for my marriage with Aishwarya. I reiterate that ours is not a love marriage."
Aishwarya, 25, is an accomplished dancer and singer, and she has also assisted in the making of her father's last film Baba. She has studied corporate law at the Ashram School of Law (run by her mother, Latha). Academically, she is better qualified than Dhanush who has only completed his schooling. In Dhanush's family, he is the only one who is not well educated; both his sisters are doctors, and brother Selvaraghavan is an engineer. Dhanush had to discontinue his studies to act in films.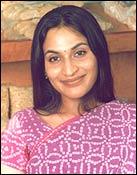 Asked if he was perturbed by the fact that Aishwarya is older than him, he retorted with apparent irritation, "The age factor does not affect me at all."
The Dhanush-Aishwarya marriage will be solemnised on the November 18, a week after his film Dreams releases. The marriage will be a simple but strictly private affair, and in all probability will be conducted at the Raghavendra Kalyana Mandapam owned by the superstar.
Even after Dhanush confirmed the news, rumour mongers did not stop. Some newspapers reported that the wedding did not have Rajnikant's consent, and that was why Dhanush held the press conference alone without anyone from either family.
The next day, Rajnikant was at the same theatre after the shooting of Chandramukhi was cancelled due to rain, to see Selvaraghavan's7-G Rainbow Colony. After the screening, he told mediapersons assembled there that the marriage has his 'approval and blessings'. He also said that it was with his consent that Dhanush met the press. Rajni's announcement has put a stop on the gossip mongers, but only for the time being.
When Dhanush arrived with a bang in his elder brother's film Kaadal Kondein, he was hailed as the next Rajnikant for his lean and dark figure. The industry, which includes the great Kamal Haasan, acknowledged that Dhanush was also blessed with oodles of talent. Though he repeated commercial success with Thiruda Thirudi, his last two films, Puthukkottayilirunthu Saravanan and Sullan have been both commercial and artistic failures. Now, a lot is expected from Oru Naal Oru Kanavu, Selvaraghavan's next film, which will star Dhanush and Sonia Agarwal, the Kaadal Kondein team.



Wish

Ash a Happy Birthday!

Hulchul: exciting as a papaya

Test your Ash quotient!



Tamil cinema's 73rd birthday
The grand old lady that is Tamil cinema turned 73 on October 31. The first Tamil talkie, Kalidas, produced by Ardeshir Irani and directed by HM Reddy, was released on October 31 in 1931. It had T P Rajalakshmi in the lead role. In the last 72 years, around 6,000 films have been made in Tamil, with many successes and many failures.
This birthday is very special to all those connected with Tamil cinema as, after a long gap, almost all the recent Tamil releases are doing well at the box office. For this sudden turnaround, the industry has to thank former Tamil film star J Jayalalitha for clamping strict rules against video piracy. The chief minister also reduced entertainment tax, levies on shooting equipment, charges for shooting at public places, etc to save the industry.
Kalaignar Karunanidhi writes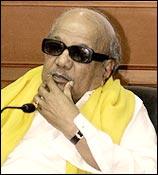 Credit for revolutionising dialogue in Tamil cinema goes to the DMK leader Muthuvel Karunanidhi. Through his powerful dialogues, he used his films to spread the Dravidian ideology. He first wrote a screenplay for Rajakumari (1947). But it was Parasakthi (1952), announcing the arrival of Sivaji Ganesan, that established him as the peerless scriptwriter .
The last time he wrote a script was in 1996, more than eight years ago, for Puthiya Parasakthi. His political commitments have since prevented him from being more prolific, but now that the DMK is out of power, he has given into S S Babha and written Kalaignarin Kannamma, the story of the widow of a Kargil martyr. The shooting of the film is progressing well, and is slated for a Pongal release.
So far, Karunanidhi has written screenplays and dialogue for 33 films, scripted two, written story and dialogue for 20; and only screenplay for four films.
The 73rd anniversary of Tamil cinema looks all set to begin with a bang!
Photographs: Sreeram Selvaraj