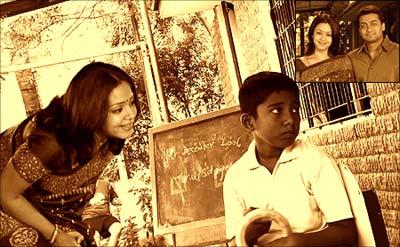 Tamil actor Surya is well known for his commitment to social causes. Now, his wife Jyothika also lends him able support.
The star couple have featured in a one-minute film on autism for an organisation called We CAN. The film is made by Jayendra Panchapakesan and filmed by the noted cinematographer P C Sreeram for JS Films.
Jayendra's JS Films shot to fame when they made a three-minute audio-video presentation for the then Chief Minister of Andhra Pradesh Chandrababu Naidu when he wanted to present a film to Bill Clinton when he visited the state as the President of the US.
Various studies have shown that one in every 500 people may be autistic or have autistic features but very few people know that. This is a fact in India as well as abroad. It is against this background that the film by Jayendra and P C Sreeram gains importance.
We CAN was started in 2001 by a group of parents, and is founded on the belief that an autistic child can be taught anything if it is taught in the way he learns. It is currently the only Resource Centre in Tamil Nadu focusing exclusively on autism but people from other states like Orissa and Chhattisgarh have also come to We CAN for counselling and intervention.
The film will be screened in all the theatres in Tamil Nadu by Real Image Media Technologies. The release of the film is significant as January 21 to 27 is remembered as Autism Awareness week.
Text: Shobha Warrier