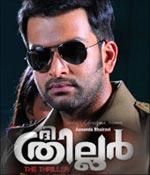 Paresh C Palicha reviews the Malayalam film The Thriller. Post YOUR reviews here!
An actor gets a chance to get into the skin of the characters and become them while a star does something outlandish yet making people to pay to see it.
Prithviraj is said to be on the threshold of super-stardom for sometime now. And, his latest offering The Thriller is bound to take him closer to that goal. Written and directed by Unnikrishnan B, the film seems to be a tribute to the Suresh Gopi of old, but here, there are songs and also the goons fly off with the power of a punch of the hero.
The theme is topical; the mysterious murder of a young member of a high profile business family. The story unfolds as reported by the electronic and print media. The charge of investigation is given to a young officer Niranjan (Prithviraj), a 'daring' officer at that (the word used at least a dozen times by him). He doesn't take anything lying down; he reacts if provoked, whether he it is by a corrupt superior or even the Home Minister. We have seen this prototype many a time before in Malayalam films yet Niranjan is interesting in his own way.
Now coming to the direction; Unnikrishnan does not try to do anything new or daring (to use his own word again). He just sticks to the winning formula without deviating even a bit, whether it is in the characterisation or situations. Everyone and everything is recognisable. He has even sprinkled the dialogues with English phrases to be uttered by the hero and others.
What is missing is the vulnerability or the humanness in the protagonist; he is always in control, he is never seen lost or in doubt. There is a thwarted love affair that is just refered to in passing a couple of times and culminates in a song denoting the 'happily ever-after'.
The character of the leading lady Meera (Catherine) is weaved into the central plot yet it would not have meant much if it was chopped off.
Technically, Anal Arasu's action has become repetitive with people flying and falling meters away with a single punch from the hero even when he is taking on a dozen of well built fighters single handedly. His subordinates are just on-lookers or non-existent all the time. This kind of thing maybe passable in films like Puthiya Mukham or even Anwar but, here little naturalness would have worked wonders.
As for the rest of the cast, Lalu Alex and Siddique play the mentor-cum-support for Niranjan, well. Sampath as the dreaded foreign based don Martin Dinakaran with clipped accent is 'over the top' or as Niranjan mentions, melodramatic.
If the main purpose of The Thriller was to project Prithviraj as the superstar material, it does bring him a step closer to the coveted position, but as an investigative thriller, it is off the mark.
Rediff Rating: