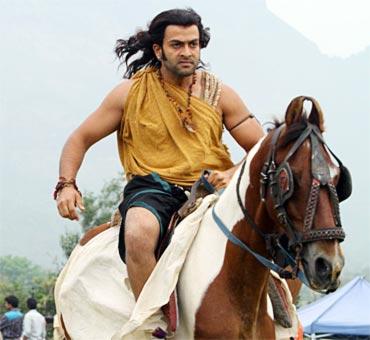 Acclaimed cinematographer and director Santosh Sivan is making Urumi, a period saga, with Prithviraj in the lead.
Prithviraj has also turned producer with this high profile project which will be made in Malayalam, Tamil and English.
Santosh has earlier directed Anathabhadram in Malayalam, which also starred Prithviraj as the protagonist.
Urumi zooms in on some years after the Portuguese explorer Vasco da Gama landed at Calicut in 1498. Prithviraj plays Chirakkal Kelu Nayanar, who is the leader of the group that plans to kill Vasco da Gama.
Genelia D' Souza plays the female lead Arakkal Ayesha. The cast also includes Vidya Balan, Tabu, Prabhu Deva, Amol Gupte and Jagathy Sreekumar.
Shankar Ramakrishnan, the director of Island Express, one of the ten films in the Kerala Café anthology has written the script for Urumi.
Deepak Dev is the music director and Sunil Babu is the art director.
Santosh Sivan has recently acted as the legendary painter Raja Ravi Varma in Lenin Rajendran's Makara Manju.
The shooting of Urumi has been completed at the picturesque Malshej Ghats in Maharashtra.