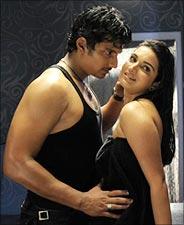 Pavithra Srinivasan reviews the Tamil film, Singam Puli. Post YOUR reviews here!
If you like masala fare, director Sai Ramani's Singam Puli (Lion, Tiger) is just the film for you. Thankfully, instead of just letting the hero beat the baddies up Superman-style, the protagonist and antagonists do make brief attempts to use their brains.
This strategy actually works most of the time. Besides, there's Jiiva's first ever double role to look forward to.
The film has a deceptively casual beginning: a middle-class family consisting of parents (Kuyili and Ponvannan), a daughter and twin sons -- Shiva (Jiiva), who works in a fish-market and Ashok (Jiiva, again), who is a lawyer.


Shiva is a typical hero who attacks baddies with his bare fists; a rugged man who'll brook no injustice.
Devout Ashok's goodness is a facade that hides his evil nature.


Both have romantic interests; Shweta (Divya Spandana) is Shiva's long-time sweetheart. Ashok's life is one long, lustful journey as he charms every woman he meets into his bed.


This is where the tale picks up. Shiva can do nothing right as far as his parents are concerned; they misunderstand his righteous anger and his every attempt to show up his Machiavellian twin fails.


Ashok, on the other hand, is pally with the local goons and uses his brains to assist them in their nefarious activities. Matters come to a head when Ashok lures a girl with false pretences, with disastrous consequences.
Shiva, who's an unwilling witness to her distress, is shocked at his brother's callousness. Thus begins a cat-and-mouse game between the siblings that escalates with every step.


Singam Puli's first half moves at breakneck speed, punctuated by Ashok's faithful cohort, Bujji Babu (Santhanam)'s funny interludes. Sadly, Mani Sharma's sons' attempts at humour only serve to hamper the film's pace.
Jiiva, in a double role, has a ball. He pulls off two diametrically opposite roles with ease, distinguishing each with different body language and dialogue delivery. He inspires a sense of disgust as the mean-spirited younger brother even as you feel sorry for the frustrated elder brother. Kudos to the screenplay as well!


Divya looks pretty but has a diluted role. There are plenty of women -- either promiscuous or Ashok's prey -- parading through the film. 


Santhanam is his usual lewd self, but manages to wring some laughter courtesy his ridiculous seventies outfits. Ponvannan is convincing as the clueless father; even the goons have a part to play.


On the flip side, the screenplay lags in the second half. There are obvious efforts to shore it up, but the incessant songs and titillating sequences rob it of any seriousness. Sometimes, scenes appear disjointed. The climax, which should have been momentous, turns out to be a damp squib.
While, Balasubramaniam's camerawork fits the bill, Venky's editing could have been better.


This cat-and-mouse game does work, most of the time. Fewer songs and a taut climax would have made for a more exciting watch.
Rediff Rating: