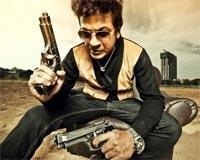 Kannada film Shivaa is purely for Shivrajkumar fans, writes Srikanth Srinivasa
Kannada film
Shivaa
revisits the plot of protagonists avenging the murder of their parents. Director Omprakash Rao, who is known for all his action films, has not however lived up to the hype that
Shivaa
garnered as Shivarajkumar's 101st film.
Shivanna's fans should be happy to see their favourite actor back on screen after a year. The actor's 100th film
Joggayya
released without finding much favour with them.
Shivaa
is about two families destroyed by the trio of Masthan (Gurudutt), Panduranga Shetty (Rangayana Raghu) and Adikeshavulu (Ravishankar) leaving the children Shivaa and Julie to fend for themselves, separately.
While Shiva is son of a jockey, Julie is daughter of a journo. Cut to 15 years later, Shivaa (Shivarajkumar) grows up to become a do-gooder to society while Julie (Ragini Dwivedi) works for a private mobile service provider. Shivaa is in pursuit of her much to her dislike but finally gives in. Things take a turn when Julie stabs Shivaa at a cemetery.
Meanwhile, Shivaa recovers and finds Julie working in an underworld dragnet run by Panduranga Shetty's son. Julie discovers that Shivaa is her childhood buddy and the two fall in love. What happens eventually is predictable.
Shivarajkumar is back on screen a year after his much-hyped 100th film
Joggayya
failed at the box-office. He plays to the galleries and his fans although Omprakash Rao's earlier films that starred Shivanna
AK 47
and
Simhada Mari
  were much better offerings in terms of drama and the action sequences.
The much-expected bike scene is not shown although she balances the vehicle when Shivanna is shooting goons. However, Ragini looks good sporting colourful costumes.
Rangayana Raghu does not evoke much laughter in the movie and Ravishankar is loud.
Gurukiran's music is okay. Satya Hegde's camera work is commendable as he captures all the action scenes splendidly.
An average entertainer but this is a movie purely for Shivarajkumar fans. If you are a Shivarajkumar fan, go for it.
Rediff Rating: