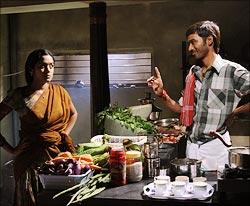 Pavithra Srinivasan reviews the Tamil film, Seedan. Post YOUR reviews here!

This is the season of remakes. The latest to join the ranks is Myth Productions' Seedan (Disciple), the Tamil version of the Malayalam hit, Nandanam.

It's been helmed by Subramaniam Shiva, who earlier directed Thiruda Thirudi and Yogi. Remakes, of course, work best when they've been seamlessly fitted into the language they're being integrated into. Seedan emerges largely a half-baked production.

In theory though, it seems to have plenty of potential and does start out encouragingly. You've got the bustling temple town of Pazhani where resides the immensely wealthy and respectable Amritavalli Amma (Chemmeen Sheila), and her battalion of servants and aides. Among them is the much over-worked Mahalakshmi (Ananya) who is, seemingly everything in the huge mansion; she takes care of chores, cooking, cleaning and her employer's medical needs herself. She also happens to be a firm devotee of Lord Muruga (and has never had the opportunity to visit the temple even once).

There's something that alleviates the boredom of her humdrum existence, though. One morning, she has a dream of herself getting married with pomp and splendour to a handsome young man. She has no hopes of ever meeting him though, so imagine her surprise when her Prince Charming actually turns up at her home, one rainy night.

He's Mano (Jai Krishna), Amritavalli's grandson. And its love at first sight for both. Naturally, complications arise: Mano's mother Thangam (Suhasini Maniratnam) won't hear of it But then, a new player arrives out of the blue; Saravana (Dhanush), and everything turns upside down. 

By rights, this should have been a tale filled with suspense, drama and emotion, and the Malayalam version certainly was appealing in its simplicity. The Tamil version, however, has been stripped of the original's essence. Everything is trite, the dialogues mushy and sickly sweet; the emotions are over-drawn and characters simply too good to be true.

The story revolves around Ananya and to give credit where it's due, she does score with her simple good looks. But there's always a tinge of hamming in everything she does, and the dialogues rob her character of any depth.

Dhanush, on the other hand, has had a ball. It's only after he arrives, in the second half, that the movie perks up a bit. The aura that surrounds him and his antics with Gummidi (Vivek) raise the roof. His might be a considerably small part, but he saves the movie from a spectacular collapse with his consummate acting.

Jai Krishna looks baby-faced and helpless, most of the time. You wonder what the heroine ever saw in him, in the first place. Sheila has been made to over-act; the rest of the cast hasn't much to do.
Dhina's music barely stays in your memory, even the devotionals songs have no impact. The way the songs have been placed do more to disrupt the pace rather than help it. A pity, since this is his 50th film.
Srinivasan's camera-work is just adequate, while Ram Sudharsan's editing could have been better.
But then, this story, credited to Malayalam's Ranjith, largely depends on its characters and their trials. Unlike the original, the Tamil version pretty much loses in pacing, dialogues and even characterization, except perhaps Dhanush.
A lot less histrionics and a more realistic screenplay, and this movie might have scored. As it is, Seedan doesn't live up to expectations
Rediff Rating: