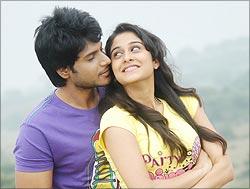 Radhika Rajamani says Telugu film Routine Love Story will surely click with the urban audience.

Director Praveen Sattaru made a quiet entry with Life Before Wedding. Sattaru's second film Routine Love Story (with nothing routine about it) comes with more publicity and is an entertaining romance, away from the candy-floss one usually sees in Telugu cinema.

Call it realistic slice of life film, Routine Love Story (RLS) is hugely relatable and believable although there is nothing new in the story.

Lead actors Sundeep Kishan and Regina Cassandra deliver natural performances, adding to the realistic quotient.

Like most celluloid love stories, this one also has a boy falling in love at the first sight with a girl. Sundeep alias Sanju (Sundeep Kishan) is so smitten by Tanvi (Regina Cassandra) in college that he just keeps looking at her for a few days and doesn't want his dream to be spoilt.

With the help of his friends, they get introduced, and get talking. Most of their meetings are planned and they even go on a college excursion to Kashmir, where both have an escape in the rapids and live in the village for four days as Tanvi nurses an injury.

Back home, they squabble as Sandeep wants to take the relationship forward but Tanvi still wants more time. Later, they patch up and even try to live together to test themselves as a couple. Would this lead to a happy ending?

The film scores on account of the realism and logic despite being a commercial entertainer. The arguments and patch-ups are like everyday life but don't bore the audience. The bonding, separation, attitudes and differences between the couple are hugely believable and relatable in today's age. In that sense, the film moves in a lifelike way and not in a dream world.

Sattaru has adopted a sensitive, sensible and practical approach while writing the film which reflects in the making. The dialogues thankfully, are not double entendres.
The film has a natural progression of a boy and girl in love and nothing much seems enforced except for certain scenes like the hero saving the heroine by fighting the bad guys or rescuing her in the rapids. At certain times, the pace tends to slow down. The climax seemed rather abrupt and hurried.

After Praveen Sattaru, the film belongs to Sundeep and Regina and they do a commendable job. If one saw the glimmering of talent in Sandeep in Prasthanam, RLS will only enforce that as he slips into the character very well. He is a storehouse of talent.

Regina looks good and compliments Sundeep perfectly.

Mickey J Meyer's songs are in sync with the film though there's a sense of déjà vu.
Suresh Bhargv has done an adept job as a cinematographer.

RLS may find favour with the urban audience, especially the youth, who may connect to it instantly.

Rediff Rating: