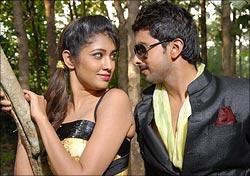 Srikanth Srinivasa says Pade Pade is a decent attempt by a debutant director.
Nagaraj Peenya, directing his first film, Pade Pade, has chosen a time-tested story that has been told again and again. But he has tried to treat it differently, with some punchy dialogues and a simple narrative.
Sunny (Tarun Chandra) is a budding musician from a rich business family. He isn't interested in running his father's business. His mother dreams for him to become a big musician.
He falls in love with Kanchana (Akhila Kishore), a singer who comes from a poor family. Sunny's family accepts her. Then Sunny's father loses his property and wealth and Kanchana walks out on Sunny.
Meanwhile, Spoorthi (Mridula Sathe), an event manager, is in love with Sunny for all the talent that he is blessed with. Spoorthi helps him make it big as a musician.
Just as Sunny is about to propose to Spoorthi Kanchana returns. Sunny is now torn between the two girls. He is in a state of confusion: should he marry the girl he loves, or the one who loves him?
There is an element of curiosity in the narrative as audiences are not certain how the story will move forward. The curiosity is short-lived, but the director has succeeded in holding the audience's attention with a thin storyline.
Tarun Chandra has improved in the acting department. Debutante Akhila is good, but it is another newcomer, Mridula Sathe, who shines.
Veena Sunder and Vijayakashi, as the boy's parents, are adequate. Girija Lokesh has nothing much to do.
S Ramesh's camera work is quite pleasing. Satish Aryan's music is pleasant. The song Manassagide has already become a chartbuster.
Although the movie cannot be viewed pade pade (again and again), it is a neat and decent entertainer.
Rediff Rating: