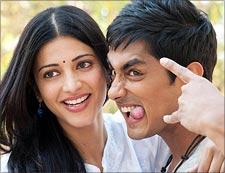 Radhika Rajamani feels Oh my Friend is a fun watch.
It's the old million dollar question: can a boy and girl be just friends?
Oh My Friend
attempts to come up with an answer. Debutant director Venu Sriram has come out with a decent, entertaining, youthful film that is honest, refreshing, and true to life.
The contemporary theme and the crackling chemistry between the lead pair, Siddharth and Shruti Haasan, are the big plus points of the film.
The film shows how the childhood friendship between Chandu (Siddharth) and Siri (Shruti Haasan) continues even when they grow up. It's all very platonic, pure and honest. They share every small thing in their lives. Siri calls him Faltoos, and Chandu calls her Killer.
Siri wants to help Chandu in his musical career (he plays the guitar) and promises his father that she will take care of him
Then Siri finds Uday (Navdeep) who works in the United States of America, through the internet,
and falls in love with him. Chandu meets Ritu (Hansika Motwani), his old classmate, and is blown away by her beauty.
Venu Sriram, who has also written the script, seems to have taken references from many friendship-based films. The youth angle is central to the film and it abounds with youthful energy and exuberance.
Besides the script, the film works because of the performances of Siddharth and Shruti. They complement each other perfectly and both turn in good performances. Their pairing for the second time crackles on screen.
Navdeep is convincing as Uday. Hansika makes a pretty picture but her role deserved better etching. Tanikella Bharani plays Siddharth's father in his characteristic mature style.
Rahul Raj's music has a fresh appeal and Vijay Chakravarthy's camera work is in sync with the youthful tone of the film.
Oh My Friend
is a feel-good entertainer with its youthful theme.
Rediff Rating
: