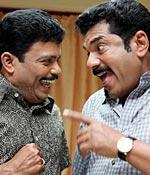 When Shakespeare wrote 'All the world's a stage,' he must not have thought that it would be implied in so many things and in so many ways that he may feel sorry for it!
The case in point is Viji Thampy's Malayalam film Nadakame Ulakam. You do not expect a philosophical or even an existential undertone in this comic caper but you do expect logic and a smooth narrative. What you see is a jerky, tacky product.
The story is about Omanakuttan (Mukesh) of Pokerangadi, manager in a co-operative bank owned by his father-in-law (Jagathy Sreekumar). Omanakuttan is crazy about drama and that does not allow him to concentrate on his job. This is the reason for constant tiff between him and his father-in-law.
Then as if in a dream, we see Omanakuttan's wish of making it into films coming true. But we cannot bear the fact that Suraj Venjaramoodu becoming the main character will fake himself as a director.
The comedy does not really provide any mirth, so to speak. It may work on television as one-minute spots but in a full length film, it's a drag.
The story, credited to Saseendran Vadakara, has nothing new to offer. The screenplay begins in Traffic mode before changing track to be a family film.
Mukesh's acting looks sincere in the beginning. Soon, he gets in the what-am-I-doing-here mode. Senior artists like KPAC Lalitha and Babu Namboothiri are wasted in the most non-contributing roles.
On the whole, Nadakame Ulakam just adds up to the list forgotten films, as soon as the film posters get off the wall.
Rediff Rating: