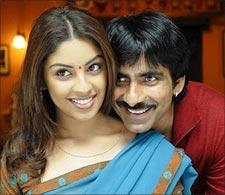 Radhika Rajamani reviews the Telugu film,Mirapakai.  Post YOUR reviews here!

Harish Shankar chooses a rather cliched theme for his second Telugu film Mirapakai.

The same cop-gangster story which has been done to death innumerable times on the screen comes alive in a fairly entertaining format due to Ravi Teja's presence.

Harish has made full use of the actor's entertaining persona at least in the first half which does tickle the funny bone. Otherwise, the film peters out in the second half into the usual love triangle and formulaic pattern. It's not very different from other Ravi Teja's movies.

Rishikesh (Ravi Teja), an orphan is made a police officer for the Intelligence Bureau by Narayanamurthy (Naga Babu)  of the Intelligence Bureau. He is a fun-loving, light-hearted and romantic at heart who is forever ogling at girls. Yet he takes his job seriously. He sees Vinamra (Richa Gangopadhyay) in the temple and is smitten by her. He is posted on an assignment by Narayanamurthy to a college where he teaches Hindi. Vinamra happens to be his student. In the process, he falls in love with Vinamra and locks horns with Shankar (Kota) who is an ally of Kittu (Prakash Raj), the dreaded don who lives in Bangkok. The purpose of Rishi's mission is revealed later. He has to reach Kittu through his daughter Vaishali (Deeksha Seth) who enrols as a student in the same college.

The first half of the film is fun to watch as Harish has penned some funny dialogues. Ravi Teja enhances those dialogues with his spontaneous acting. Though there are a few breaks in the form of songs (shot abroad), the first half is entertaining. But the grip loosens in the second half and Harish is not able to sustain the same interest as in the first half. The twist occurs in the interval. The altercations between Rishi and Charukesha (Sunil) are a bit lively.

Ravi Teja has reached a stage where he can sleep walk through such roles. He can be funny with a straight face. Richa, as the traditional Brahmin girl is just about okay (a tad disappointing after her performance in Nagavalli) while Deeksha too does not add anything much to the role. Prakash Raj, Ajay (playing Kittu's son), Kota, Ali and Brahmaji perform as expected.
Mirapakai has some spice in the form of some glamour but in the end it is an out and out Ravi Teja's film.
Rediff Rating: