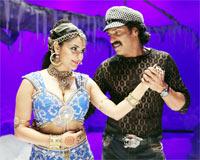 Kannada film Katari Veera Sura Sundaraangi is a winner, writes Srikanth Srinivasa.
Katari Veera Sura Sundaraangi
starring Upendra and Ramya is a great entertainer. This first full-fledged Kannada 3D film is a winner all the way.
Upendra has also written the dialogues and screenplay.
The film starts with Upendra (Upendra) aspiring to become an underworld don as he is bored doing good things. He meets Muthappa Rai, a reformed don, from whom he wants to learn the ropes of becoming one.
Rai advices him against the idea, saying he is not a don.  Upendra doesn't heed the advice. He locks horns with a local don and gets killed.
Upendra's journey after death thus begins. He sets foot in
Yama Loka
where he meets Osama bin Laden, Veerappan, and Hitler who are subjected to torture for their misdeeds on earth. 
He then accosts Yama (Ambarish) as he meanders his way into the king of death's kingdom. While Upendra's account is being finalised by Chitragupta (Doddanna), Yama's lieutenant finds that Upendra has an equal number of sins and good deeds. Upendra is sentenced to spend 15 days in hell and another 15 days in heaven.
Upendra makes life so difficult for Yama that he divides Yama and Chitragupta. He makes Chitragupta resign and calls for an election for Yama's post. In the fight for elections, Yama invites Rambha, Urvashi and Menaka to dance, which is when Upendra takes the help of Chitragupta to invite hot spicy girls from the earth to compete with the three damsels.
Meanwhile, with the help of Chitragupta, Upendra takes a peek into heaven and finds Indraja (Ramya) and falls in love with her. He goes back to hell but now is hell-bent on getting into heaven. Indraja feels she cannot have anything to
do with him since he is a mortal from the earth.
Upendra finally wins Indraja's heart and goes to earth with her. Her father Lord Indra (Sridhar) disapproves of his daughter's choice.   
Yama and Chitragupta follow the two to earth with the intention of bringing them back. Mohana, who is Upendra's father, takes on the role of Yama in his absence. Yama wants Upendra to commit a sin so that Upendra's account becomes favourable for Yama to punish.
Whether Upendra succeeds in winning over Yama forms the rest of the story.
In the course of the film, Upendra delivers a lengthy four-minute dialogue with aplomb, sending the audience into raptures.
He has certainly delivered on his promise of providing wholesome entertainment.
We get to see actors Rajkumar, Vishnuvardhan, Shankar Nag and lyricist Chi Udayashankar in graphically created roles. 
Ramya looks heavenly. Her make-up, costumes and jewellery are elegant and look beautiful on her. Her onscreen chemistry with Upendra in the song
Dhak Dhak
is worth watching.
Ambarish and Doddanna are good too. Suman Ranganath, Rishika Singh and Ramnitu Chaudhari as the hot spice girls from earth add a lot of spice.
All the hard work (and even the controversies) in shooting the movie in 3D seem to have paid off. 
H C Venu as the cinematographer has worked hard to deliver the rich 3D effects. There are a lot of special effects and gimmicks that defy logic.
Katari Veera Sura Sundaraangi
will do for Kannada cinema what
Avatar
did for Hollywood. Producer Munirathna Naidu needs to be commended for investing in a 3D film and pioneering it in Kannada cinema.
Just forget the story. Watch it with your 3D glasses on and be entertained!
Rediff Rating: