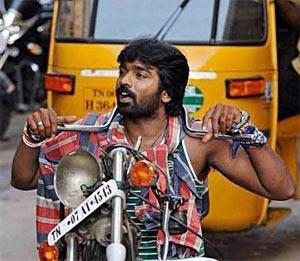 Director Gokul in his film, Idharkuthane Aasaipattai Balakumara has created some weird, quirky and offbeat characters in hilarious situations who keep the audience entertained, writes, S Saraswathi.

Actor Vijay Sethupathi raises the bar for himself a little more with every new film. After the huge success of Pizza and Naduvula Konjam Pakkatha Kaanom, came the cult classic Soodhu Kavvum, which put him in a different league altogether.

His greatest strength lies in being able to counter the stereotypical image of heroes in commercial cinema today. In every film, we see him in a completely different avatar, and his latest film, Idharkuthane Aasaipattai Balakumara is no different.


Directed by Gokul of Rowthiram fame, the film is about a bunch of strange characters, whose lives are interlinked by a murder at the local Tasmac bar, around which the story revolves.

The film is produced by V S Rajkumar of Leo Visions, distributed by JSK Film Corporation and has music by Siddarth Vippin, who is known for his background score in Naduvula Konjam Pakkatha Kaanom.

Idharkuthane Aasaipattai Balakumara also features Ashwin Kakumanu, who made his debut in Mankatha, 'Subramaniapuram' Swathi and Nandita (of Atta Katthi fame). Also playing important roles in the film are Pasupathy, Soori, M S Bhaskar, V S Raghavan, Livingston and 'Pattimandram' Raja.

Though the film is all about events taking place on a single day, there are several flashbacks, which lead to the present context and give us an insight into the lives of these characters.

Summar Moonji Kumar (Vijay Sethupathi) is a drunk and a wastrel, whose sole ambition in life is to make Kumudha (Nandita), a girl he is in love with since his school days, happy. Kumudha, however, detests him and takes the help of Annachi (Pasupathy) and his goons to bash him up to prevent him from following her.

Then there is Bala (Ashwin Kakumanu), a bank employee, who is trying to juggle a high stress job, a difficult boss, family responsibilities and an extremely demanding and suspicious girlfriend Renu (Swathi), who is after him to give up his drinking habit.
We also have two low-life characters, Babu and Raj, who plan and murder a dangerous local don at the request of his pretty wife who plans to run away with them.
And finally we have Parotta Suri, brother of the murdered don, who is desperate to take revenge.
How and why these characters meet is what Idharkuthane Aasaipattai Balakumara is all about.
Vijay Sethupathi seems to have the knack of choosing the right role and script and he effortlessly slips into his character as Kumar. Though he plays a regular hero pursuing his love, his character is not that of the all-powerful ultimate Kollywood hero; he is just an ordinary guy, who gets pushed around throughout the film.

Ashwin Kakumanu has given a decent performance and so have Nandita and Swathi.Pasupathy, who has returned to films after a brief hiatus, is also quite impressive.

Amidst all the fun and boozing, director Gokul has also cleverly managed to give an important social message through the film.

The Enge Ponaalum (Prayer Song), which has become hugely popular among youngsters, has some very hilarious lyrics. It is about a heartbroken hero wishing for bad thing to happen to his girlfriend.

On the flipside, the pace drops intermittently, the first half seems somewhat long, and everybody seems to be either drinking or talking about drinking throughout the film.

Director Gokul in his film, Idharkuthane Aasaipattai Balakumara has created some weird, quirky and offbeat characters in hilarious situations who keep the audience entertained.

Rediff Rating: