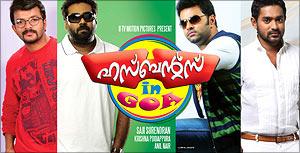 Paresh C Palicha says that Husbands in Goa is a typical 'husbands escaping from their wives' attempt at comedy which elicits a few laughs.
In
Husbands In Goa
, directed by Saji Surendran, four husbands try to escape the tyranny of their wives and have fun in the Promised Land for ten days.
The screenplay by Krishna Poojapura, and in fact the whole film, looks like its designed to make the actors act as if they were competing for an award in a 'who is the silliest among you' kind of reality show.
Of the three friends, Arjun (Asif Ali) is an interior designer, Govind (Jayasurya), a chartered accountant and Jerry (Indrajith), a lawyer. Sunny Abraham (Lal) is a cinematographer. Since they are all smart professionals one wonders why they are under the thumbs of their wives.
Arjun is made to sit through the coaching classes that his wife Veena (Remya Nambeesan) takes for IAS aspirants because she wants him to become an IAS officer. She apparently earns lakhs of rupees by running these
classes.
Abhirami (Bhama) makes Govind go round every temple to brighten their future. The reason for her being so pious is that she was born as a boon to her parents after years of prayer.
Teena (Rima Kallingal) makes her husband Jerry cook their meals before he leaves for the court; it does not matter if he loses a few clients in this manner.
To get away from their wives the three college friends plan a holiday together. In the train they meet a drunk, Sunny, who initiates them into this vice, abuses his wife Annie (Praveena) over the phone and becomes their role model.
A few laughs at the inebriated gags is all you'll get out of this silly film. The story could have taken a serious turn or even a suspenseful turn like
No. 20 Madras Mail
. But it doesn't.
It is no use talking about the performances as the plot and theme are so pathetic you can't really blame the actors for anything except for agreeing to be part of this film.
Rediff Rating: