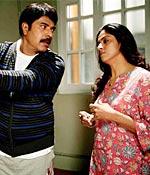 Paresh C Palicha reviews Malayalam film Doubles. Post YOUR reviews here!

It is double dhamaka in the Malayalam box office this Vishu. Megastars Mammootty and Mohanlal have a release each: Mammootty's Doubles and Mohanlal's China Town.

Doubles is directed by debutant Sohan Seenulal. The USP of this film is that yesteryear's star Nadia Moidu is making a comeback into Malayalam film as Mammootty's twin sister.

We have seen numerous films with similar plot-lines -- siblings so protective of each other that they shun every other relationship. The writer duo Sachi-Sethu do not take much effort to differentiate their film from the others of the same nature; they just make some cosmetic changes to accommodate the stars with their image in tact.

Here, they play twins raised in an orphanage after their parents get killed in a car accident. Now Giri (Mammootty) and Gowri (Nadia Moidu) run a well-equipped rescue unit to help victims of road accidents. They have even learnt mountaineering to carry out rescue operations.
Their team consists of Saiju Kurup (the young actor has a knack of popping up whenever we start wondering where has he disappeared though we saw him a few months ago in a minuscule role in Makeup Man), Bijukuttan and Anoop Chandran giving ample comic moments.
To top that, we have Suraj Venjaramoodu as a 'good for nothing' ambulance-chasing lawyer with an office right opposite the twins' home.
There is no originality in the story. Even the so-called suspense element can be easily guessed by the end of the first half iteslf. The narrative resembles Shafi's Lollipop, starring Prithviraj and Roma, in 2008. So it becomes difficult for the actors to chug it forward after a while.
Now coming to the characterisation: Mammootty has Ray-Ban sunglasses, a dapper hairdo and stylish costumes. It seems he gives his role no importance in his eagerness to promote new directors. The only novelty in his presentation is that the screen splits diagonally into three pieces with his face in close-up before he starts hitting the bad guys as if underscoring his rage!
Nadia Moidu's characterisation is that of a typical loud-mouthed control freak sister we have seen many times before.
Taapsee Pannu as Saira Banu, whose entry into the scene becomes the bone of contention between the siblings, has nothing noteworthy to do.
The only newness we see in terms of casting is that of Salim Kumar as a subdued police officer, who assists the protagonist.
As the last nail in the film's coffin, we can say that Sachi-Sethu has (already overused) used hawala money as the device for all the misunderstandings and fights.
On the whole, Doubles has fallen to the level of a never-ending tacky television serial.
Rediff Rating: